# #
George R. R. Martin è il famosissimo autore dei libri a cui è ispirata la Serie Tv più seguita del globo: Game of Thrones. È l'artefice delle emozioni che i fan vivono tutte le volte che leggono e guardano quello che succede, ma è anche l'artefice dell'attesa che gli tocca subire tra una storia e l'altra.
# #
Sono ben 7 gli anni che sono passati dall'uscita dell'ultimo libro e in questi giorni, si è scoperto che The Winds of Winter non uscirà neanche nel 2018. L'anno scorso Martin aveva scritto un post sul suo blog in cui dichiarava che era molto probabile che il libro fosse finito e pronto per la stampa per quest'anno, ma evidentemente non è così.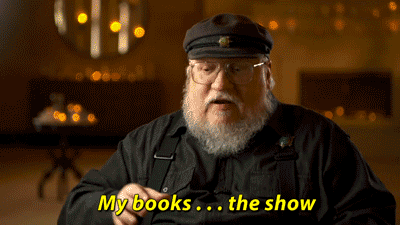 # #
In risposta ad un fan che chiedeva i progetti editoriali del 2018, Martin dichiara di essere al lavoro su una nuova Serie tutta dedicata alla dinastia dei Targaryen: Fire & Blood. Inoltre sappiamo che è anche impegnato all'adattamento televisivo di uno dei prossimi spin-off di Game Of Thrones.
L'autore ha intenzione di pubblicare il primo volume della nuova serie Fire & Blood prima dell'uscita di The Winds of Winter:
"F&B uscirà in due volumi. Il volume 1 prima [di The Winds of Winter, ndr], il volume 2 dopo."
Ma perché?
Sembra che Martin sia un uomo talmente impegnato da non aver trovato neanche cinque miseri minuti in 7 anni per finire l'intero romanzo e dare un qualche appiglio ai fan, che già devono penare per l'attesa dell'uscita della Serie, anch'essa nel 2019.
Il 2018 evidentemente non è un anno buono per i fan di Game Of Thrones, nessun libro in uscita, nessuna stagione prevista e neanche uno spin-off.
Lo stesso Martin non considera Le Cronache del Ghiaccio e del Fuoco come una vera e propria serie di libri, ma piuttosto come una lunga storia spezzata in più parti in cui ogni parte non può esistere senza le precedenti e le successive.
Ok, tutto giusto. Ma allora perché non si sbriga?