L'inverno è arrivato e non sono solo le temperature a farcelo capire.
La settima stagione di Game of Thrones, come sappiamo, è stata di gran lunga spolerata qui, ma i fedeli sognatori si fanno bastare le foto pubblicate dalle varie location delle riprese.
Ma il fan di Game of Thrones
si pone ben altri problemi, tipo:
come/cosa farò quando la serie HBO volgerà al termine
tra due stagioni?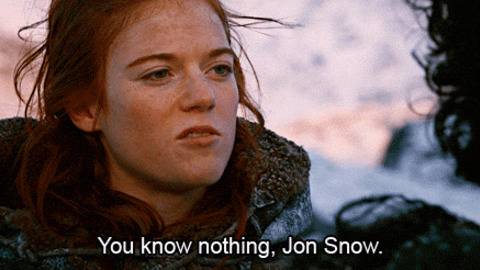 Ci pensa la stessa HBO, tramite il CEO Richard Plepner, ad annunciare che con molta probabilità verrà realizzato uno spin off.
"Per ora siamo concentrati al massimo sul finale dello show, ma la possibilità di ampliare il franchise con degli spin off non è sfuggita a nessuno dei produttori" afferma Plepner a THR "Sarebbe molto eccitati. Ci stiamo impegnando al massimo per finire la saga ma, in parallelo, abbiamo in fase embrionale altri progetti".
L'idea di ritrovarci nuovamente a King Landing anche una volta che tutto questo sarà finito, ci sembra davvero meraviglioso.
Sappiamo benissimo quanto possono essere intricate e vaste le trame all'interno di Game of Thrones, anche solo dei singoli personaggi!
A fermentare gli animi ci pensa Zio George, dato che in un'intervista a EW ha dichiatato:
"La prosecuzione più naturale dello show sarebbe un adattamento delle mie storie contenute ne Il cavaliere dei sette regni"
Per chi non avesse letto i libri, "Il cavaliere dei sette regni" è una specie di prequel della saga del Le cronache del ghiaccio e del fuoco. La storia sarebbe ambientata novant'anni prima rispetto alla storia riportata nella Serie Tv della HBO e segue i due protagonisti Dunk e Egg, rispettivamente il primo un cavaliere errante e il secondo destinato a diventare Re Aemon V della Casa Targaryen.
George RR Martin, continua dicendo:
"Ognuna delle novelle potrebbe agilmente essere trasformata in un film per la televisione; sarebbe la maniera ideale di svilupparle, piuttosto che in una serie settimanale vera e propria.[…] Il cavaliere errante e i suoi seguiti hanno un tono più leggero de Le cronache, appartengono più al reame dell'azione/avventura"
Invochiamo gli Dei antichi e quelli nuovi affinché escano presto nuove news, attenderemo il passare di questo lungo inverno nelle nostre case, non temete nel frattempo
Stay tuned!!!