La star di Game of Thrones, Sophie Turner, ha dichiarato di non aver potuto lavare i capelli durante le riprese della serie tv. L'attrice ventiduenne, che interpreta Sansa Stark, ha continuato dicendo che dalla quinta stagione in poi è stata costretta a vivere con dei capelli "davvero disgustosi". "Per le prime stagioni mi è stato permesso di lavarmi i capelli perché ero una ragazza aristocratica. Verso la quinta stagione, hanno iniziato a chiedermi di non lavarmi i capelli ed è stato davvero disgustoso", ha detto la Turner alla rivista InStyle.
"Nella stagione finale indosso una parrucca, così posso lavarmi i capelli ogni volta che voglio, il che è bello. Ma sì, per un paio d'anni ho vissuto con i capelli piuttosto unti", ha aggiunto.  L'attrice ha descritto l'esperienza come "davvero pruriginosa" e "disgustosa".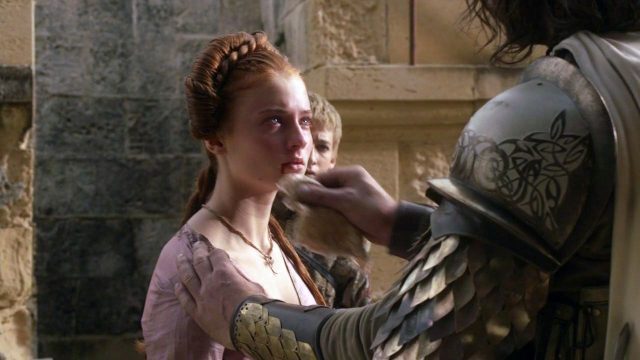 "I primi episodi era una signorina di Winterfell e cercava di imitare la madre con una semplice treccia. Poi, quando andò a King's Landing, stava crescendo e voleva assomigliare molto a Cersei Lannister. Con Ditocorto si tinge i capelli di nero e indossa tutto di nero, come lui. Quindi torna a Winterfell e ritorna alle origini con una capigliatura simile a quella di Lyanna nei flashback. Poi ha finalmente creato la sua vera identità. Ha scelto come vuole che i siano i suoi capelli. Ora non è più colei che è ispirata, ma colei che ispira".
Ma chi veramente si prende più cura dei suoi capelli dentro (e soprattutto fuori) dal set è Kit Harington che secondo quanto dice la Turner passerebbe più tempo a sistemarsi i ricci di qualunque sua co-star in Game of Thrones. Infatti, proprio in questo articolo vi avevamo parlato dell'importanza che hanno per Kit barba e capelli tanto da avere una clausola sul contratto che non gli permetteva di tagliarli fino alla fine delle riprese. La HBO, ha proprio una fissazione per i capelli degli attori!