Ed Skrein, l'attore che per un solo episodio della terza stagione di Game Of Thrones ha interpretato il guerriero Daario Naharis, ha parlato delle motivazioni del suo abbandono al set.
Anche se ormai ne è passata di acqua sotto ai ponti per quanto riguarda Game Of Thrones, nonostante sia stata una serie di interesse mondiale per molti anni, ora che si è conclusa (con applausi o critiche da parte dei fan) non è più sulla bocca di tutti, però è sempre il momento buono per togliersi qualche sassolino dalla scarpa: come per esempio il recast improvviso di Daario Naharis.
Come tutti fan ben ricordano infatti, nella terza stagione il furbo e quasi imbattibile guerriero Daario Naharis è stato interpretato dall'attore Ed Skrein per poi essere sostituito per tutte le stagioni successive da Michiel Huisman.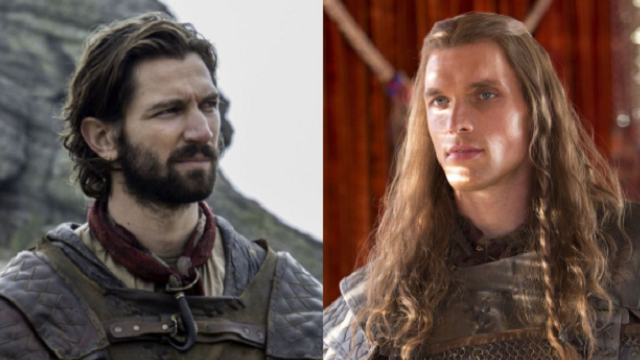 Non che quest'ultimo non abbia realizzato un ottima performance nell'interpretazione del personaggio, però il perchè del recast è sempre rimasto un dubbio mai veramente chiarito.
Appena uscita la quarta stagione l'attore Ed Skrein aveva confessato di aver lasciato il cast di Game Of Thrones perchè troppo impegnato su un altro progetto, ma ora sembra rivelare un altro pezzo di verità.
Ecco qui la dichiarazione dell'attore:
"Questo è quanto è stato riportato dalla stampa, ma in realtà c'erano ragioni molto più politiche di così. Il mio piano era di rimanere in Game of Thrones per molto tempo. Mi sarebbe piaciuto. È stata un'esperienza meravigliosa, ma la politica ci ha separato e a quel punto mi sono detto: "Va bene, guarda avanti, sii positivo. Mantieni la calma e vai avanti"."
Non è chiaro che cosa intenda Skrein con "questioni politiche", quello che è lampante invece è che il suo abbandono non è stato certamente dovuto solo al suo impegno in un altro progetto nello stesso periodo.
Cosa c'entra la politica con il suo allontanamento?
Che l'attore abbia ingigantito tutto solo per non ammettere di essere stato sostituito?
Perchè la politica si sarebbe dovuta interessare a lui e al suo personaggio in Game Of Thrones?
Queste sono tutte domande che ancora non hanno trovato risposta, la dichiarazione di Skrein non fa altro che far sorgere ancora più dubbi rispetto che creare certezze.