La settima stagione di Game of Thrones è finita da qualche mese ormai, e le riprese per l'ottava e ultima stagione sono iniziate lo scorso mese (un indizio di Lena Headey lo conferma!). Come i molti fan della Serie ricordano, la trasmissione della settima stagione ha richiesto un'attesa più lunga del solito. Pensare che probabilmente dovremo aspettare ancora molto tempo prima di poter vedere l'ottava stagione non ci migliora la giornata: quasi sicuramente, i nuovi episodi arriveranno nel 2019.
Diverse ragioni si nascondono dietro questa attesa, tra cui il lavoro di post-produzione con la CGI e il montaggio delle riprese. Recentemente Iain Glen, che in Game of Thrones interpreta Jorah Mormont, ha parlato dei motivi per cui dovremo aspettare tanto a lungo. Intervistato al Comic-Con Stockholm, l'attore ha parlato a lungo della sua carriera (l'intervista è durata parecchio…), citando anche Game of Thrones.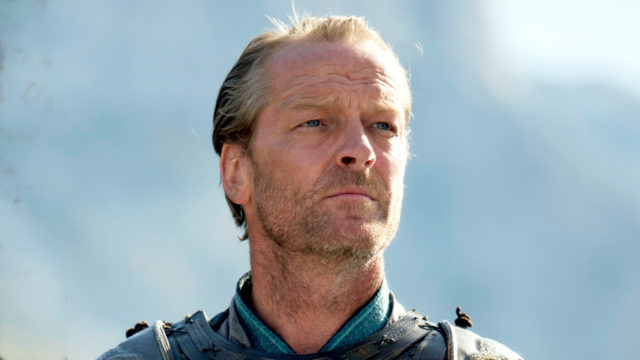 Senza ascoltare l'intera intervista, possiamo andare direttamente al punto che ci interessa. Infatti, al minuto 6:50, Iain Glen parla di uno dei motivi che porteranno l'ottava stagione di Game of Thrones ad arrivare in ritardo sul piccolo schermo. Ecco quanto dichiarato:
Visto che ci stiamo addentrando nel gioco finale, iniziamo ad occupare tutti lo stesso territorio. Iniziamo ad essere nelle stesse storyline. Credo che questa stagione richiederà più tempo per essere girata, perchè la produzione può usare solo un'unità di ripresa, visto che siamo tutti nella stessa scena.
Nelle stagioni precedenti, trattando diverse storyline, potevano essere usato due o tre unità di produzione. Con l'incontro finale dei vari personaggi, risulta essere quasi obbligato l'utilizza di un'unica unità di produzione. Iain Glen ha quindi aggiunto un ulteriore motivo per cui (purtroppo) dovremo attendere a lungo per l'ottava stagione di Game of Thrones.
Jorah, non solo non ricevi mai 'na gioia, ma nemmeno la regali!
Ecco il video dell'intera intervista (reminder: minuto 6:50):