Come anticipato da Liam Cunningham (Ser Davos) in questo articolo, l'inizio delle riprese dell'ottava e ultima stagione di Game of Thrones era previsto per metà ottobre. Impazienti di scoprire finalmente chi riuscirà a sedersi sul trono di spade, siamo in costante ricerca di dettagli relativi alla data di uscita dei prossimi episodi. Controlliamo foto di attori, produttori e scrittori. Leggiamo tweet, cerchiamo indizi nascosti tra le righe.
Continuando la nostra ricerca di informazioni, riusciamo a venire a conoscenza di ulteriori dettagli. Quando iniziano le riprese? Il cast ha letto il copione? Qualche spoiler?! Lena Headey (Cersei Lannister) ha recentemente postato una foto sul suo account Instagram. Il contenuto di questo suo post potrebbe suggerire che le riprese dell'ottava e ultima stagione di Game of Thrones siano già iniziate!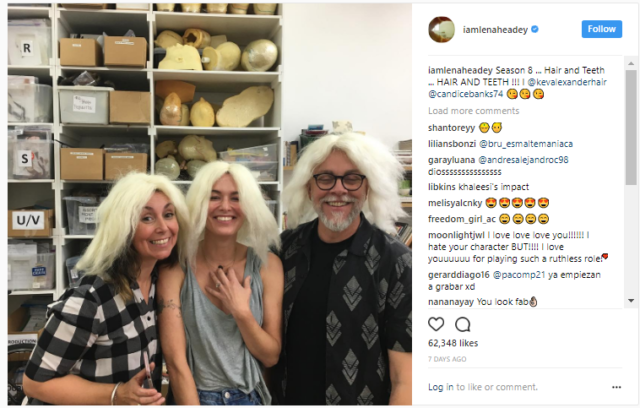 In questa foto vediamo Lena Headey indossare una parrucca argentata, proprio come quella di Emilia Clarke (Daenerys Targaryen). Insieme a lei ci sono due membri del reparto costumi di Game of Thrones. Kev Alexander si occupa delle acconciature del cast, mentre Candice Banks è la make-up artist della Serie Tv.
Si può quindi dedurre che il cast e lo staff di Game of Thrones si siano riuniti. Questa dovrebbe essere la fase che precede le riprese vere e proprie: gli attori leggono il copione e si preparano a impersonare i ruoli che rappresentano. La fase delle riprese è molto vicina! Sebbene questa notizia non può che renderci felici, dobbiamo anche ricordare che probabilmente vedremo i prossimi episodi solo nel 2019. Da contratto è richiesta la presenza dei nuovi personaggi della Serie almeno fino a giugno (clicca qui per scoprirne di più!). Dopo le riprese, la fase di post-produzione potrebbe richiedere tempi lunghi, portando la trasmissione degli episodi all'inizio del 2019. Nulla di ufficiale è stato dichiarato dall'HBO: è ancora presto per conoscere la data di uscita dell'ultima stagione di Game of Thrones.