L'ottava stagione di Game of Thrones è ormai un lontano (e per alcuni doloroso) ricordo. Ma Emilia Clarke, interprete di Daenerys Targaryen nello show, ha ancora qualcosa da dire sull'ultimo capitolo della serie.
In precedenza l'attrice inglese si era detta delusa per l'epilogo che gli sceneggiatori avevano dato al suo personaggio. Secondo la Clarke Daenerys non meritava di impazzire, trasformandosi nel villain della storia proprio negli ultimi episodi, per poi essere uccisa da quello che poteva essere il suo grande amore, Jon Snow.
Inoltre si era detta risentita che proprio per il personaggio interpretato da Kit Harington non ci fossero state conseguenze: Jon l'aveva passata liscia.
Le dichiarazioni di Emilia sulla conclusione di Game of Thrones sono un eco della delusione di tutti i fan della serie. Ma nonostante il disappunto l'attrice si è sempre detta grata di aver potuto partecipare a un progetto del genere.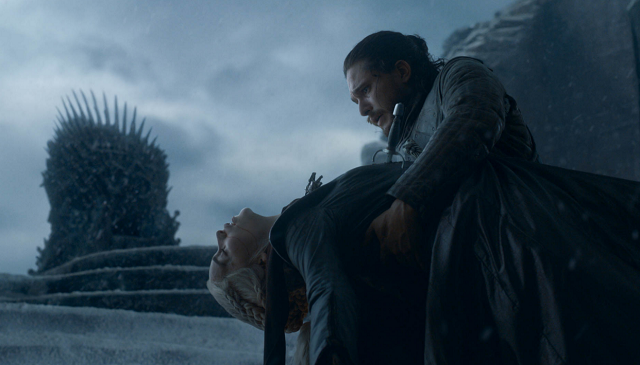 Ho capito cosa provavo nei confronti del finale la prima volta che l'ho letto e ho provato, in ogni momento, a non pensare troppo a ciò che gli altri avrebbero potuto dire. Ma ho sempre preso in considerazione ciò che i fan avrebbero potuto pensare perché abbiamo realizzato la serie per loro e sono stati proprio loro a farlo diventare un successo, quindi è semplicemente un segno di educazione, non trovate?
Ma non rivanghiamo ricordi troppo dolorosi per i fan: in un'intervista al Sunday Times Emilia Clarke si è espressa sulla durata dell'ottava stagione, la più corta di tutte. Solo sei episodi non sono stati sufficienti per concludere Game of Thrones, dovendo lasciare spazio a scene d'azione che hanno sacrificato l'approfondimento dei personaggi.
Si è dato tanto spazio alle sequenze spettacolari. Credo che la natura sensazionale dello show abbia avuto un enorme spazio durante la messa in onda. Avremmo potuto portare avanti la storia un po' di più.