E' presto per parlare di anticipazioni sul finale di Game of Thrones, ma possiamo quanto meno tentarci. In questo articolo cercheremo di spiegarvi come arriveremo al 2019 e alla fatidica battaglia finale. Sono solo poche anticipazioni, ma essenziali per capire il quadro generale di questa ottava stagione di Game of Thrones. Partendo, innanzitutto, dal numero di episodi che sarà più breve rispetto alle altre. Conterà infatti sei episodi, ma molto più lunghi della media. Il budget, come confermato mesi fa, sarà quello più alto mai utilizzato prima.
Adesso cercheremo di entrare più nel dettaglio della trama e degli avvenimenti, quindi se ancora non siete in pari, cercate riparo altrove perché qui è pieno di spoiler. Le riprese sono praticamente giunte alla fine, la Madre dei Draghi ha salutato già la sua "casa" e parte del set, soprattutto la parte di Approdo del Re è stato visto bruciare per mano di Cersei e l'altofuoco.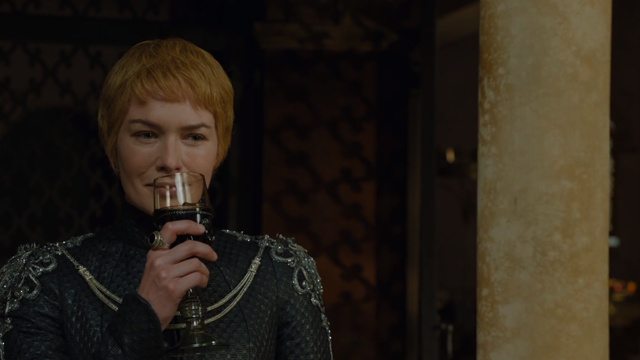 La battaglia si svolgerà al Nord, dove come abbiamo visto l'inverno a Winterfell è arrivato e gli Estranei stanno arrivando, oltrepassando la Barriera . L'inverno però arriverà anche nel profondo sud dove una soleggiata Approdo del Re verrà invaso dalla neve e poi bruciato (come vi avevamo preannunciato prima). Ma oltre a draghi e draghi di ghiaccio, a tornare sarà la balestra gigante ammazza draghi. Non quella utilizzata nella settima stagione, andata distrutta quando Bronn ha colpito Drogon e Daenerys, ma crediamo che ne verrà ricreata una simile se non peggiore.
Tornerà anche l'attore che ha interpretato Rhaegar Targaryen, il vero padre di Jon che apparirà in vari flashback, forse per spiegarci definitavamente la storia di Jon. Le anticipazioni sono molte, a distanza di un anno, per non contare gli spoiler o presunti tali che il cast lascia intendere ogni giorno. L'ultima della lista è Sophie Turner con il suo tatuaggio: lo stemma degli Stark accompagnato dalla frase The Pack Survives (Il branco sopravvive).
Abbiamo, però, ragione di credere che non siamo proprio sicuri che il branco sopravviverà a questa ultima battaglia di Game of Thrones.