Ci siamo quasi, l'attesa sta per finire: come ormai quasi tutti sanno, The Walking Dead sta per tornare. In Italia la puntata 08.09, in inglese intitolata Honor, verrà trasmessa da Fox il prossimo 26 febbraio 2018, alle ore 21.00.
Sappiamo ancora poco sulle sorti di Carl e compagnia bella e su chi finalmente avrà la meglio nell'All Out War, quindi l'attesa, anche se breve, per noi fan sembra ancora lunghissima.
Per ingannare il tempo e distrarci da questa attesa davvero spasmodica, Fox ha ben pensato di farci un regalone e di dedicare un canale intero, il 113 (ossia Fox+1) alla nostra Serie Tv preferita.
Dal 22 al 25 febbraio, avremo quindi l'occasione per immergerci nell'ennesimo re-watch delle 8 stagioni di The Walking Dead, caso mai ci fossimo persi qualche dettaglio.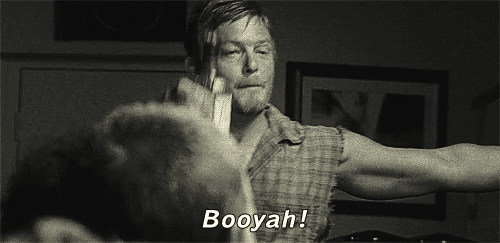 Qui di seguito, il palinsesto dettagliato della programmazione per non perdersi neanche un episodio:
Stagione 1: dalle 05.40 alle 11.40 di giovedì 22 febbraio
Stagione 2: dalle 12.10 alle 22.15 di giovedì 22 febbraio
Stagione 3: dalle 22.45 di giovedì 22 febbraio alle 17.05 di venerdì 23 febbraio
Stagione 4: dalle 17.35 di venerdì 23 febbraio alle 09.15 di sabato 24 febbraio
Stagione 5: dalle 09.35 alle 23.35 di sabato 24 febbraio
Stagione 6: dalle 00.00 alle 17.05 di domenica 25 febbraio
Stagione 7: dalle 17.35 di domenica 25 febbraio alle 13.00 di lunedì 26 febbraio
Stagione 8 (prime otto puntate): dalle 13.30 alle 20.35 di lunedì 26 febbraio
Episodio 8×09: lunedì 26 febbraio alle 21.00
Un'ottima occasione. per rinfrescarsi le idee, rivedere alcuni tra i personaggi più amati che sono, purtroppo scomparsi dalla Serie e, magari, notare cose che, anche da fan incalliti, si possono notare dopo aver rivisto The Walking Dead almeno tre o quattro volte.
Andremo quindi a rivivere, in quattro giorni, la fuga da Atlanta, il CDC, la fattoria del caro Hershel, la prigione, il Governatore, il Grady Memorial Hospital, Terminus, la chiesa di padre Gabriel, Alexandria e lo sconvolgente arrivo di Negan e dei suoi Salvatori per poterci presentare con la memoria fresca all'appuntamento di lunedì 26 febbraio.
Siete pronti? Noi decisamente sì!