Kiernan Shipka è pronta a cambiare genere di serie tv. La nostra protagonista di Chilling Adventures of Sabrina è stata infatti ingaggiata per un nuovo progetto molto prestigioso e molto interessante.
La terza parte della serie tv è stata da poco rilasciata su Netflix e dobbiamo ammettere che, nel bene e nel male, ha di certo fatto parlare di sé. Come ci è già capitato di dire non è stata orribile, ma il livello di trash era più alto del solito e si poteva fare di meglio.
Tuttavia dopo Chilling Adventures of Sabrina Kiernan guarda già verso nuovi orizzonti. Sembra infatti che l'attrice ricoprirà uno dei ruoli principali nella serie tv Swimming With Sharks.
La serie tv si baserà sull'omonimo film del 1994, arrivato in Italia con il titolo Il prezzo di Hollywood. Sarà inoltre prodotta dalla piattaforma Quibi, di cui ci era già capitato di parlare in più di un'occasione (qui un articolo a riguardo su una serie per una drag queen vincitrice di RuPaul's Drag Race).
Kiernan Shipka si troverà ad affiancare niente meno che Diane Kruger, direttamente da Bastardi senza gloria. Un gran bel passo in avanti per la giovane attrice, che ha già dimostrato di cavarsela bene in diverse occasioni.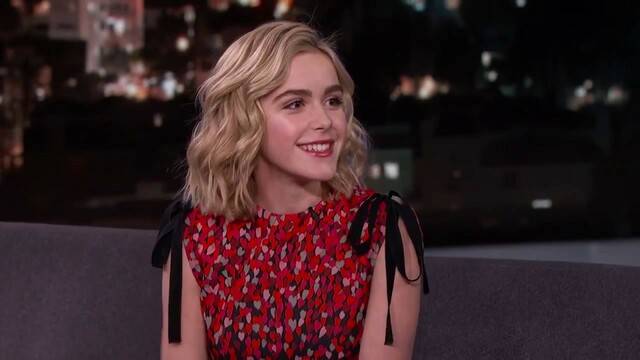 Sembra che Swimming With Sharks sarà una versione contemporanea della pellicola diretta da George Huang. Kiernan Shipka interpreterà Lou, giovane assistente che lavora per Joyce, ruolo interpretato dalla Kruger. Si tratta di una donna a capo di uno studio di produzione in un'azienda piena di manipolatori e opportunisti.
La peculiarità di Lou risiederà proprio nella sua forza, dal momento che sarà pronta a mettersi contro tutti. I ruoli della Kruger e della Shipka vanno quindi a essere il corrispettivo di quelli che furono di Kevin Spacey e di Frank Whaley.
La serie drama sarà inoltre scritta e prodotta da Kathleen Robertson (già nota per Murder In The First) e sarà diretta da Tucker Gates (già noto per Homeland). Non ci resta quindi che aspettare il debutto della piattaforma streaming, previsto per il prossimo 6 aprile negli Stati Uniti.