Come saprete la seconda stagione di American Crime Story sta per volgere al termine. Al centro della vicenda questa volta si trova lo stilista italiano Gianni Versace. La Serie Tv ripercorre quella che è stata la vita (o presunta tale) del designer. The Assassination of Gianni Versace ha attirato l'attenzione di tutti e soprattutto quella della famiglia di Versace. Infatti, fin da prima del debutto della Serie Tv, tramite un comunicato la famiglia faceva sapere al pubblico di essere totalmente estranea ai fatti e che tutto quello che si sarebbe visto durante la messa in onda era tutta finzione.
Adesso, invece, a parlare Antonio D'Amico (nella Serie Tv interpretato da Ricky Martin). D'Amico è stato il compagno di Versace per 15 anni e durante questa intervista fatta da PEOPLE parla proprio di alcune parti che non sono mai esistite. Si riferisce alla scena in cui Andrew Cunanan conosce Gianni per la prima volta in quel pub e della successiva serata all'opera. Ma come si capisce chiaramente dagli episodi successivi, tutto è frutto della fantasia di Cunanan, quindi in questo caso l'accusa di D'Amico risulta infondata. Ma D'Amico non si riferisce solo a quella scena.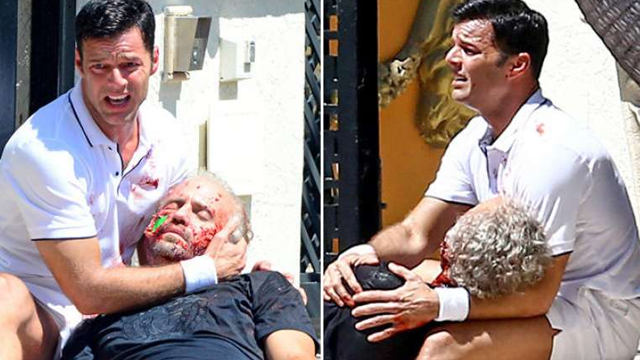 Il 58enne, che ha dichiarato di non essere stato consultato per American Crime Story: The Assassination di Gianni Versace, ragion per cui una scena su tutte ha attirato la sua attenzione:
L'immagine di Ricky Martin che tiene tra le braccia il corpo è ridicola. Forse è la licenza poetica del regista, ma non è così che ho reagito. La casa aveva finestre di vetro opaco, quindi non abbiamo potuto vedere cosa fosse successo dall'interno. Abbiamo dovuto aprire il cancello. Ho visto Gianni sdraiato sui gradini, con il sangue intorno a lui. A quel punto, tutto è diventato buio. Sono stato trascinato via, non ho più visto niente.
L'appuntamento con American Crime Story: The Assassination of Gianni Versace vi aspetta con l'ultimo episodio il 22 marzo!