NEW GIRL: PRIMA FOTO DELLA FIGLIA DI SCHMIDT E CECE
Dopo un rinnovo non così scontato ecco arrivare le prime immagini della settima e ultima stagione di New Girl. La Serie Tv commedy targata FOX non ha ancora una data di rilascio, che potrebbe essere o la primavera o l'autunno 2018, ma l'attesa è un po' meno amara con questa immagine della famiglia Schmidt-Parekh.
Avevamo infatti lasciato Cece in dolce attesa di una bambina e qui possiamo vedere per la prima volta la bellissima Ruth, decisamente cresciuta.
La settima stagione di New Girl farà decisamente un salto avanti e ci porterà di nuovo all'interno del loft di Jess, Nick, Schmidt e Winston a distanza di 4 anni da come li ricordavamo (troverete qui maggiori dettagli sulla settima stagione).
NIGHTFLYERS: GEORGE R.R. MARTIN PRESENTA LE ULTIME NOVITÀ SULLA SERIE DI SyFy ISPIRATA AD UN SUO RACCONTO
Nightflyers è la nuova Serie Tv di SyFy basata sull'omonimo racconto di George R.R. Martin che in questi giorni ha aggiornato i fan con nuove dichiarazioni sulla progetto. La storia è un thriller/horror psicologico ed è interamente ambientata in una nave spaziale, la Nightflyers appunto, e Martin ha pubblicato una foto per mostrarne l'aspetto: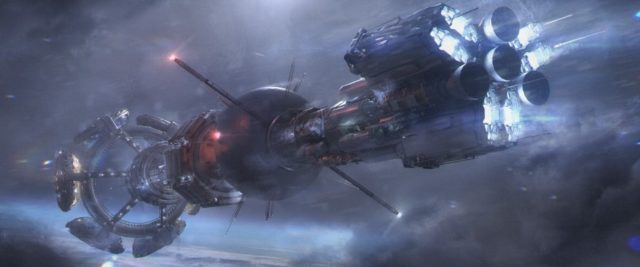 Nightflyers è sceneggiata da Jeff Buhler (Pet Sematary) e Daniel Cerone (Dexter, The Mentalist) e Martin ha dichiarato che amerebbe veder parteciparvi alcuni attori di Game of Thrones:
Considerando quanti personaggi abbiamo ucciso in Game of Thrones, molti attori dovrebbero essere disponibili.
La Serie debutterà a luglio 2018 su SyFy e su Netflix (potete avere qui maggiori informazioni).