Attenzione: evitate la lettura se non volete imbattervi in spoiler sulla prima stagione infausta e funesta di Una Serie di Sfortunati Eventi.
Vi avevano detto di non guardarla e anche noi vi abbiamo implorato di non farlo, ma probabilmente l'avete fatto lo stesso. Una Serie di Sfortunati Eventi è un'opera particolare, figlia dei romanzi geniali di Daniel Handler, e non ammette sfumature: si ama alla follia, oppure si odia incondizionatamente. Chi, come noi, l'ha apprezzata fin dal primo momento, attende con una certa impazienza l'arrivo della seconda stagione, previsto probabilmente per uno dei prossimi venerdì 13 a disposizione (aprile 2018).
Fino a quel momento, guarderemo e riguarderemo gli otto episodi realizzati finora da Netflix, alla ricerca di significati nascosti e nuovi spunti di discussione. Una prima visione, infatti, fa emergere solo in parte l'incredibile sequenza di riferimenti ed easter egg che caratterizzano la serie tv. Perderli è un peccato, perché impedisce di cogliere fino in fondo lo spessore con il quale è stato realizzato l'adattamento televisivo.
Quanti ne avete individuato? Noi ne abbiamo trovato parecchi, e abbiamo deciso di selezionare i dieci più interessanti. Date un'occhiata, se non volete apparire distratti come un signor Poe qualunque.
10 Easter Egg di Una Serie di Sfortunati Eventi che forse vi siete persi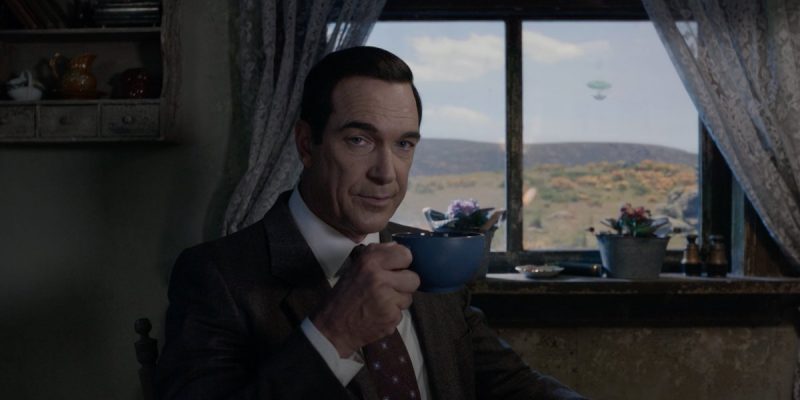 #1 Date un'occhiata a questa immagine. Notate niente di strano? Probabilmente sì, il fermo immagine è un grandissimo aiuto. Mentre parla il nostro Lemony Snicket, si intravede fuori dalla finestra del suo studio una mongolfiera che vola. Un dettaglio insignificante, se non si conoscono i racconti di Handler. Un tocco raffinato, se si sa dove andrà a parare questa storia. Non vi anticipiamo nulla, a parte questo: ad un certo punto vedrete una mongolfiera… impantanarsi.
#2 State attenti anche alle zuccheriere. Nella 1×02, il conte Olaf parla con Klaus, capace di scoprire il suo piano, dicendo questo: "Me? I'm just having my morning coffee, although I can't seem to find the sugar bowl". Tenete a mente le sinistre parole, le capirete più in là.
#3 Vi siete mai domandati che faccia abbia Daniel Handler? Bene, vi riveliamo una cosa: l'avete vista almeno una volta . L'autore dei racconti ha fatto infatti un piccolo cameo, interpretando un venditore di pesci. Eccolo: