Ci ho messo un po' a decidermi ad affrontare Narcos, lo ammetto, ma una volta iniziata mi sono drogata con la prima stagione in un'unica giornata.
Sapevo che iniziare Narcos non sarebbe stata questione di poco, e le mie aspettative non sono state assolutamente deluse. Quella che ho visto è una delle Serie Tv più complesse che un addicted si potrebbe trovare a guardare per tantissimi motivi, per cui non si può assolutamente scegliere come mero passatempo.
Prima di tutto tratta di una storia vera, a prescindere da cosa ci vogliano suggerire gli autori con la declinazione di ogni responsabilità all'inizio di ogni episodio. Sarà certamente un minimo romanzata come storia, lo esige il pubblico, ma l'intensità con cui le vicende vengono narrate è pregna di quella crudele realtà da cui molti di noi vorrebbero fuggire proprio rifugiandosi in una qualche Serie Tv. Seguirla non è semplice. Narcos è a metà tra un documentario e una Serie Tv, alternando fin dalla sigla le immagini dello sceneggiato con quelle di cronaca.
Pablo Emilio Escobar Gaviria non è un personaggio, è una persona, un essere umano con tutto ciò che ne consegue. E soprattutto Pablo non è un buono.
Narcos ci racconta la vicenda dei narcotrafficanti più famosi del mondo e di coloro che hanno votato la propria esistenza a dargli la caccia. Lo schieramento buoni contro cattivi non è mai stato tanto chiaro. Tuttavia siamo stati abituati proprio dalle Serie Tv a rifiutare ogni tipo di schieramento aprioristico. I buoni non sono così buoni, i cattivi sono comprensibili nelle loro azioni, e spesso e volentieri ci ritroviamo ad apprezzare più questi ultimi dei primi. Con Narcos le cose cambiano ancora una volta.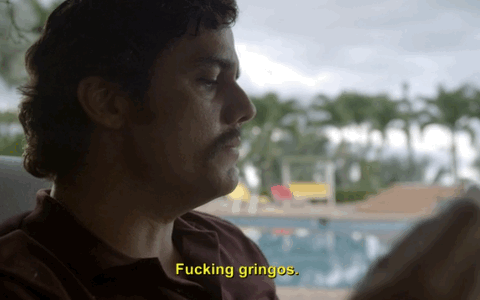 Proprio su questa base non posso fare a meno di rendermi conto che quello che sto per dare è proprio un giudizio aprioristico, o quasi, visto che mi trovo solo a un terzo del percorso e che la strada è ancora evidentemente lunga, sia per me che per i personaggi che si profilano sotto il mio sguardo. Tuttavia la sensazione che questa prima stagione di Narcos sia completamente diversa da ciò che ho provato guardando Sons of Anarchy (di cui vi ho parlato qui) o la mia amata Game of Thrones.
In queste due ultime Serie lo schieramento buoni-cattivi è quanto mai confuso, mai definito e per questo terribilmente affascinante. Per quanto differenti, in entrambe noi poveri spettatori ci ritroviamo ad affezionarci a individui che fanno cose orribili, che si svelano continuamente diversi da come credevamo. Entriamo in simpatia e non possiamo fare talvolta a meno di cercare di trovare giustificazioni in alcune delle loro malefatte.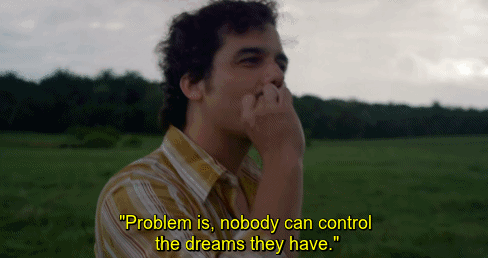 Con Pablo Escobar non possiamo fare lo stesso. Pablo è un uomo che fin dal primo momento non ha alcuna remora nel fare del male. Non viene costretto, semplicemente ha imparato che usando la violenza e il denaro la vita è più facile, ma ci risulta difficile comprenderlo e giustificarlo davvero per noi che siamo così lontani dalla realtà colombiana degli anni '80.
Eppure Narcos ci costringe a conoscere questo personaggio, ci costringe a osservarlo nel suo quotidiano, nei suoi tormenti, nel suo senso di colpa, nel suo desiderio di fare del bene nel mondo anche a costo di distruggerlo. Che cosa sarebbe successo se fosse tranquillamente entrato in politica? O ancora se non si fosse mai candidato?
Il problema è che non ci sarà un finale alternativo, non ci saranno "se" in grado di condurci a un'altra storia. La realtà non può essere cambiata con i "se".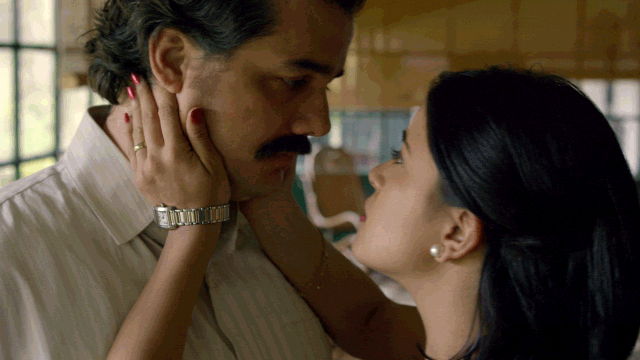 Pablo è prima di tutto un uomo di famiglia, ed è nella famiglia che inizia tutto.  È il figlio di una madre che lo adora, lo sostiene e lo consiglia. Il marito di una first lady migliore di molte altre, pronta ad accompagnare il marito ovunque, anche all'inferno se ce ne fosse bisogno. L'amore per Tata sembra essere l'unica cosa pura e stabile nella vita del narcotrafficante, eppure questo legame è tinto di quell'oscurità che inevitabilmente contraddistingue tutta la vita di Escobar. E poi è padre di quei figli che sono tutto per lui, e che, in un modo o nell'altro, saranno in grado di renderlo immortale.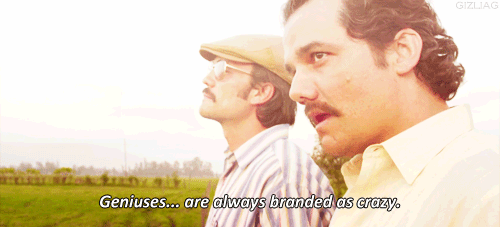 E poi Gustavo. L'unico uomo al mondo capace di tirare le briglie di Pablo Emilio Escobar Gaviria. Come spesso ripete Pablo, loro due hanno cominciato insieme e solo insieme possono continuare. Ed è proprio nel momento in cui gli strappano via Gustavo che inizia il tracollo di Pablo, e forse ne era anche consapevole. Ai lati della famiglia lo schema si allarga includendo i soci del narcotraffico con le loro rispettive famiglie e, ovviamente, i sicari.
I cattivi in questione sono chiaramente cattivi, nessun dubbio. Impariamo a conoscerli, ma non possiamo giustificare quelle azioni, non possiamo immedesimarci in loro.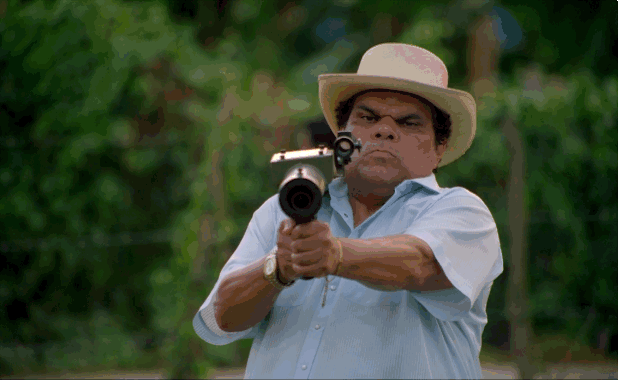 Non sono personaggi, sono persone, e la differenza tra questi due concetti è essenziale.
Dall'altra parte abbiamo i buoni, e per la stessa ragione per cui non possiamo giustificare i cattivi, non possiamo del tutto apprezzare i buoni, perché prima o dopo faranno un errore terribile e il mondo ne pagherà le conseguenze.
Nella vita reale è paradossalmente più semplice vivere nell'errore, non farsi scrupoli ed essere etichettato come malvagio, perché se anche facessi un errore si confonderebbe nell'ammasso di turpitudini volontarie. Essere un buono però è tutta un'altra faccenda: essere un buono non conosce pietà, né giustificazione e basterà un'unica azione sbagliata a cancellare tutte quelle giuste.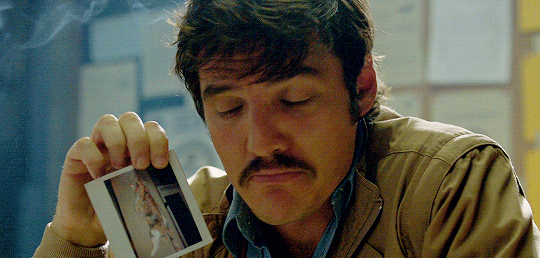 Ed è per questo che esiste il compromesso.
Narcos è la patria del compromesso, cui inevitabilmente, prima o dopo, ciascuno dei personaggi dovrà sottostare per sopravvivere e permettere alla Colombia di non sprofondare del tutto tra le fiamme dell'Inferno. Ed è così per Gaviria, che nella sua sconfitta vede in realtà una concreta vittoria per il proprio paese in cui le bombe dei narcotrafficanti hanno smesso di esplodere. Ed è ovviamente così per i due protagonisti, anche se in effetti non è facile parlare di protagonisti in Narcos.
Quando Steve Murphy arriva a Medellin crede di poter applicare ancora quelle regole imparate negli Stati Uniti, laddove "non si tratta  con i terroristi" e di compromessi non se ne può parlare senza essere accusati di tradimento.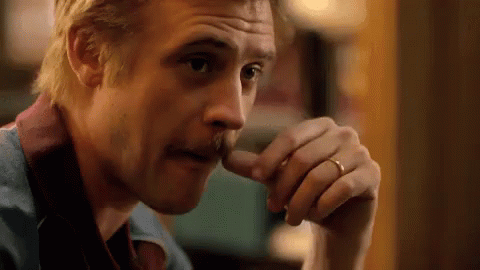 Ma la Colombia è diversa, è le regole dei gringos non valgono nemmeno più per i gringos. Ed è ciò che cerca di spiegargli Javier Peña che della Colombia ha imparato a fare il proprio stile di vita. Peña è il personaggio che più di tutti ha compreso il fondamentale concetto di compromesso. Lui è un buono che resta buono, che vuole fare la cosa giusta facendocela la maggior parte delle volte, ma è disposto a nascondere una comunista se questo vuol dire salvarle la vita, per quanto sia un rischio per la propria; è disposto ad avere a che fare con narcotrafficanti se questo porta a eliminare un terrorista; ed è disposto a scavalcare l'ambasciata USA se significa fare la cosa giusta.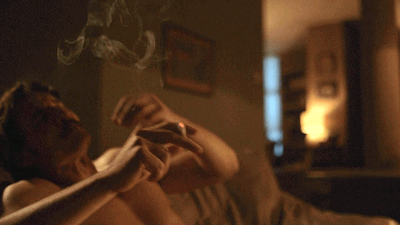 Non è semplice guardare Narcos. Ci affacciamo su un angolo di storia scomoda, in cui la realtà non conosce giustificazioni ed esiste un unico mantra da seguire: plata o plomo.