Io non volevo cominciare Sons of Anarchy. Non lo volevo fare. E soprattutto non volevo cominciarlo a un mese dalla sessione estiva più massacrante della mia vita. Eppure ci sono riusciti, mi hanno convinto, e ho finito la prima stagione in una notte, altro che giorno intero!
Io sono una da How I Met Your Mother e Game of Thrones, capitemi, con Sons of Anarchy c'entro poco e niente, quindi c'è chi ha faticato per convincermi e questo articolo è decisamente dedicato a loro.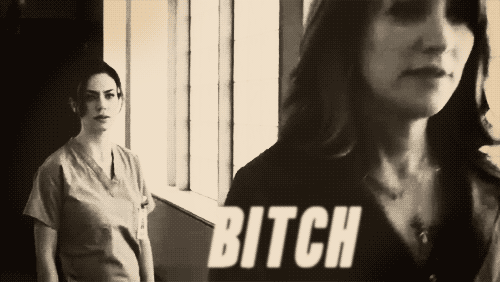 Credo nella poesia, nell'amore tormentato, nelle grandi storie epiche che ti cambiano la vita entrandoti nelle ossa. Ebbene Sons of Anarchy è tutto questo se non di più.
Da neofita dei Samcro mi sento ancora un po' come Jon Snow: non so niente. Tuttavia una cosa credo di saperla: non ho mai visto una rivisitazione cinematografica di Shakespeare meglio gestita in tutta la storia del cinema e delle Serie Tv (come ne abbiamo scritto qui).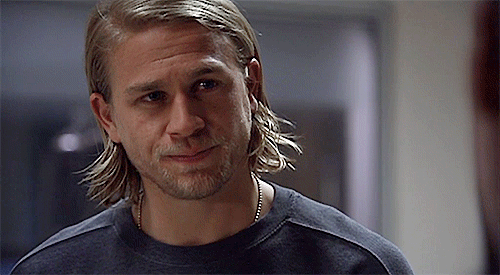 Tragedie e commedie shakesperiane forniscono plot fondamentali per gran parte di ciò che vediamo sullo schermo, ma a partire da Romeo+Juliet fino a Shakespeare in Love (che io amo profondamente), fino al Re Leone Disneyano, non ho mai visto alcuna trasposizione cinematografica che rendesse tanto bene l'emotività, il dramma, l'amore e la malvagità sottesa alle grandi opere del Bardo.
Rendere questa storia in forma di Serie televisiva permette ai personaggi di sviluppare completamente il proprio essere, di approfondire ogni singola sfaccettatura non lasciando mai niente al caso.
Veniamo trascinati fin dal primo episodio in un mondo che ai cinefili potrebbe ricordare il film "Quei bravi ragazzi" per la normalità con cui ci viene presentata la vita criminale.
Nati e cresciuti in questo mondo, bene e male si confondono in un turbinio di emozioni contrastanti, donandoci un punto di vista completamente nuovo sul mondo e sulla vita. Sono delinquenti per natura, e vivono coerentemente seguendo questo modo di essere, ma non è per tutti così.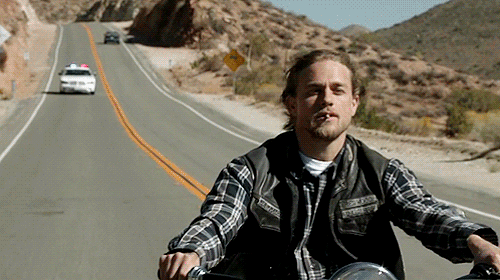 Jax deve convivere con un doppio punto di vista perfettamente esemplificato dalla sua controparte femminile. Jax fa parte dei Sons of Anarchy, non tanto per scelta quanto per diritto di nascita. Quella è la sua famiglia, quella è la sua natura, ma è anche figlio di suo padre, e il suo spettro aleggia nell'anima del figlio instillando dentro di lui il sogno di un mondo diverso.
Non è dato sapere ancora molto a riguardo in questi primi tredici episodi, ma nell'immaginario di John Teller c'era qualcosa di più del traffico di armi e della criminalità. Vivere oltre la legge era una necessità per coloro che bramavano la libertà, e paradossalmente quel paese da cui sono definiti fuorilegge si fonda proprio su una costituzione fatta dei medesimi ideali, di simili rivoluzionari e, se vogliamo, analoghi traditori.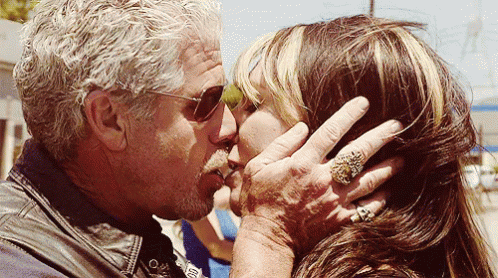 Gemma Teller (di cui vi abbiamo raccontato qui) è la matriarca: una donna forte che ha imparato a privarsi di ogni scrupolo al fine di proteggere la propria famiglia. Quanto però possiamo comprendere questo genere di protezione? Lei ha scelto quella che deve essere la strada del figlio, la strada del padre giusto.
Clay è il padre giusto, completamente votato a mantenere lo status quo dei Sons of Anarchy. L'unica strada è quella della criminalità, degli omicidi e del traffico d'armi. Che cosa voleva però il vecchio John Teller? Dove sono finiti i suoi progetti e le sue speranze per i Sons of Anarchy?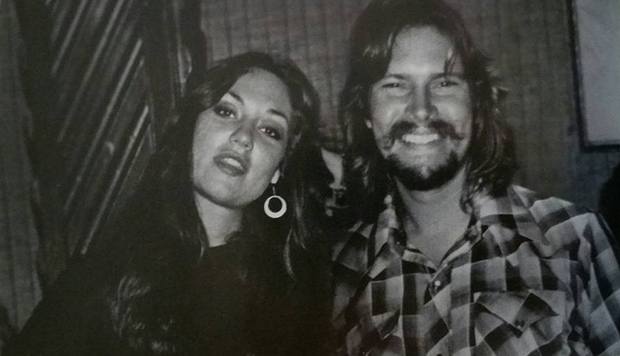 Lo spettro del padre tradito Shakesperiano si concretizza nella forma di un diario che mai Jax avrebbe dovuto trovare, un diario maledetto in grado di dare forma a quel turbamento che già era presente nell'animo del ragazzo. Un diario in grado di smantellare tutto ciò che Clay e Gemma avevano cercato di creare, o quanto meno è questo ciò che traspare da questa prima stagione.
Nel primo episodio Jax diventa padre di un bambino che fin da subito non ci pare poi molto fortunato, a partire dall'overdose della madre tossica che rischia di provocare la fine prematura dell'innocente.
Diventare padre cambia la prospettiva: quel mondo in cui era nato e cresciuto, in cui rubare o uccidere fa parte della realtà quotidiana, è davvero il mondo giusto? Il mondo in cui vuole vivere e far vivere la sua creatura?
Ma non basta la nascita del figlio a far tremare il mondo di Jax. La sua Ofelia torna da un passato sepolto sotto cumuli di polvere. La passione e il sentimento che lega i due personaggi è tanto intenso quanto impossibile. Tara (rivisitazione di Ofelia appunto) è fuggita anni prima da un mondo malato, un mondo da cui probabilmente non è riuscita a trascinare via il grande amore della sua vita.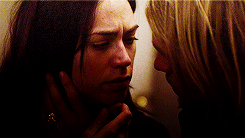 Jax svela la maschera della donna che non ha mai smesso di amare: Tara fugge. Fuggì tanti anni prima da lui e da quel mondo, è fuggita di nuovo dal mondo che lei stessa aveva creato per tornare a casa in cerca di salvezza, e ancora una volta si ritrova pronta a fare le valigie. "Non andartene" è l'unica richiesta, una preghiera a una donna maledetta da un legame senza via di uscita.
È fuggita per salvarsi, ma da certe passioni non puoi salvarti mai.
È come se nel primo episodio vedessimo al tempo stesso l'inizio e la fine di una storia.
Finisce la storia di un Jax ragazzo, gestibile da una madre e da un padre che meglio di lui sapevano ciò che era giusto. Finisce un'innocenza che innocenza non era, ma piuttosto cieca fede in un modo cui credeva di appartenere.
Inizia la storia di Jax uomo. Un uomo che si ritrova a dover crescere e a prendersi le responsabilità che gli appartengono per diritto di nascita, cui lo spettro del padre sussurra parole di sangue e speranza.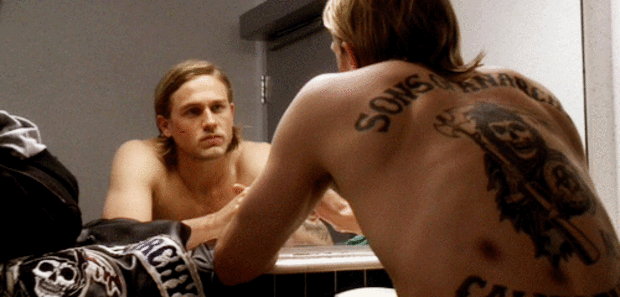 I Sons of Anarchy sono una famiglia. Spalla a spalla, sono fratelli che si sostengono e si aiutano in un mondo in guerra. Tuttavia, come ogni guerra, anche questa avrà il suo prezzo da pagare.