# #
Un tempo i mesi estivi erano l'ancora di salvezza per ogni addicted. Dopo 9 mesi a seguire in contemporanea migliaia di Serie Tv, i palinsesti tiravano il freno e regalavano la possibilità di rimettersi in pari. Si tratta di un tempo nemmeno troppo lontano ma che la mutevolezza del mezzo televisivo rende distante, ormai, intere ere geologiche. Il merito è di piattaforme come Netflix che hanno cambiato il modo di concepire l'intrattenimento ma, a simbolo di questo cambiamento, possiamo assurgere una Serie come Mr. Robot.
# #
Apparsa quasi in sordina, nel 2015, sul radar seriale, la Serie TV creata da Sem Esmail si è conquistata di prepotenza una fetta importante di pubblico. La scelta di USA Network di mandare in onda la Serie nei mesi tradizionalmente più poveri di qualità si è rivelata tanto coraggiosa quanto efficace, con ascolti record e un prodotto diventato immediatamente cult.
In sostanza Mr. Robot è diventato l'antidoto all'astinenza da Serie Tv estiva.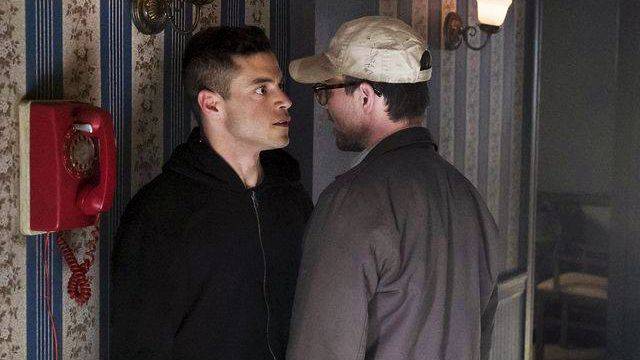 # #
Merito della sua essenza complottista, dalla quale siamo inevitabilmente affascinati, certo, ma anche della mente geniale di Sam Esmail e di un cast fresco e credibile. Basti pensare alla performance incredibile di Christian Slater, rispolverato con merito dopo alcuni passaggi a vuoto, sia al cinema che in TV. Regia, fotografia, acting e colonna sonora a livelli eccelsi sono quasi sempre sinonimo di successo.
Eppure Mr. Robot non è stato esente da critiche, fin dalla sua uscita. Molti si sono lamentati del tema piuttosto inflazionato (distruzione del sistema, lotta contro la multinazionale "cattiva") che, tuttavia, non va confuso con "banale". In realtà la forza del telefilm consiste proprio nel riuscire, partendo da un contesto già ampiamente trattato all'interno delle serie TV, a risultare originali.
Come evidenziato in questo articolo Sam Esmail, con Mr. Robot, sa esattamente dove andare a parare. Lo dimostra la sua vasta conoscenza cinematografica, e i riferimenti più o meno espliciti a Fight Club e V per Vendetta, passando per The Game vanno in tal senso; la sua maniacale attenzione ai dettagli e all'attualità (nella prima stagione viene citato il caso Ashley Madison, un suicidio in diretta televisiva, scoppiato pochi giorni prima).
C'è, inoltre, il vivido espediente della call-to-action. Poche Serie Tv sanno dare "pane al pane" con la stessa efficacia di Mr. Robot. Lo spettatore viene spogliato di tutte le sue contraddizioni, al cospetto di assiomi che, proprio perchè tali, sminuisce e trascura. Ad esempio che le banche giochino sporco, in combutta coi governi, è una convinzione abbastanza radicata nell'immaginario collettivo e la Serie, con amara ironia, sembra chiederci: "Se la pensi così che ci fai nascosto dietro a uno schermo?".
Una roba così ha tutte le carte in regola per movimentare l'estate di ogni addicted.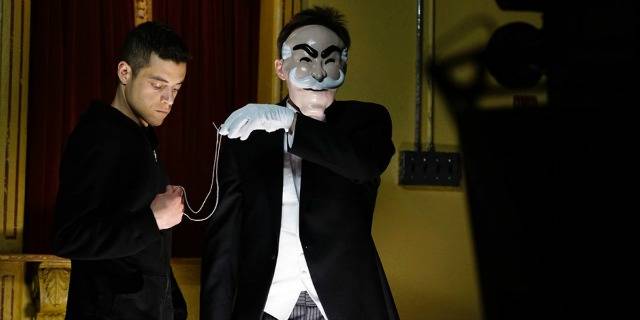 Esmail si diverte a ingannare gli spettatori nell'arco della narrazione, un gioco a cui questi ultimi si sottopongono volentieri. Sin dalla prima puntata l'autore si è mosso su una linea sottile tra onirismo e realtà. Se la prima stagione rende abbastanza evidente il parallelo tra Elliot e Tyler Durden, nella seconda il viaggio nella mente di Elliot assume tratti più cupi, complessi e imprevedibili.
Il tutto condito dal vero valore aggiunto di Mr. Robot: Elliot Alderson. Il protagonista della storia, interpretato alla perfezione da Rami Malek, già dal look si presenta in perfetta antitesi con i colori che in genere associamo all'estate, rendendo questo ossimoro ancor più meraviglioso. Occhiaie, pallore, felpa con cappuccio a coltivare l'idealtipo dell'hacker, voglia di vivere ai minimi storici: questi e altri motivi riassunti in questo articolo lo rendono un personaggio assolutamente iconico.
Mr. Robot, dunque, diventa il pretesto per riflettere sulle scelte di palinsesto.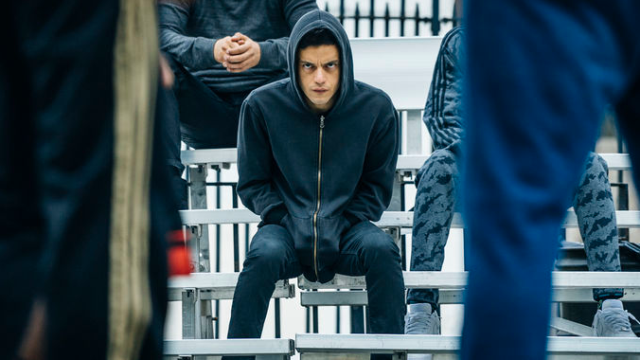 Se l'estate è la stagione dell'anno in cui più vorremmo seguire il mantra disneyano del hakuna matata, Elliot spegne ogni nostra velleità positiva. La Serie in generale, alla spensieratezza, contrappone un pessimismo cosmico e ineluttabile. E, a pensarci bene, le Serie Tv che vanno per la maggiore in questo periodo sono proprio quelle meno "estive".
D'altra parte quale Serie, negli ultimi 6 anni, è stata collocata a ridosso dei mesi più caldi dell'anno se non quella con il motto più gelido che esista? Il Winter Is Coming che gli Stark proclamano dal primo episodio di Game of Thrones è senza dubbio un altro elemento di contrasto. Ancor più curioso se si considera che ora che l'inverno è veramente arrivato la settima stagione comincia a luglio inoltrato.
Allo stesso modo qual è stata la Serie più in voga dell'estate 2016 e forse dell'intero anno passato? Molto probabilmente vi verrà da rispondere Stranger Things. Anche in questo caso le atmosfere, cupe, alcune trovate narrative, come le luci di Natale che Joyce usa per comunicare con Will, ci immergono in un contesto completamente avulso rispetto a quello che ci circonda.
Di certo questa relazione inversa non può essere una mera coincidenza. Le emittenti, infatti, sono sempre molto attente a pianificare con cura quale sia il periodo migliore per lanciare una Serie Tv. Altrettanto sicuro è che questa tendenza rappresenti un chiaro segnale dei tempi in cui viviamo: siamo talmente affamati di telefilm da necessitare di una copertura pressochè totale durante tutto l'anno.
In una situazione del genere Mr. Robot meritava di essere confermata quale uno dei più interessanti intrattenimenti estivi. Il periodo perfetto per poter gustarsi appieno i trip di Esmail & co. sarebbe stato proprio questo. Ottobre, momento dell'anno in cui quasi sicuramente avremo la terza stagione, è una fucina di alcune tra le Serie Tv più seguite del mondo e c'è il rischio che una Serie così bella non riesca a emergere come dovrebbe in mezzo a quel calderone. Dopotutto abbiamo o no anche una vita sociale?