Attore di spicco del momento, punta di diamante della serialità, Rami Malek ha finalmente ottenuto la fama che si meritava. Ha ricoperto sempre ruoli di poco conto, da Una notte al museo 1 e 2 ad Alcatraz e Twilight. The Pacific è stato probabilmente il suo effettivo trampolino di lancio, ma tutti lo conosciamo come Elliot Alderson.
Mr Robot è la serie evento dello scorso anno e sta procedendo con una storia intrigante è da trip mentale assoluto in questa seconda stagione. Elliot Alderson, interpretato da Rami Malek, è il protagonista indiscusso e lo amiamo per la sua estrosa timidezza e la sua scontrosa rassegnazione verso il mondo.
Rami Malek ha dato il giusto volto ad un personaggio complesso ed estremamente caratterizzato. Sembra essere cucito su di lui, eppure l'attore ammette di non avere molto in comune con Elliot. Abbiamo scoperto qualche chicca, sette curiosità su Rami Malek di cui probabilmente non eravate a conoscenza.
#1 Il provino grazie ad Emmy Rossum
Sam Esmail, anche lui egiziano-americano come l'attore Rami Malek, è il regista e sceneggiatore di Mr Robot. Nel momento di scegliere gli attori da provinare per il ruolo di Elliot Alderson si è trovatto in grosse difficoltà. L'allora fidanzata Emmy Rossum, famosa soprattutto perché interpreta Fiona Gallagher in Shameless, gli ha consigliato di provinare un certo Rami Malek. Fino a quel momento aveva interpretato piccoli ruoli, ma aveva attirato l'attenzione della giovane attrice per il suo lavoro in The Pacific. Sappiamo tutti quale è stato l'esito di quel provino. Grazie Emmy!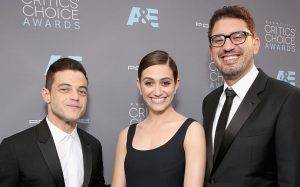 #2 Cani e gatti
Rami è allergico ai gatti, nulla di eccessivo, ma sul set anche dei brevi starnuti possono dare fastidio. Qwerty, il pesce rosso del protagonista di Mr Robot, doveva inizialmente essere un gatto, ma l'allergia ha reso la vita impossibile al povero attore. Oltre al pesce rosso, nell'episodio pilota Elliot porta con sé un cagnolino. Rami Malek sembra essersi affezionato, essendo un grande amante dei cani, e ha deciso di seguire le orme del suo personaggio: ora il cane ha un padrone di nome Rami ed è spesso presente sul set.