La prima stagione di Maniac ci ha regalato momenti esaltanti, momenti confusi e, soprattutto, momenti riflessivi. Patrick Somerville e Cary Fukunaga hanno confezionato, attraverso una scrittura coerente e con il contributo di due grandi attori come Emma Stone e Jonah Hill, un prodotto non scontato o banale, forse tendente all'esaltazione dell'autocommiserazione, ma proprio per questo pregnante di realismo. Come abbiamo già visto nella recensione del pilot di Maniac, The Chosen One!, una delle tematiche più insistenti è quella dell'eterna domanda: l'universo (e, quindi, la nostra vita) è governato dal caos oppure esiste uno schema che ci guida verso le scelte che compiamo?
All'inizio, la situazione che ci viene presentata è volutamente poco chiara. Il primo episodio è dedicato quasi interamente a Owen. Già dal titolo, possiamo dedurre che dal suo punto di vista deve necessariamente esserci uno schema:
"The pattern is the pattern".
La sua credibilità, tuttavia, è ostacolata da un piccolo intoppo. Veniamo presto a scoprire infatti che Owen in passato ha sofferto di varie forme di psicosi e, inoltre, ha spesso delle visioni che alterano la realtà delle cose (quello che la segretaria della Neberdine con cui parla definisce il "popcorn problem", riferito al fatto che spesso capita al protagonista di vedere trasformati in popcorn piccoli oggetti sul suolo).
Se volessimo banalizzare, potremmo dire che Owen è pazzo. Le parole "lo schema è lo schema", infatti, gli vengono dette da un uomo identico al suo odiato fratello, ma dotato di baffi e soprattutto di una caratteristica assente in tutta la famiglia Milgrim: la fiducia in Owen.
Purtroppo per lui quest'uomo non esiste. Più avanti, nella puntata 1×09 Utangatta, è lo stesso uomo ad autodefinirsi il fratello che Owen ha sempre sognato ma che non ha mai avuto.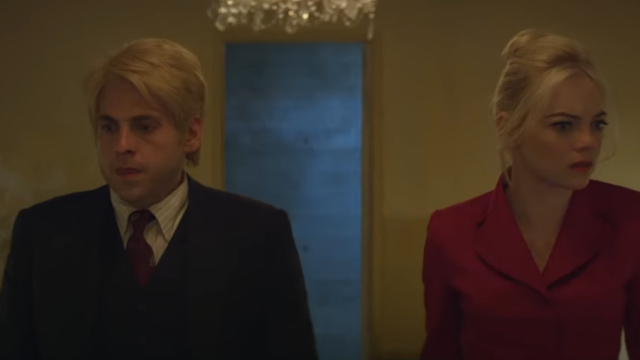 Dunque, tornando allo schema, Owen viene convinto dalle sue visioni che il suo obiettivo sia salvare il mondo (o meglio, il suo mondo), che abbia una missione da compiere. Per fare ciò, però, fondamentale deve essere il ruolo di una connessione, un complice: ed è qui che si inserisce Emma Stone, Annie. La ragazza, tuttavia, ben presto spiega a Owen che non c'è nessuna connessione, non c'è nessuno schema e, anzi, nella 1×03 Windmills, afferma chiaramente:
"Non c'è uno schema, l'universo è caos".
Gli spettatori, in questa prima fase, sono portati a credere più alla posizione di Annie. Ma è quando inizia la terapia presso la Neberdine che le cose cambiano completamente a favore di Owen. Vediamo che la pillola B crea delle visioni nei pazienti e, contrariamente a quanto dovrebbe accadere, Owen e Annie non sono soli nelle loro storie, ma sono sempre legati. Ognuno è co-protagonista della storia dell'altro.
Gli studiosi James e Azumi non riescono a spiegarselo.
C'è dunque una connessione cosmica che, anche se il computer prova a separarli, fa in modo che i due tornino sempre insieme? Sembrerebbe di sì.
Il computer, a proposito. GRTA è la rappresentazione tecnologica della mente della madre di James, un'eccentrica psichiatra di nome Greta, chiamata a psicoanalizzare la sua alter ego, in quanto essa è in lutto per la morte del precedente dottore (Robert Muramoto), di cui si era imprevedibilmente innamorata. La donna, disprezzata dal figlio James, si rende conto che GRTA è un pericolo per i pazienti perché si trova in uno stato mentale di forte alterazione della personalità, passando dalla voglia di aiutarli a quella di imprigionarli per sempre in un coma vegetativo. Nonostante tutto, Greta è l'unica che ha compreso la pericolosità di quell'esperimento.
Ma sarà Owen a salvare tutti. La sua abilità con il cubo di Rubik, infatti, gli permetterà di sbloccare le porte del laboratorio. La scritta che appare nella sua visione è sintomatica:
"Owen saves the day!".
Owen ce l'ha fatta, ha completato la sua missione. Il suo destino si è compiuto, e l'unico modo per impedirglielo poteva essere l'intervento di un essere superiore, in questo caso GRTA, che uccide inutilmente il falco (Owen) quando sta cercando di avvertire Annie e salvarla dal coma imminente. Ma c'è ancora qualcosa che non quadra: alla fine del trattamento, Owen ritiene che la cosa migliore da fare sia ignorare la connessione con Annie, per evitare di rimanere deluso dalla realtà delle cose (come meglio spiegato nella recensione dell'ultimo episodio). Il destino, lo schema, interverrà ancora?
Assolutamente sì.
Maniac, infatti, ci comunica un messaggio molto chiaro: quando Annie capisce che assecondare la richiesta di Owen è stato un errore, l'universo (che ormai l'ha convinta di non essere solo caos) le fornisce la dritta necessaria per rimettere entrambi in carreggiata. La ragazza legge sulla prima pagina di un giornale che il figlio della potente famiglia Milgrim è stato rinchiuso in un ospedale psichiatrico, in seguito a una controversa testimonianza in un processo che riguardava il fratello. Annie sa dove andare, sa cosa fare.
Convincere Owen non sarà facile, ma ha il destino dalla sua parte:
"Perchè sei qui?", le chiede Owen
"Perchè sono tua amica, ed è questo che fanno gli amici".
Sapere chi siamo non è importante: viene ripetuto più volte nel corso di Maniac. Quello che conta è sapere dove andare e, soprattutto, sapere con chi farlo. Questo è il commovente messaggio che otteniamo, questo è lo sguardo soddisfatto che abbiamo guardando la fuga in furgone di Annie e Owen, finalmente liberi di sconfiggere i propri demoni. L'universo non è solo caos: spesso non lo sappiamo, ma ci sta guidando verso strade che dobbiamo solo trovare il modo di percorrere.