Lassie. Sì, proprio Lassie. E' giunto il momento di parlare anche di questo mito.
Vorrei sapere se davvero esiste qualcuno che non ha idea di chi sia Lassie, perchè, semplicemente, non ci credo. Già..non posso credere al fatto che ci sia la possibilità che le nuove generazioni crescano senza conoscere il Collie che ha fatto sognare ed emozionare bambini e adulti senza discriminazioni, senza aver sentito almeno una volta la sigla
"Cercati un amico e un tesoro troverai 
ed io l'ho trovato qui con te.."
Non posso credere che qualcuno non conosca "Naso freddo e Cuore caldo".
Che dire? Lassie è stata davvero una Serie Tv da record. Innanzitutto è al terzo posto nelle 100 Serie Tv con più episodi di sempre (qui la classifica completa). Poi il cane "Lassie" è uno dei soli tre animali (senza contare quelli dei cartoni animati come Paperino, Titti & co.) ad avere la stella a Hollywood; gli altri sono Rin Tin Tin e Strongheart, due pastori tedeschi. Come se non bastasse, nel 2005 è stato inserita tra le "100 icone di tutti i tempi". Tutto il successo dei cartoni, dei fumetti, dei film, ma soprattutto, tutto il successo mondiale dovuto alle tre Serie Tv dedicate a Lassie, hanno fatto sì che l'intera razza canina Collie o Pastore Scozzese ora venga nominata da chiunque come "razza Lassie". Non male per un cagnolone, eh?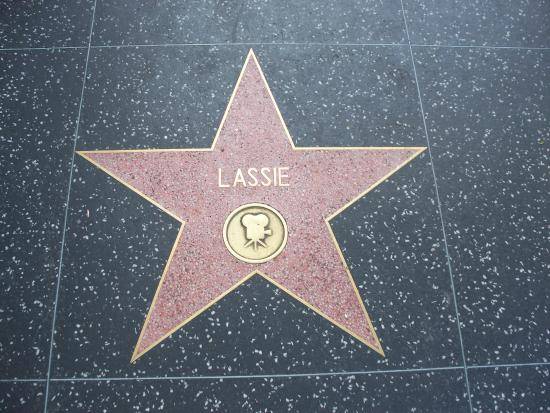 Lassie fu trasmessa per la prima volta tra il 1954 e il 1973 negli Stati Uniti. Le prime 17 stagioni furono del canale CBS, mentre le ultime due vennero mandate in onda in syndacation (emittente locale e non nazionale). Nel 1989 venne lanciato il remake The New Lassie fino al 1991, mentre l'ultima storia è apparsa tra il 1997 e il 1999 sempre con il nome di Lassie. Il cast e e le storie erano ovviamente diversi di volta in volta, ma tutto ruotava ovviamente intorno alla figura di questo "cane eroe" che si cimentava in salvataggi, giustizia e amicizia vera.
Le avventure di Lassie si svolgono dapprima in una fattoria con un giovane ragazzino, Jeff (Tommy Retting), che vive con la madre e il nonno in una cittadina inventata dalla fantasia degli autori dal nome Calverton. Nel corso della storia il nonno di Jeff muore e la famiglia si trasferisce dovendo lasciare anche Lassie ai nuovi proprietari della casa. Qui la cagnolona conosce Timmy, ma poco tempo dopo viene lasciata ai vicini di casa per un nuovo trasferimento. Cully, il nuovo proprietario, se ne occupa per un po', ma a causa di problemi di cuore lo regala a Corey, una guardia forestale, e al suo team di lavoro. Da qui comincia l'avventura più famosa per Lassie: in compagnia dei suoi nuovi amici infatti si diletta in salvataggi di animali di ogni genere e nell'aiutare qualunque persona si dimostri in difficoltà. Successivamente la storia di Lassie si svolge nell'Holden Ranch, un centro di aiuto per bambini disabili, dove si inizia a parlare di "pet therapy".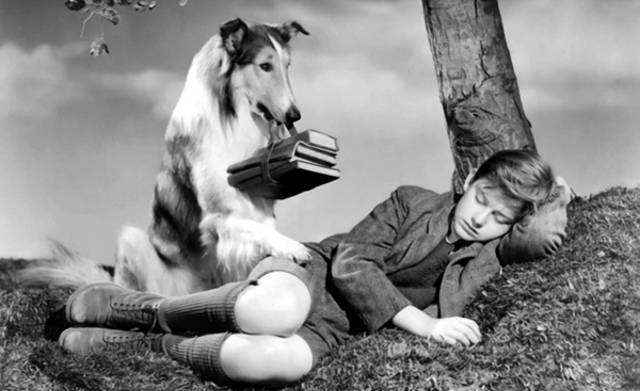 Uno dei più grandi misteri riguardanti Lassie è proprio il sesso del cane in tutte le sue vicende. Pur essendo interpretato da sei cani Collie maschi, Lassie nella Serie Tv è sempre una femmina. Cinque dei sei animali utilizzati nelle riprese erano discendenti di Pal, il primo "Lassie" dei film della MGM. La scelta del cast di solo "maschi" fu fatta semplicemente perchè gli animali sono più grandi delle femmine e perchè cambiano il pelo una sola volta all'anno (necessario perchè fossero il più possibile simili uno all'altro).
Il remake della prima serie, The New Lassie, fu trasmessa in 51 episodi divisi per due stagioni. Qui la storia si snoda attorno alla famiglia McCullough, dove Chris e Dee (intepretati da Christopher Stone e Dee Wallace) e i loro figli Will e Wendy adottano Lassie. La cosa interessante di questo remake è il numero di guest star e soprattutto, il tipo. Più e più volte è apparso in questa Serie Tv Leonardo Di Caprio e, nel ruolo del fratello di Chris recitò, invece, Jon Provost (l'ex Timmy nella serie più datata).
L'ultimo assaggio di Lassie come Serie Tv lo abbiamo avuto, come detto sopra, tra il 1997 e il 1999. Il canale canadese YTV e quello statunitense Animal Planet condussero una sorta di nuova storia con protagonista umano sempre un ragazzino di nome Timmy. L'avventura inizia con il suo trasferimento ad Hudson Falls, dove la madre ha trovato lavoro come veterinaria. Lì, immediatamente, conoscono e adottano Lassie.
Insomma Lassie era davvero un'eroina. Le sue avventure erano commestibili per qualunque generazione, per qualunque orario di trasmissione e per qualunque giornata dell'anno.
Non si può certo dire che Lassie sarà per sempre ricordata come una di quelle Serie Tv capolavoro, ma una cosa è certa. Lassie è parte integrante della nostra infanzia, è il cane che non abbiamo mai avuto quando eravamo bambini, è il vero amico dell'uomo, è uno di quegli eroi che da piccoli ricercavano in tutto e per tutto. 
Lassie ha fatto la storia.
Qua la zampa, dolce Lassie!