Eroi, anche solo per un giorno: il David Bowie di Heroes e il Berlino de La Casa de Papel sembrano condividere lo stesso destino.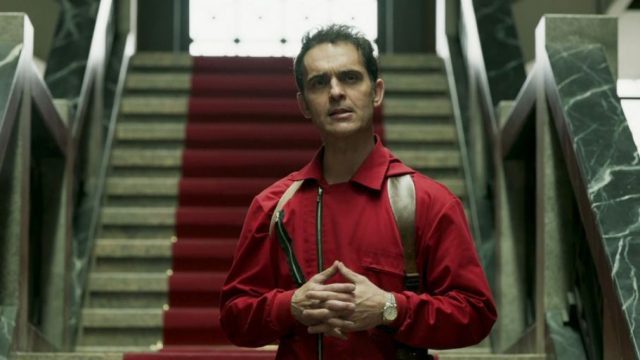 I, I will be king
And you, you will be queen
Though nothing will drive them away
We can beat them, just for one day
We can be Heroes, just for one day
Quello che lancia il primo protagonista del nostro articolo, immerso nel fumo grigio durante il video di Heroes, è un grido disperato, di consapevolezza e sacrificio. Parliamo di David Bowie, una delle stelle più luminose nell'orizzonte musicale. Noi due possiamo essere eroi, io sarò re e tu regina, almeno per un giorno potremo essere eroi. Quando nel 1977 il Duca Bianco scriveva queste strofe si trovava a Berlino, terra di rinascita per il cantante londinese. Dopo un periodo buio in cui era sprofondato nell'alcolismo, nella dipendenza e nella depressione, il cantante decise di ripartire dalla città tedesca per tornare a risplendere nel firmamento della musica. Proprio dalla città del muro prende il nome anche il nostro secondo protagonista: Andrés De Fonollosa, in arte Berlino, protagonista de La Casa de Papel (in questo articolo abbiamo trovato 7 errori della Serie Tv).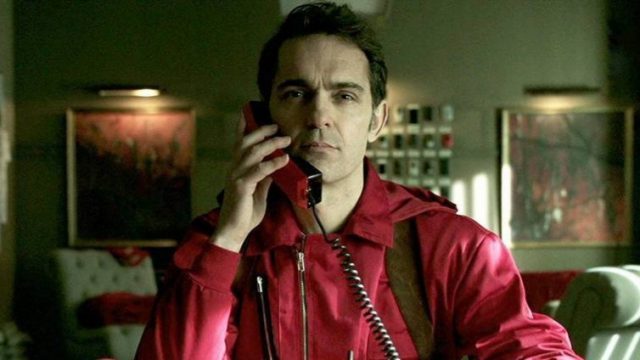 Arianna, caricatore! Siamo Romeo e Giulietta, siamo Bonnie e Clyde, noi siamo gli amanti di Teruel. Noi siamo la Resistenza!

Anche loro sono una coppia, sono vestiti di rosso, l'uomo imbraccia una mitragliatrice gigante, la ragazza piange e passa caricatori. Sono Arianna e Berlino, è l'ultima puntata de La Casa de Papel. Troviamo il burbero rapinatore affetto da una malattia degenerativa impegnato a fronteggiare un gruppo di poliziotti in tute antisommossa, mentre cerca di guadagnare tempo per far fuggire gli altri protagonisti della Serie. Potremmo definire Andrés e David gemelli, entrambi hanno raggiunto la consapevolezza di cosa sono e cosa devono fare della vita. Il primo affronta la polizia a viso scoperto, la faccia di Dalì non serve più. Il secondo per la prima volta abbandona le sue maschere, i suoi disegni sul viso e nel video appare genuino. Entrambi sono nudi di fronte a ciò che sta per succedere loro.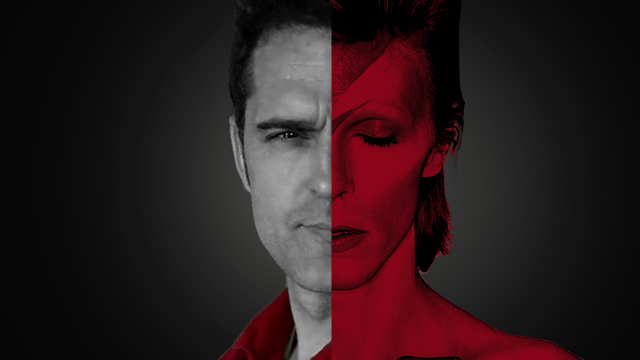 I, I can remember
standing, by the wall
and the guns shot above our heads
and we kissed,
as though nothing could fall.
Ed eccolo il nostro Berlino (qui parliamo di un suo possibile spin-off), lo vediamo – come ci descrive il Duca Bianco – dietro un muro a sparare contro la polizia. And the guns shot above our heads. Resiste fino alla fine, costi quel che costi. Arrendersi non è tra le opzioni, non per un malato terminale. Ce lo dice lui stesso: "La decadenza non è fatta per me, tu mi ci vedi con la bava alla bocca o con problemi di incontinenza?". Berlino, il nostro eroe de La Casa de Papel, deve morire per essere considerato tale. Deve morire anche il vecchio Bowie per rinascere a nuova vita, deve combattere i suoi demoni interiori. Possiamo batterli, ancora e per sempre, possiamo battere la malattia, sia quella spirituale che quella degenerativa.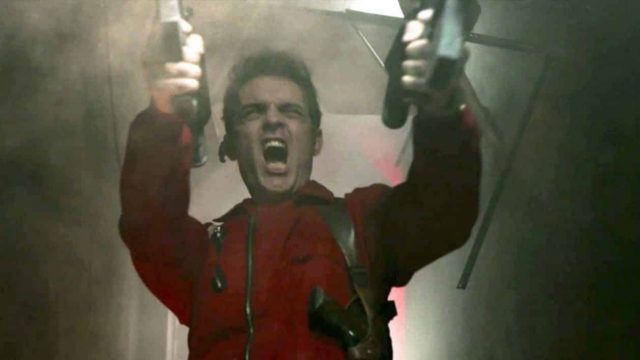 Ho passato la vita facendo un po' il figlio di puttana ma oggi… credo di voler morire con dignità.
Un grido disperato dell'ultimo romantico, di un Berlino che torna ad essere Andrés, che si spoglia dei panni di rigido capomissione. Nel mondo de La Casa de Papel distrutto dal denaro e dall'economia irreale questo gesto di immolarsi per il bene comune risplende come una cometa che attraversa il cielo. Una Space Oddity, una  rara stranezza spaziale, per usare le parole di David Bowie. Anche il Duca Bianco si trova in una realtà distrutta dalla Guerra Fredda e divisa da un muro, costruito in una notte, che attraversa proprio Berlino. I nostri due protagonisti, uno attraverso i gesti, l'altro con una canzone, ci mandano un messaggio chiaro.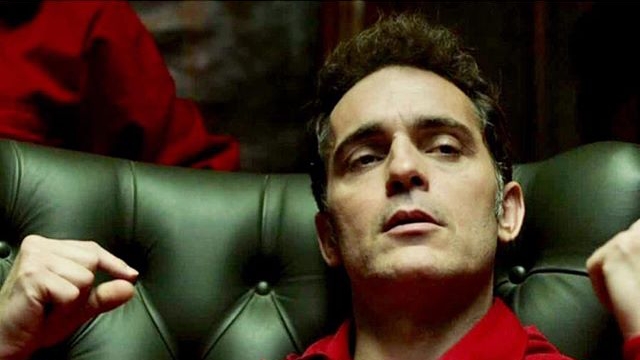 And the shame was on the other side
oh we can beat them, for ever and ever
then we could be Heroes,
just for one day.
Possiamo batterli, Berlino! Possiamo batterli, Duca! I nostri nemici, la shame (la vergogna impersonificazione del male), sono duri. Ci hanno distrutto, ci hanno debilitato, ma possiamo batterli. Ora e sempre. Possiamo sconfiggerli perché noi siamo Eroi, ma non quelli dei fumetti. Siamo uomini che risorgono nei momenti più difficili, quella Fenice che nonostante la morte rinasce. E allora per un solo giorno, con i nostri sacrifici, potremmo forse essere eroi. Sì, sono sicuro, we're nothing and nothing will help us, noi non siamo niente e niente ci aiuterà nella nostra impresa. Ma possiamo essere comunque eroi, almeno per un giorno, almeno per ora. Sì, David. Sì, Andrés.
We can be Heroes!
Possiamo essere Eroi!
We can be Heroes!
Just for one day,
we can be Heroes!