Attenzione! Evitate la lettura se non volete spoiler sulla 6×10 di How to Get Away with Murder.
La lunga pausa che ha seguito il finale di metà stagione si è infine concluso, e How to Get Away with Murder è tornata per concludere definitivamente la serie. Nel corso degli anni siamo stati abituati a colpi di scena senza sosta, intrighi, tradimenti, pugnalate alle spalle e improbabili alleanze. Detta così potrebbe ricordare vagamente Game of Thrones.
E questo è il paragone che ha fatto Pete Nowalk – creatore di How to Get Away with Murder – in riferimento agli episodi che sanciranno definitivamente la fine delle traversie di Annalise Keating e dei suoi studenti, qualunque sia l'esito finale della storia.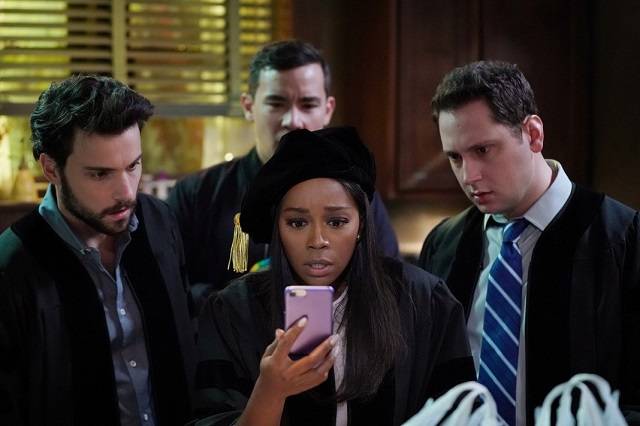 Nella 6×10 abbiamo visto Michaela e Connor patteggiare per evitare la condanna per molteplici crimini: l'offerta dell'FBI è l'immunità, a patto che testimonino contro Annalise. Ecco cosa ha avuto da dire Nowalk a TV Guide riguardo ai prossimi episodi:
La situazione sta per incasinarsi parecchio perché, come abbiamo visto, l'FBI sta chiedendo a Michaela e Connor di mentire riguardo a certi dettagli, così che possano ottenere il verdetto che vogliono. Quindi non c'è niente di semplice. Non è solo "di' la verità e la passerai liscia". È più "di' la verità e poi mistifica un po' quest'altra parte". Tutti loro hanno una coscienza, quindi si sentiranno veramente in colpa per questo. E tutti loro saranno nella posizione di mettersi gli uni contro gli altri, quindi qualunque patto abbiano può saltare in qualunque momento. È un po' come Game of Thrones, eccetto che invece del trono chi vince non va in prigione.
Visto l'inizio di questa seconda parte della stagione, abbiamo capito che nessuno di loro può dirsi veramente al sicuro. E con tutti i misteri che rimangono ancora da scoprire – chi ha ucciso Asher? Annalise morirà davvero alla fine? Come fa Wes a essere ancora vivo? – e i pochi episodi che rimangono per svelare la risposta ai nostri dubbi, possiamo solo aspettarci che stia per scatenarsi il pandemonio. Il paragone fatto da Nowalk non sembra poi così campato in aria.