Annalise Keating è una stimata avvocatessa e una brillante professoressa di legge alla Middleton University. È proprio nella sua classe che la incontriamo per la prima volta in How to Get Away with Murder. Il modo con cui si presenta ai suoi studenti ci fa subito capire che Annalise è una tosta. Perché in un'America non sempre tollerante, nonostante le difficoltà che una donna nera possa incontrare, la Keating è sempre un passo avanti. Fin da subito è chiaro che Annalise farà di tutto per vincere una causa. È una dura, non si perde in chiacchiere. L'ambizione la muove e sa quanto sia importante la competizione: infatti mette in palio tra i suoi allievi la possibilità di lavorare con lei su casi veri. E gli eletti sono quei Keating 5 che ci accompagneranno per tutto il resto di How to Get Away with Murder.
È, in pratica, la forte protagonista femminile che tutti ci aspettiamo, con una bella abitazione e un marito affascinante. Ma dietro le porte della sua casa la musica cambia.
Il suo matrimonio non è così solido come pensavamo, è pieno di menzogne e falsità. Annalise tradisce Sam con Nate, un uomo che per lei finirà in galera e si prenderà colpe non sue. Eppure non l'abbandona mai davvero, sebbene ci abbia provato. Anche Sam tradisce Annalise e lei lo sa, mettendolo al corrente con una frase epica, con la quale comprendiamo che c'è molto in più in lei di quanto non sembri:
"Perché il tuo pene è sul telefono di una ragazza morta?"
Quello che colpisce non è tanto la domanda in sé, ma il momento di silenzio che porta a quella scena. Annalise si siede di fronte allo specchio, si toglie la parrucca, si strucca il viso. Vediamo finalmente la vera donna dietro l'armatura. È un momento intenso, crudo, coraggioso e onesto che ci permette di cambiare prospettiva sia su How to Get Away with Murder, sia su Annalise.
Ecco che la Keating non è solo un drago che ripulisce i casini degli altri, che riesce a far apparire i suoi clienti e i suoi studenti come dei burattini da manovrare a suo piacimento, che ha il coraggio di difendere una coppia di fratelli accusati di incesto e omicidio dei genitori. Quel travestimento di donna forte e risoluta serve per adattarsi a un mondo che non l'accetta per quello che è. Il matrimonio con Sam è il trampolino per essere accolta dalla sua nuova comunità e diventarne un pilastro. Non importa se ha dovuto rinunciare all'amore. Sotto quell'aspetto da dura, sotto Annalise Keating, emerge la sua vulnerabilità. Emerge quell'Anna Mae Harkness che sta cercando di seppellire con tutte le sue forze.
È nei suoi momenti di solitudine, dove i pensieri sono così rumorosi da far male, dove la sua immagine è lontana anni luce da quella pubblica, che scopriamo la vera Annalise.
La perdita del figlio – e tutto quello che ne è conseguito – è stata devastante. E dà ancora più valore al rapporto che ha con i Keating 5, soprattutto con Wes. La morte del ragazzo è un'ulteriore coltellata al cuore. Perché in lui vede il figlio che non ha mai avuto. Quella dipendenza dall'alcol che ha sempre cercato di nascondere viene così a galla. Lei beve perché è l'unico modo in cui riesce ad affrontare tutto quello che ha passato: abusi e povertà infantili, aborti spontanei e morte di figli, problemi coniugali e drammi familiari, razzismo e discriminazione, tradimenti e sensi di colpa.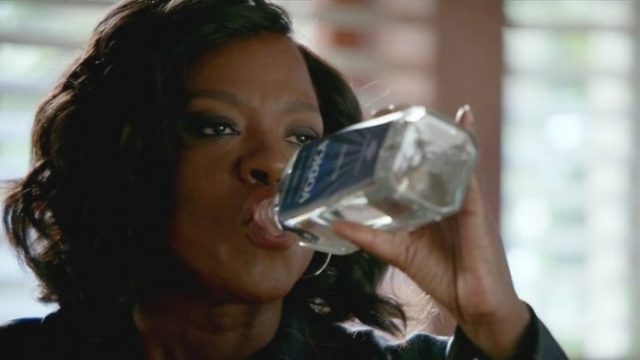 Le è rimasto solo il lavoro ed è questo a spingerla a tentare di rimettersi in sesto la prima volta. Si rivolge a un terapista ma è tutto inutile. La maschera che si è creata ha delle crepe troppo profonde, il personaggio che si è costruita non è forte abbastanza per sfuggire alle proprie dipendenze. Nemmeno la strepitosa vittoria alla Corte Suprema le dà la forza di rialzarsi. Perché Anna Mae è sempre lì, le sue debolezze sono sempre lì, i suoi fantasmi non la lasciano mai.
Ma prima o poi si raggiunge il limite, e lo fa anche Annalise in How to Get Away with Murder.
Una volta che si rende conto che questa facciata porta solo a cose più brutte come l'alcolismo e gli omicidi, Annalise si costringe ad abbracciare i suoi difetti. La strada è lunga e dolorosa. Ma non è solo così che avviene una crescita personale?
Stavolta non allontanerà tutti, non ferirà i suoi amici, non ricadrà nell'alcol. Va in un centro di riabilitazione. È scettica sulle terapie ma quel "io ti vedo e ti voglio bene" la fa riflettere. Perché lei non si è mai amata. Lo vediamo quando si sfoga in camera sua. Su quel cuscino riversa tutte le sue emozioni, le insicurezze, il dolore, la vergogna, gli abusi. Si libera dall'odio così da accettarsi finalmente. Il travestimento cade di fronte alla giuria, di fronte alla sua famiglia, ai suoi amici e nemici (qui un approfondimento su Laurel), di fronte a sé stessa. Cambiare alla fine non le è servito perché Annalise ha sofferto più di Anna Mae. Ha perso troppo e, quando ha provato a ricominciare, è stata colpevolizzata.
Questo non cancella quello che ha fatto e lei lo sa. Ma adesso è stanca e quel suo essere esausta lo sentiamo nella sua arringa in tribunale. Sentiamo il peso degli scandali, dei segreti, delle rinunce, dei sacrifici, del suo esserci per tutti tranne che per se stessa. Finché non ha capito. Amarsi e perdonarsi è la chiave per la felicità. E allora afferma in quell'aula di tribunale, con fierezza e passione, chi è, senza più vergognarsene. Vincendo la sua più grande battaglia: è in tutto e per tutto Anna Mae Harkness.
Attraverso Annalise, How to Get Away with Murder si trasforma. Non è semplicemente un legal drama pieno di omicidi. È una serie che ritrae donne che lottano quotidianamente, in cui va bene mostrare la propria debolezza quando si è vulnerabili, ma anche non aver paura di essere dure quando è necessario. In fondo Annalise Keating è sempre stata ambigua, imperfetta (e Viola si meritava un Emmy per questa interpretazione). Ma è proprio questo che la rende autentica.
Un personaggio che ci ha dato una bella lezione, che si è evoluto riuscendo, alla fine, a vivere la vita che voleva. Una donna che mai dimenticheremo.