Molti fans si sono indignati dopo avere visto l'ultimo teaser rilasciato da Netflix per pubblicizzare la sesta stagione di House of Cards (in uscita il due novembre). La reazione è dovuta all'immediato contenuto del video, che mostra Claire in piedi davanti alla tomba del marito.
L'uscita di Kevin Spacey, interprete del protagonista, era già stata annunciata da più di un anno in seguito allo scandalo che lo aveva coinvolto, tuttavia il fandom si era a lungo interrogato sul come avrebbero fatto uscire di scena il personaggio: se fosse finito in prigione, cosa che sembrava potesse avvenire alla luce del finale della quinta stagione, se potesse morire, o semplicemente rimanere un personaggio attivo, ma costantemente fuori scena.
Alla fine si è deciso di uccidere il personaggio di Frank Underwood.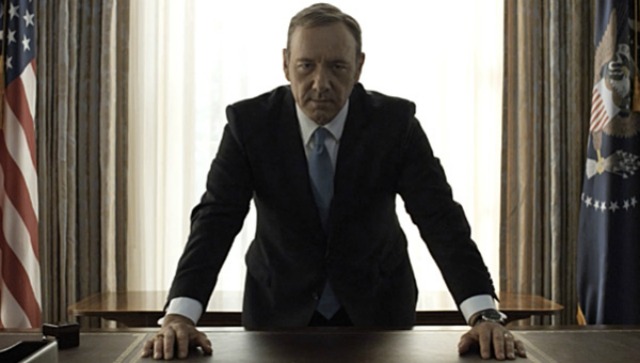 Per completezza, anche nel libro il protagonista viene ucciso e la moglie prende il suo posto. Eppure molti hanno annunciato che smetteranno di seguire la serie a causa dell'assenza di Spacey e del subentrare di Claire (Robin Wright) come protagonista.
A questo punto la domanda sorge spontanea: è stata una buona idea uccidere il personaggio di Frank Underwood?
Dalle reazioni del fandom sembrerebbe di no, eppure la mia risposta propende maggiormente verso una posizione neutra.
Quindi, è stata una buona idea uccidere Frank? Nì.
Sicuramente House of Cards risentirà negativamente dell'assenza di Frank, dei suoi monologhi con lo spettatore e della disarmante bravura di Kevin Spacey. 
Da qui a dire che la serie non sia più degna di essere seguita è eccessivo, anzi a me sembra che l'ultima stagione possa funzionare perfettamente solo con Claire, che è e resta, così come Frank, un ottimo personaggio, costruito nel tempo e che è cambiato totalmente rispetto all'inizio di House of Cards.
Già nella quinta stagione Claire aveva mostrato di sapere della nostra esistenza, abbattendo in un paio di episodi la quarta parete. Questo mi sembra lo sviluppo più giusto per un personaggio come quello di Robin: inizialmente succube del marito, dei suoi piani e dei suoi desideri. Claire si affidava completamente a lui, si fidava totalmente di lui, nonostante non approvasse spesso le sue decisioni o i suoi metodi.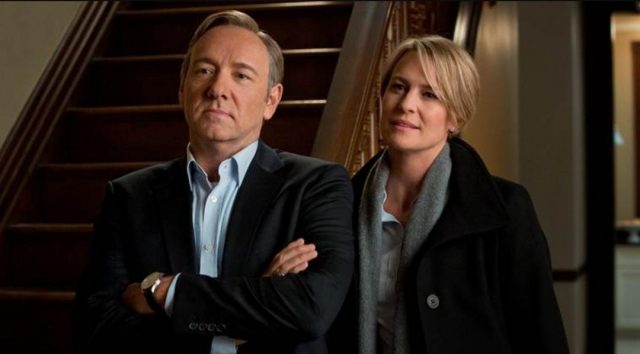 La differenza fondamentale tra i coniugi è questa, ed emerge perfettamente da un dialogo della terza stagione.
"Siamo assassini, Francis."

"No, siamo sopravvissuti."
Claire, a differenza di Frank, ha una moralità. Claire riesce a distinguere tra giusto e sbagliato, a capire cosa può e cosa non può essere fatto per raggiungere gli scopi suoi e del marito. Eppure nel corso della serie inizia a perdere la propria etica, inizia ad avere sempre meno scrupoli…
Fino alla conclusione della quinta stagione, quando uccide il proprio amante per evitare che egli divulghi informazioni importanti per lei o il marito.
E, allo stesso tempo, Claire ha una capacità che forse Frank ha smesso di avere: riuscire a stupire lo spettatore e, perché no?, anche gli stessi personaggi che gravitano intorno a lei. Frank stesso non era riuscito a dare per scontato che Claire gli avrebbe dato la grazia (cosa che infatti non fa, condannando il marito alla prigione).
Claire non raggiunge il suo culmine come personaggio quando diventa presidente, no. Lo raggiunge nel momento in cui, oltre ad apprendere le tattiche e la mentalità di Francis, ne comprende allo stesso tempo i limiti e le debolezze.
L'essere spietato di Frank, il farsi continuamente più nemici che amici, tutti limiti che Claire riesce a comprendere.
Debolezze, quando l'obiettivo non è più vincere le elezioni, bensì restare al potere. Errori che la donna evidentemente non intende ereditare.
Certo, Frank è sicuramente uno dei migliori personaggi mai creati in una serie tv, capace di trasmettere qualsiasi tipo di emozione allo spettatore, di farsi odiare e amare allo stesso tempo. Ma perchè questo dovrebbe impedire a Claire di dominare lo schermo?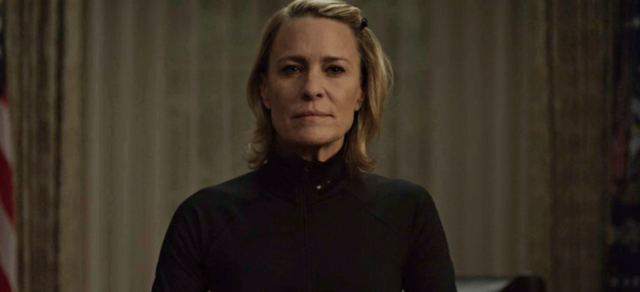 Bene, ora è il suo turno!