# #
Il 30 maggio 2017 uscirà su Netflix la nuova stagione di House of Cards e, ammettiamolo, noi fan non stiamo più nella pelle!
# #
Nell'attesa, tuttavia, qualora qualcuno non sapesse come ingannare il tempo, noi di Hall of Series abbiamo pensato a tutto! Ci abbiamo già provato la prima volta con la ricetta del piatto più famoso di Breaking Bad, ovvero quella de "Los Pollos Hermanos" (che potete consultare qui), e l'esperimento è così riuscito che abbiamo deciso di riprovarci!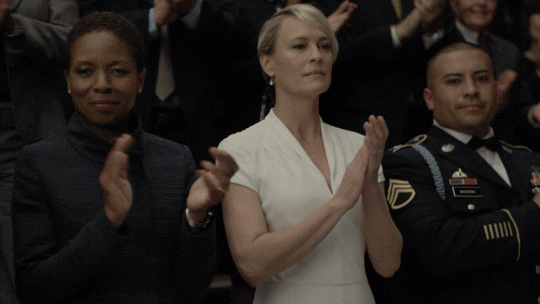 # #
Il piatto scelto questa volta viene direttamente dal Freddy's Bbq Joint, il chiosco dove Frank Underwood amava pensare, riflettere e tessere le fila de "gli intrighi del potere", un posto così caro al protagonista da diventare subito uno dei luoghi simbolo di House of Cards.
Oggi, in particolare, proveremo a spiegarvi come cucinare le celebri costolette di maiale di Freddy, il piatto preferito del Presidente.
Nello show abbiamo visto spesso il proprietario (Freddy appunto) vantarsi di essere l'unico in grado di saper cucinare il piatto alla perfezione, grazie ad una ricetta segreta in suo possesso custodita gelosamente. Noi, però, abbiamo scoperto che questa ricetta non è poi così "segreta" e che tutti, soprattutto sul web, hanno provato a riproporre il piatto a casa, con risultati più o meno riusciti.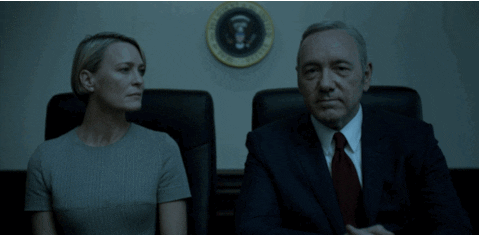 La ricetta che vi forniremo è quella che più si avvicina al piatto originale visto in House of Cards. Un solo morso e vi sembrerà di stare a Washington, allo stesso tavolo dove tante volte abbiamo visto Frank Underwood divorare le sue costolette. Provare per credere! Forse non sarà come l'esperienza vissuta dalla nostra Cecilia a New York (di cui potete leggere qui) ma noi non demordiamo! E anche questa volta ci proviamo a colmare quel senso di vuoto che ci assale quando la nostra Serie TV preferita non va in onda.
Ma adesso bando alle ciance! Cominciamo!
Ecco le costolette di maiale alla Frank Underwood, direttamente da House of Cards!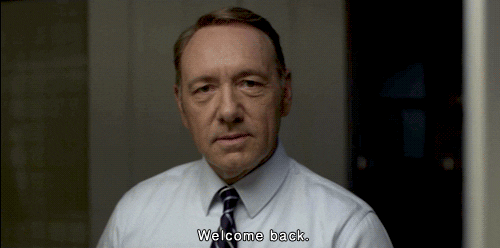 Prima di tutto, l'ingrendiente base: le costolette! Per le dosi che stiamo per fornirvi ne bastano sei (un totale di 600 gr. all'incirca); basteranno per due/tre porzioni, a meno che non siate particolarmente affamati.
Per la marinatura, invece, ci serviranno i seguenti ingredienti:
4 cucchiai di zucchero di canna
2 cucchiaini di sale fino
3 cucchiaiate di paprica
2 cucchiaini di pepe nero
1 cucchiaino di peperoncino in polvere
½ cucchiaino di cumino
Tutte spezie facilmente reperibili in qualsiasi supermercato.
In House of Cards, inoltre, le costolette di Freddy vengono accompagnate da una squisita salsa barbecue che, anche se potete comprare ovunque, noi vi consigliamo di fare home made, per riprodurre a casa vostra il gusto autentico che state cercando, rendendo così giustizia al piatto.
Per preparare la salsa dunque vi serviranno:
3 cucchiai di olio di semi
Una cipolla bella grossa
3 spicchi d'aglio per rendervi un pericoloso oratore
2 cucchiaini di paprica (meglio se affumicata)
2 dl di aceto di mele
2 dl di brodo
250 ml di ketchup
3 cucchiai di miele
2 cucchiai di salsa Worcestershir

1 cucchiai di senape (possibilmente in polvere)
1 cucchiaino di pepe nero,
½ cucchiaino di peperoncino
La salsa Worcestershir non è facile da trovare in commercio, ma niente paura! E' possibile realizzarla da soli! Basta mescolare insieme 1 cucchiaio Ketchup, 1 cucchiaio salsa di soia, 1 cucchiaio di Maionese, 10 Cl panna montata o yogurt greco, sale e pepe. Anche di questo tipo di salsa  ci sono diverse ricette in rete, questa però, secondo me, resta la più semplice, ma qualora vogliate sbizzarvi basterà una rapida ricerca su Google.

Segnati tutti gli ingredienti, passiamo alla preparazione!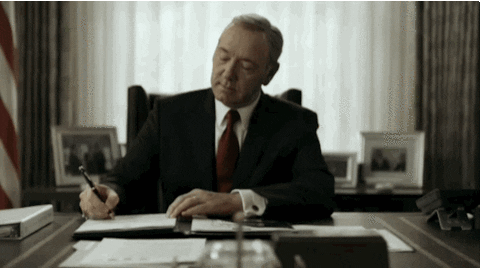 MARINATURA
Insieme a zucchero e sale mettete insieme le varie spezie sopra indicate rispettando le dosi, e usate il composto ottenuto per impanare le vostre costolette. Una volta passato il tutto dalla polvere di spezie e zucchero, facendo attenzione a non aver dimenticato nessun spazio vuoto, avvolgete la carne nella pellicola trasparente e mettetela a marinare in frigo per almeno un paio d'ore (anche se è consigliabile far riposare tutto il giorno o tutta la notte).
Nel frattempo preparate la salsa!
Sminuzzate molto finemente la cipolla e lasciatela appassire a fuoco medio in una padella insieme all'olio di semi. Aggiungete poi l'aglio (anche questo sminuzzato finemente) e, una volta ottenuto un buon soffritto, aggiungete l'aceto. ATTENZIONE! Questo passaggio è molto delicato, non siate troppo frettolosi e cercate di non far danni con i vapori rilasciati dall'aceto.
Per evitare che tutto si bruci, fino a quando il liquido in padella non raggiungerà l'ebolizione, bisognerà mescolare energicamente tutti gli ingredienti sul fuoco.
Una volta raggiunta l'ebolizione, invece, abbassate la fiamma e continuate a cuocere tutto a fuoco lento per un'altra mezz'ora, o per lo meno fino a quando la consistenza della salsina non sarà densa al punto giusto. Ricordatevi sempre di mescolare per evitare che la salsa si attacchi al fondo della padella, il colore finale dovrà essere marroncino/rossiccio (quello tipico, appunto, della salsa barbecue).
Finita la preparazione della salsa non vi resterà che infornare le costolette marinate, a 200° per un'ora e trenta minuti.
A metà cottura ricordatevi di estrarre le costolette dal forno e corspargerle abbondantemente di salsa barbecue. Infine rimettete tutto in  forno una seconda volta e lasciate le costolette dentro fino a fine cottura.
Verificate la cottura con una forchetta o uno stuzzicadenti. Se entrano facilmente nella carne vorrà dire solo una cosa: le costolette sono pronte!
Avete già l'acquolina in bocca, non è vero?