La quinta stagione di House of Cards, giunta alla quarta puntata su Sky Atlantic (ma distribuita per intero in America su Netflix) ha proseguito la linea del terrore che Claire e Frank hanno deciso di seguire per salvarsi la pelle dalle sempre più pressanti indagini del giornalista dell'Herald, il signor Hammershmidt.
Ma se qualcuno ha pensato, anche per un solo istante, che i coniugi Underwood avessero raggiunto l'apice della loro perfidia e cattiveria nella quarta stagione, si è sbagliato di grosso: ciò che abbiamo visto finora non è niente in confronto all'inquietante messaggio che viene trasmesso nelle prime quattro puntate della quinta stagione; senza dubbio, inoltre, il percorso continuerà a degenerare.
Ci soffermeremo su questi aspetti per cercare di capire quanto House of Cards proverà a spingere e forzare i confini della realtà.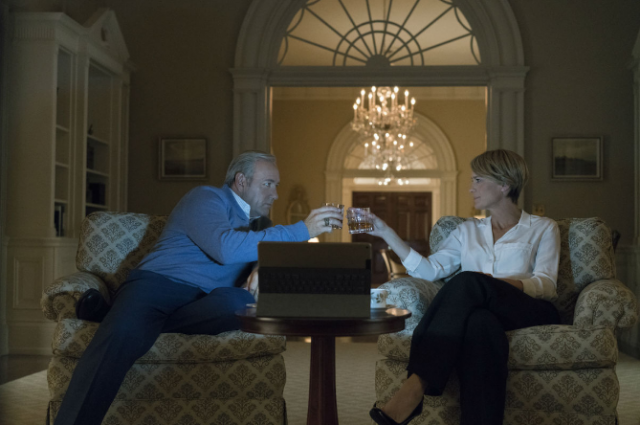 Come accennato, la questione del terrore è quella su cui maggiormente fa leva questo inizio di stagione; non è un caso, infatti, che il terrore creato dagli Underwood venga usato per alimentare la paura nei confronti del terrorismo: far degenerare quest'ultimo è a tutti gli effetti la scusa perfetta per creare ciò di cui l'essere umano per natura ha sempre bisogno, un nemico.
Gli americani, secondo le previsioni di Hammershmidt, dovrebbero capire che Frank è il nemico pericoloso da cui difendersi; il Presidente, consapevole che questo corrisponde alla verità, sceglie di creare, su una base già esistente, un nemico molto più presente di quello che sia in realtà. L'ICO diventa obiettivo militare, autore di attacchi informatici, fautore di allarmi bomba nei gazebo elettorali.
Sfruttare la scusa del terrore per distrarre l'America dai crimini di Frank e soprattutto rischiare il mantenimento della pace rientra nella categoria dei pretesti per proseguire la propria strada verso il potere assoluto. Facciamo un passo indietro. Ricordiamo tutti che l'inizio della scalata di Frank (e Claire) verso la Casa Bianca scaturisce dal desiderio di vendetta degli Underwood nei confronti di Walker per aver negato a Frank il ruolo di Segretario di Stato promessogli. Tuttavia, siamo ormai in grado di capire che c'è ben altro sotto.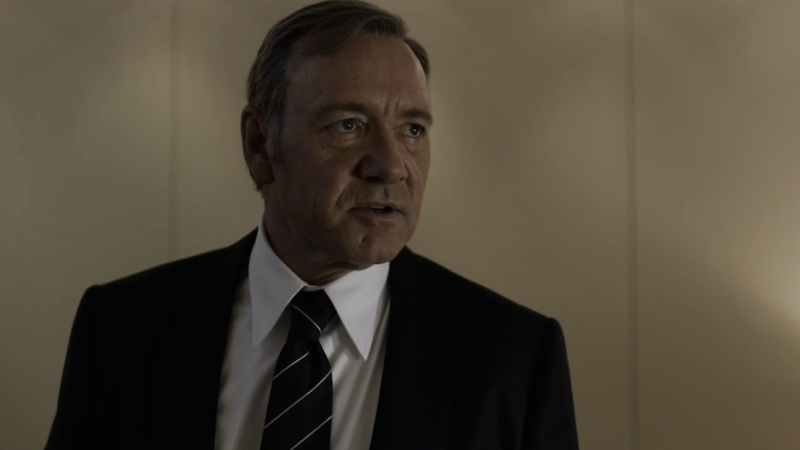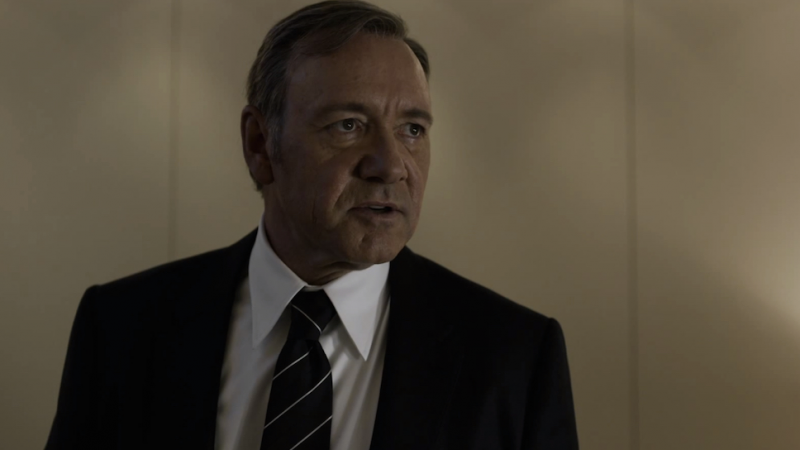 Diventare Presidente è stato per Frank solo un punto di partenza; in House of Cards, infatti, facilmente i protagonisti vengono divorati dal loro stesso potere. A lui, per ora, non è successo; anzi Frank brama quella che è una vera e propria degenerazione dell'attribuzione del potere. Inquietante, infatti, il modo attraverso cui mestamente e orgogliosamente ripete con la moglie il suo cognome abbinato agli anni delle elezioni, sottintendendo dunque una sovversione delle regole democratiche americane.
Il punto, infatti, è proprio questo: Frank, se si gioca pulito e secondo le regole, è sempre perdente. L'unico modo per rendere l'America una dittatura sotto il suo potere è sovvertire l'ordine democratico, attraverso l'inganno, le bugie e la delinquenza, senza mai destare sospetti. La mia opinione è che, probabilmente, la sua non sarà una bella fine.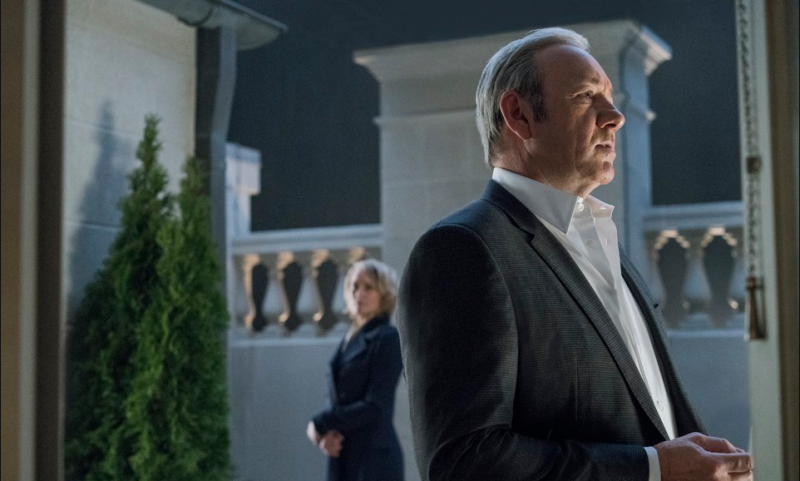 House of Cards, infine, sembra quasi ironicamente giocare e provocare tutti i complottisti del nostro mondo reale, mettendo al centro della trama l'attuazione di ciò che comunemente viene attribuito agli Stati Uniti: "farsi male da soli per poter attaccare gli altri". Per fortuna è solo una Serie Tv…o no?