Attenzione: evitate la lettura se non volete imbattervi in spoiler sulla quinta stagione di House of Cards
L'aveva detto in tempi non sospetti, e l'ha ribadito con un regno del terrore degno del più tirannico dei sovrani: "Non è il rispetto, ma la paura a muovere l'uomo: è così che si fondano gli imperi e si cominciano le rivoluzioni. È questo il segreto dei grandi". Quel che Frank Underwood probabilmente non aveva capito, tuttavia, è che un'esposizione tale è un'arma a doppio taglio, capace di regalare un potere effimero e non duraturo, seppure mostruosamente tangibile.
Il protagonista di House of Cards ha trovato nella quinta stagione una nuova dimensione: più fedele all'uomo che avevamo conosciuto nei primi tre anni, ma sempre più prigioniero di se stesso. Nonostante ciò, molto diverso dal Frank Underwood che aveva affrontato un anno fa (perdendo) i suoi spettri (ne avevamo parlato in un approfondimento che si pone idealmente come prequel dell'articolo che state leggendo, lo trovate qui).
In quel caso, la paura di perdere tutto, motore propulsivo della scalata che l'aveva portato fino alla Casa Bianca, l'aveva spinto contro le cause della sua degenerazione, fino a ritrovare se stesso tra le braccia di un matrimonio ormai divenuto associazione a delinquere. Stavolta, invece, sono state le conseguenze delle sue azioni ad aver presentato un conto rimandato in ogni modo, fino a trasformarlo in un Robespierre qualunque. Frank Underwood, solo al mondo manco fosse Riccardo III, ha sconfitto Frank Underwood per mano di una moglie divenuta troppo simile a lui. Ma la guerra, la sua, non è ancora finita.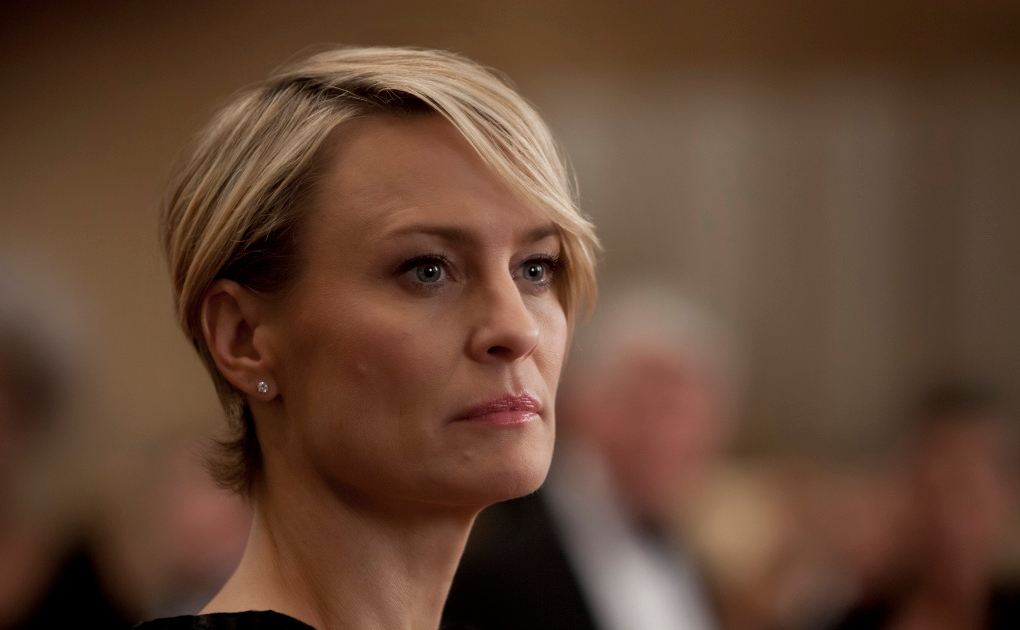 L'affermazione non intende sminuire minimamente il carisma e la forza di Claire, l'unica donna al mondo in grado di tener testa in modo credibile ad un marito fin troppo ingombrante, ma parte da un presupposto fondamentale: l'ascesa inarrestabile della nuova presidente degli Stati Uniti è la naturale conseguenza di un percorso nel quale Frank è stato un mentore spesso inconsapevole, non un indottrinatore. Non è stato Frank Underwood ad aver dettato le leggi umane per la conquista del potere, tracciando tuttavia un sentiero poi affrontato anche dalla consorte, profondamente diversa dalla donna che ci aveva accompagnato nei primi tempi.
Un germe si è impossessato gradualmente di lei e l'ha portata ad una conclusione simboleggiata idealmente dall'uccisione dell'amante Tom Yates: la solitudine è l'unico compromesso possibile con la vita per trovare l'assolutismo. La ricerca del potere è un sentimento umano, ma, paradossalmente, necessita di uno sdoppiamento che metta da parte l'umanità in nome di una dedizione incondizionata alla causa. Per questo (e solo per questo) l'omicidio di Yates non ha niente a che vedere con la morte di Zoe Barnes. Frank aveva già messo da parte da tempo ogni traccia d'umanità, mentre Claire ha affrontato un processo maggiormente graduale, meno brutale nello sviluppo ma non nelle conseguenze.
Ora Frank Underwood può guardare negli occhi sua moglie e trovarsi di fronte ad uno specchio deformato. La deriva di Claire è la conseguenza di un peso troppo grande da sostenere da solo, a prescindere dall'assenza di morale. Lei è l'unica che parla la sua lingua, è la proiezione più lucida di ogni sua debolezza ed è la sola che può metterlo da parte definitivamente. Lei, a differenza del resto del mondo: Frank Underwood non è il tumore della politica americana, ma la sua creatura più sincera. Inestirpabile, in quanto tale. Il cliffhanger finale della quinta stagione di House of Cards è, ancora una volta, il manifesto programmatico dell'anno che verrà, nel quale ritroveremo una guerra senza esclusione di colpi tra due coniugi troppo ingombranti per occupare una sola poltrona.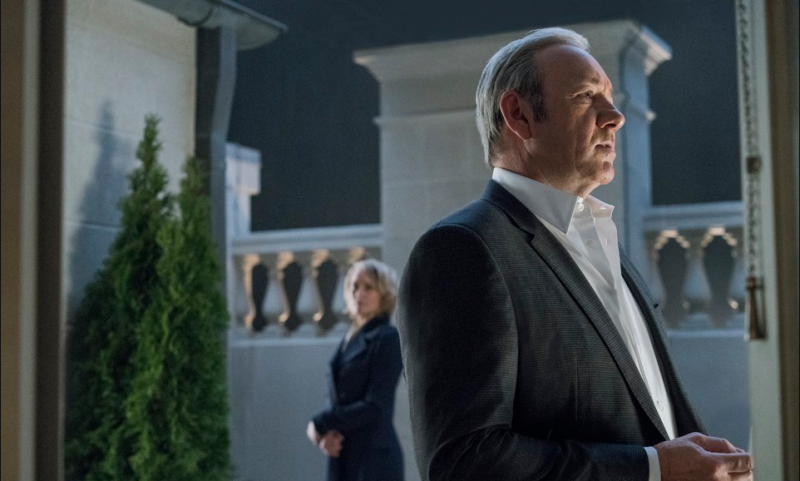 Chi avrà la meglio? A giudicare dagli equilibri creatisi, la vittoria di Claire sembra definitiva, ma Frank è abbastanza intelligente da saper imparare da ogni suo errore e ha capito di aver fatto della propria rivoluzione un instabile… castello di carte. E sa una cosa fondamentale, non a caso ripresa anche nell'ultima stagione: "Il potere è come il mercato immobiliare: quello che conta è la posizione".  La posizione più prestigiosa non è sempre la più vantaggiosa, e il terrore è ancora più efficace se portato avanti nel silenzio, mostrandosi in apparenza subalterni. Un po' come fanno Mark Usher e Jane Davis. Un po' come farà Frank contro la sua lady Macbeth.
L'America di House of Cards, d'altronde, è molto più simile alla Francia di fine Settecento che alla Russia di Petrov, e una rivoluzione subdola sarà sempre più efficace di qualunque slogan propagandistico. Questa, in fondo, è l'incarnazione del vero potere, saldo e duraturo. Quello che può guardare dall'alto la Casa Bianca da una banalissima camera d'albergo, dimora instabile di chi troverà radici in un trasformismo meno evidente. Il sogno di una vita di Frank Underwood, ora atteso dall'ultima battaglia. La più difficile, dopo esser stato sconfitto da se stesso per l'ennesima volta.
Antonio Casu