Grace and Frankie è una storia semplice, eppure così complessa nei sentimenti che cerca di veicolare allo spettatore. La serie tv di Netflix racconta la storia di due donne abbandonate dopo quarant'anni di matrimonio dai rispettivi mariti, omosessuali e amanti. Un pilot in cui si potrebbe pensare al massimo a un po' di grasse risate pronte al consumo. Ma Grace and Frankie è molto più di questo. È la storia di due donne che a settant'anni si ritrovano a dover fare i conti con una vita da ricostruire. Un matrimonio finito, una famiglia divisa, vent'anni di bugie da perdonare. Sole, senza occupazione e private di una tranquilla vecchiaia che sembrava già scritta, alle due donne non resta che la reciproca presenza per farsi forza e andare avanti. Ma fin dall'inizio la loro età non sembra essere l'unico ostacolo da superare.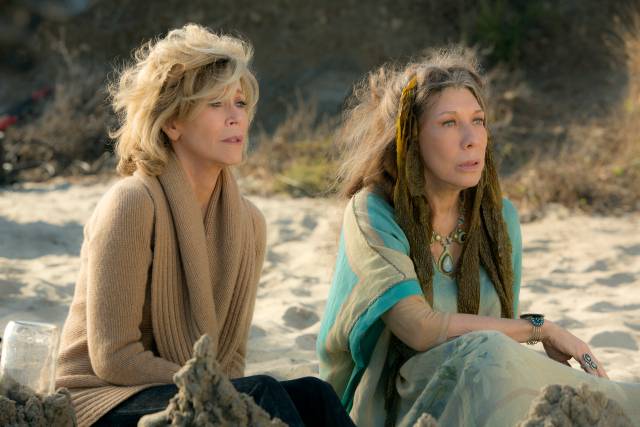 Grace e Frankie infatti sono come il giorno e la notte. Due donne completamente diverse che per anni hanno dovuto dividere forzatamente il tempo che i mariti, soci in affari e segretamente amanti, organizzavano da trascorrere tutti assieme.
Grace, interpretata da una strepitosa Jane Fonda, è una donna cinica e altera. Ex donna d'affari che si è fatta da sola probabilmente prova più affetto per il suo giornaliero Dry Martini che per le due figlie. Frankie invece (interpretata da Lily Tomlin) è una pittrice hippy, comunista, tutta anima e natura, che fuma erba per immergersi ancora più in profondità nel suo personalissimo mondo fatto di farfalle e buoni sentimenti.
Immaginarle insieme per un tempo superiore a quello di un caffè è già difficile, figuriamoci vederle vivere sotto lo stesso tetto.
Eppure le due donne instaurano una solida amicizia che, nonostante gli alti e i bassi, si rivela l'ancora di salvezza che evita loro la deriva. Imparano pian piano e con naturalezza ad accettare e apprezzare le reciproche diversità. Grace finirà per abituarsi all'odore di erba in casa e alle mille stranezze della sua coinquilina. E Frankie imparerà ad andare oltre l'apparente freddezza di Grace, cogliendo tutta la tenerezza che forse nessuno era riuscito a scorgere prima.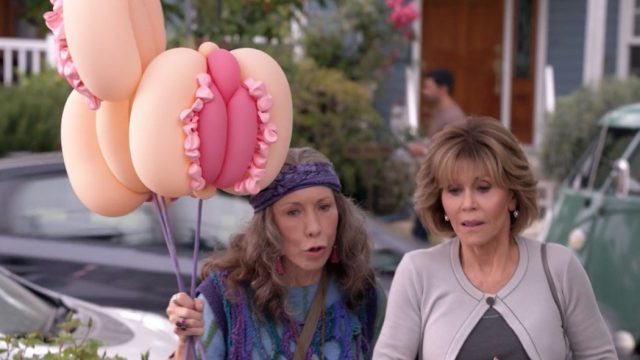 Grace and Frankie è una serie che riesce a svecchiare l'amicizia in terza età senza cadere nel ridicolo. Mette in luce l'esperienza e la maturità che le persone sono in grado di avere a settant'anni senza sorvolare su un elemento importante: che non si smette davvero mai di crescere. E Grace and Frankie dimostra quanto questo non sia un semplice luogo comune.
Ma se è di accettazione della diversità di cui si parla, la serie non lo fa solo raccontando dell'amicizia tra Grace e Frankie. Ogni personaggio che gravita loro attorno ha dovuto a suo modo misurarsi con se stesso, con le proprie peculiarità e quindi col bisogno di essere accettato. Sol e Robert sono due avvocati di successo omosessuali che a settant'anni decidono di non nascondersi più dietro le apparenze e mostrarsi per ciò che sono. Bud è un ragazzo nero che deve dimostrare di essere un avvocato valido quanto suo padre all'interno del suo stesso studio legale. Suo fratello Cayote è un ex tossicodipendente che deve trovare la sua strada e recuperare la fiducia di chi gli sta intorno. Brianna è una donna forte e indipendente – in un mondo in cui queste prerogative non sono sempre apprezzate nelle donne – che deve fare i conti con la propria solitudine e il bisogno di amore represso. Sua sorella Mallory è una mamma single che si ritrova giovanissima a far fronte a una famiglia che non credeva di dover gestire da sola.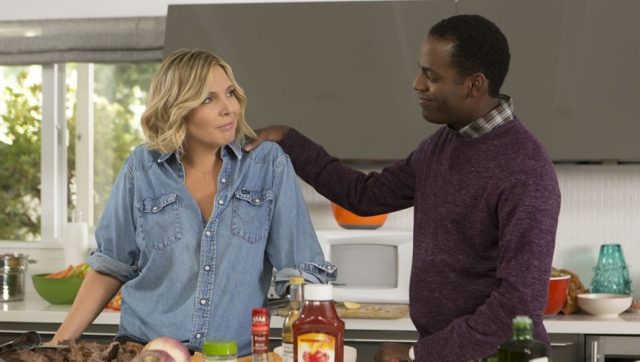 La storia di Grace and Frankie ci mostra come in questo mondo ognuno possegga qualcosa che lo può allontanare dal resto del nucleo familiare e sociale. Ma può avere anche tanto altro che lo rende unico e speciale.
Mentre tante serie ci avvicinano ai personaggi narrati da un punto di vista più introspettivo, Grace and Frankie ci racconta genuinamente di difficoltà oggettive della vita. I problemi dei personaggi di Grace and Frankie non vivono solo nella loro testa ma sono reali. Le bugie, il tradimento, l'abbandono. Le famiglie divise, la difficoltà di essere genitore, e quella di essere figlio. Reali quanto comuni sono i sentimenti di cui parla: la rabbia, il sollievo, il senso di colpa. E altrettanto reali i rimedi: la meditazione, la medicazione (aka l'alcool), il perdono. La serie li racconta tutti con sagace ironia e un sarcasmo che è impossibile non adorare. E tuttavia con altrettanta dolcezza racconta storie semplici, ma non scontate, di comprensione, di crescita e di riscatto.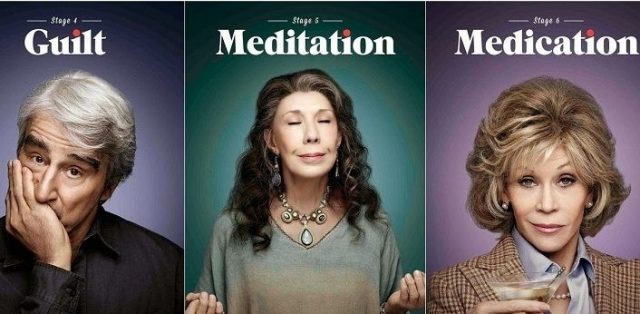 Grace and Frankie è una serie imperdibile. Divertente e profonda al tempo stesso. Densa di significato e di battute da riproporre in ogni situazione.
Un cast d'eccezione dà vita a un gruppo di personaggi che diventano i migliori amici "adulti" dello spettatore fin da subito. Dopo aver visto Grace and Frankie una sbronza con Grace e una giornata nello studio di Frankie saranno in cima alla vostra lista dei desideri. E Netflix consapevole di ciò non ha esitato a rinnovare questa serie brillante per una sesta stagione, un annuncio arrivato alla vigilia della première della quinta.
Dal 18 gennaio, infatti, la quinta stagione di Grace and Frankie è disponibile su Netflix per tredici nuovi esilaranti episodi.
I fan non vedono l'ora di scoprire come faranno le due donne a riavere indietro la loro casa sulla spiaggia di San Diego. Se i figli delle due donne vogliono ancora tenerle in una casa di riposo o se Grace e Frankie riusciranno di nuovo a ricostruire la loro indipendenza dimostrando che l'età, ancora una volta, è l'ultimo dei loro problemi. Noi un'idea ce l'abbiamo.
D'altronde finchè c'è una Frankie pronta a urlare "Stand back, I'm about to lose my shit!" tutto non può che andare in suo favore.