Grace and Frankie porta una ventata d'aria fresca nel mondo delle Serie Tv. Oggi, infatti, si parla tanto di ship e di ship gay e lesbiche. Spesso e volentieri sono ship fanon, ovvero non canoniche e quindi non nate per una precisa volontà degli autori, ma grazie alla fantasia dei telespettatori, che hanno notato una particolare chimica tra due attori o semplicemente pensano che due personaggi possano stare bene insieme, indipendentemente dal sesso.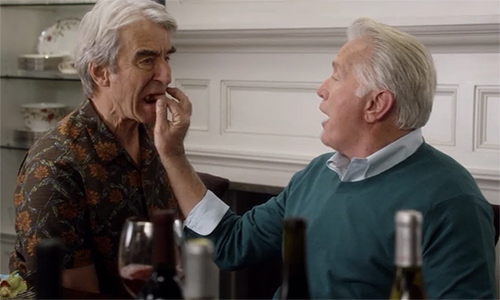 E, alle volte, gli autori della Serie in questione decidono di sfruttare questa predilezione degli spettatori per una determinata coppia, facendo interagire maggiormente i personaggi tra loro, mettendoli in situazioni ambigue, ma rassicurando quella fascia di pubblico più intransigente e all'antica (per non usare il termine omofoba) facendo dichiarare più volte ad almeno uno dei due personaggi di non essere gay.
In questo modo si sfocia nel queerbaiting, ovvero quel fenomeno che vede gli autori di una Serie Tv ammiccare a una coppia, facendo sperare i fan, specialmente quelli appartenenti alla comunità LGBT, senza però avere intenzione di rendere canon quei due personaggi.
E il queerbaiting nuoce tantissimo alla rappresentazione LGBT nei media, così importante per la sensibilizzazione del pubblico. Infatti, la rappresentazione dovrebbe mirare a far conoscere questa realtà ai telespettatori e ad aiutarli ad accettarla come normale.
Ma, purtroppo, nonostante la presenza senza più massiccia di queerbaiting e anche di personaggi queer, questo ancora non avviene, perché questi personaggi sono troppo stereotipati o comunque secondari. In altre parole, ci sono, ma giusto perché va di moda o per fare ascolti.
Grace and Frankie, Serie Tv prodotta da Netflix e con Jane Fonda come protagonista, ha cercato di rompere questo schema.
Quando me ne hanno parlato la prima volta, ero convinta che i personaggi dei mariti di queste due donne, che le lasciano perché sono innamorati tra di loro e vogliono sposarsi, quasi non si sarebbero visti.
Grace and Frankie è incentrato – come dice il titolo – su queste due donne, quindi perché seguire le vicende dei due ex mariti che le hanno lasciate?
Eppure, ammetto che Grace and Frankie mi ha sorpresa tantissimo! Perché invece i personaggi di Robert e Sol non soltanto sono molto presenti nella Serie, ma la loro storyline è anche principale. È, infatti, la maggiore storyline, perché sono loro a scatenare tutti gli eventi e sono loro a restare per affrontarne le conseguenze. E, anche questa cosa dovrebbe essere normale, mi ha sorpreso.
Anche perché spesso, nelle Serie Tv che parlano di ricominciare dopo un divorzio, il marito non c'è o comunque appare poco e come il "cattivo" che torna e che viene "giustamente" mandato a quel paese dalla protagonista.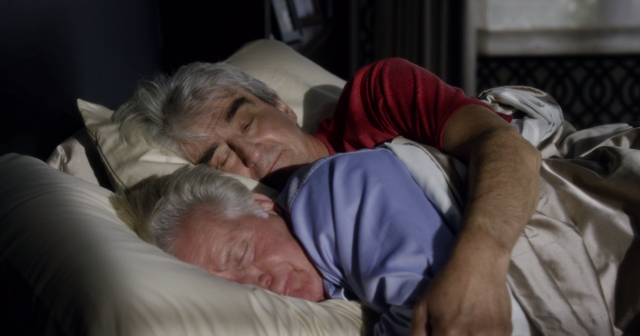 Ma qui i mariti non sono i cattivi. Sono semplicemente due persone che si conoscono da quarant'anni, che sono diventati soci in affari e amici e che a un certo punto si sono resi conto di volere di più, di essersi innamorati. E non è stato facile. Per niente.
Perché entrambi erano sposati ed entrambi (ma soprattutto Robert) non riuscivano ad accettare la propria omosessualità, mentre Sol combatteva con l'amore che provava per la moglie e quello per Robert. Due tipi di amore diversi tra loro, ma non per questo meno veri entrambi. Ed è bellissimo vedere la lotta interiore di questo personaggio che è felice di poter chiamare il proprio uomo "il suo boyfriend", di dormire un'intera notte con lui, di fare colazione con lui, ma che corre dalla moglie quando sa che ha bisogno di lui, come dopo un terremoto (Frankie, infatti, ha la fobia dei terremoti).
E questo non perché non ami Robert, ma perché con Frankie ha convissuto per quarant'anni e ha cresciuto due figli. Ha condiviso tantissimo e gli sembra strano non poterlo più fare.
Per Robert, il distacco dalla sua famiglia è, infatti, più semplice. Per lui è sempre stata più una questione di reputazione che di amore. Con Grace ormai non dormivano neanche più insieme, erano quasi due estranei, due coinquilini. Per lui la difficoltà maggiore è quella di accettarsi, specie anche perché sua madre è molto severa, piuttosto che un vero e proprio amore verso la sua famiglia.
Interessante è che, in Grace and Frankie, anche i figli delle due coppie intervengono in questa relazione omosessuale. O meglio, vengono analizzate le loro reazioni, in particolare la rabbia che provano verso i loro padri che hanno comunque lasciato le loro madri, la sorpresa per la scoperta di un tradimento lungo vent'anni, e la comprensione per questo amore "impossibile" tra i due, per quest'omosessualità che si sono negati per tanti anni.
In conclusione, Grace and Frankie offre un ritratto davvero realistico sia di cosa sia una relazione omosessuale, ridicolizzando e sfatando alcuni miti, e confermandone altri, ma anche di come sia possibile accettare la cosa per chi sta loro intorno. Comprese le ex mogli.