Ho visto Grace and Frankie senza alcuna aspettativa, più annoiata che curiosa, mentre ero in cerca di una nuova Serie Tv leggera e divertente da iniziare dopo aver finito Breaking bad e prima di decidermi a iniziare Better Call Saul (in colpevolissimo ritardo, lo so!!). La mia scelta è caduta proprio su Grace and Frankie perché era lì su Netflix, pronta e disponibile, e perché guardo praticamente qualunque cosa in cui ci sia Jane Fonda perché… Vabbè, ragazzi, è Jane Fonda, servono davvero ulteriori spiegazioni??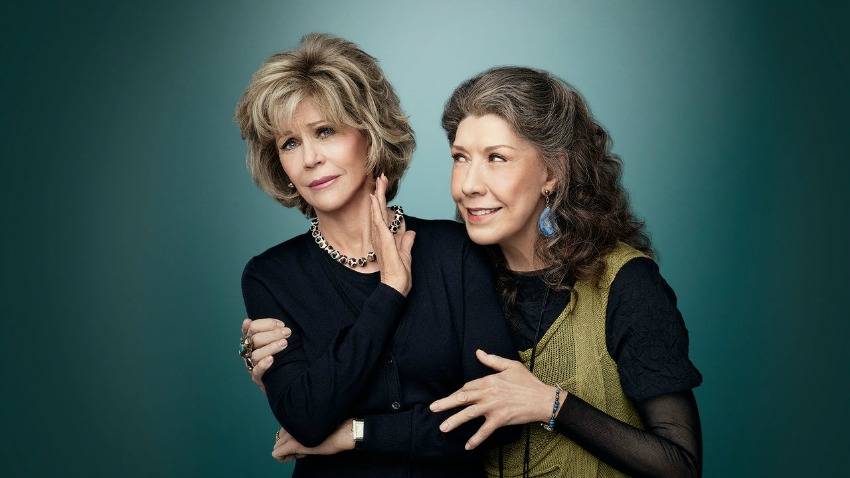 Insomma, questa introduzione serve solo per spiegare che, pur non avendo alcuna aspettativa, sono rimasta sorpresa da quanto questa Serie sia interessante, divertente e incredibilmente attuale. E sì, effettivamente il nome di Marta Kauffman (la creatrice di Friends, per intenderci) doveva darmi un indizio in proposito.
Perché Grace and Frankie è un piccolo gioiello (piccolo solo perché è troppo breve: 3 stagioni da 13 episodi da mezz'ora! Non prendiamoci in giro, l'ho vista in 3 giorni!) ben nascosto su Netflix, il cui catalogo immenso spesso non mette molto in risalto queste Serie Tv più di nicchia.
Ma cosa rende Grace and Frankie un gioiello di Serie? Innanzitutto il realismo. Sì, perché è realistico che due donne di 70 anni vengano lasciate dai rispettivi mariti. Mariti che si rivelano amanti tra di loro da ben 20 anni. Alcuni di voi adesso avranno da ridere perché ho appena definito realistica questa situazione. Ma in realtà lo è. Capita spessissimo che uno dei due coniugi abbia una relazione duratura con un partner dell'altro sesso, con cui spesso si è anche amici di famiglia. Quindi perché non dovrebbe succedere anche con il sesso opposto?
Ed è realistico anche il modo in cui le due donne reagiscono. Un modo diversissimo, perché diverso è il rapporto che loro hanno con i rispettivi mariti: Grace (Jane Fonda) ha con Richard un rapporto che ormai è solo di facciata, mentre Frankie ha con Sol un rapporto profondo, basato sull'amore e sulla fiducia. Fiducia che chiaramente non potrà mai più esserci tra di loro. E quindi, mentre Grace è più imbarazzata dall'idea delle chiacchiere degli amici, Frankie sta male per la sua vita distrutta.
Tra l'altro, la decisione di Robert e Sol di vivere il loro rapporto alla luce del sole, si riflette anche sui figli delle due ex coppie: Brianna e Mallory (figlie di Robert e Grace) e Bud e Coyote (figli adottivi di Sol e Frankie). Senza contare che Coyote si è anche da poco disintossicato, quindi questo nuovo "trauma" rischia di causargli una ricaduta.
Interessante è anche la reazione dei figli, che fanno dell'omosessualità – almeno all'inizio – l'unico motivo per cui non ostracizzano i rispettivi padri. Infatti, capiscono la delicatezza della situazione, ma dicono anche a chiare lettere che, se avessero tradito le proprie madri con altre donne, probabilmente non gli parlerebbero più (almeno per i primi tempi, alla fin fine sono sempre i loro padri).
Insomma, Grace and Frankie non ci propina la solita versione edulcorata e irrealistica di una situazione come il divorzio in età avanzata e tutto quello che ne consegue, bensì si scava a fondo nella psicologia dei personaggi, arrivando quasi a psicanalizzarli (in un certo senso). E la "morale" di tutta la Serie è che, non importa a che età ti ritrovi a dover ricominciare tutto da capo, puoi sempre rimboccarti le maniche e provare a rialzarti. Proprio come Grace and Frankie.
Grace and Frankie che, piano piano ce la fanno, tra vecchi e nuovi amori, tra nuovi business e insospettabili alleanze. Ma ce la fanno soprattutto perché restano unite, litigando e prendendosi cura l'una dell'altra, perché sono le uniche due persone che sanno cosa voglia dire essere lasciate dai propri mariti per un altro uomo, che sanno cosa voglia dire rendersi conto che per quarant'anni la loro vita non è stata altro che una colossale bugia.
In definitiva, Grance and Frankie è una Serie Tv sulla speranza. Perché non importa quanti anni hai, puoi sempre rifarti una vita. O iniziare a viverla.