Grace and Frankie è una comedy targata Netflix andata in onda per la prima volta l'8 maggio 2015. Conta 13 episodi e tornerà il 6 maggio con la seconda stagione.
L'iconica Jane Fonda (Grace Hanson) e Lily Tomlin (Frankie Bergstein) sono le protagoniste di questo per nulla scontato ed un po' negletto gioiellino.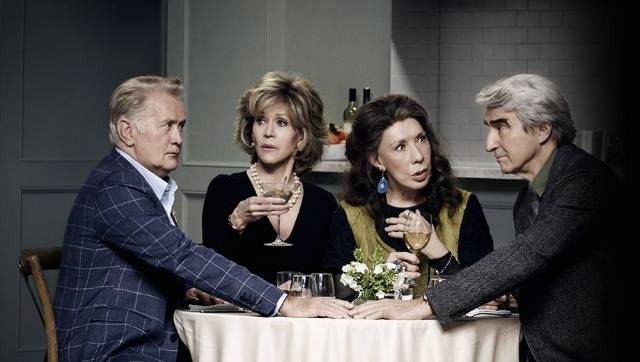 Il primo episodio, "The End", si apre con le due donne al tavolo di un ristorante con i loro rispettivi mariti, Robert (Martin Sheen) e Sol (Sam Waterston), i quali sono avvocati e colleghi di lavoro da una vita.
Gli animi sono allegri, i due uomini hanno qualcosa di importante da dire: proprio quando le loro mogli si aspettano che vogliano annunciare di ritirarsi dalle scene ed andare in pensione, questi rivelano di volerle lasciare dopo 40 anni di matrimonio e continuare la loro vita l'uno con all'altro. Infatti, stanno segretamente insieme già da 20 anni.
Un inizio che stravolge completamente le vite dei quattro.
È in questo momento che Grace e Frankie, due donne che finora non hanno avuto nulla che le legasse se non i loro mariti, si ritrovano costrette a vivere insieme nella casa al mare che Sol e Robert hanno voluto comprare per le loro famiglie.
Grace ha una carriera di successo alle spalle, essendo fondatrice di una casa cosmetica ora gestita dalla figlia Brianna; Frankie è un'artista hippie in costante contatto con la propria spiritualità. È l'abissale differenza del loro carattere e del loro stile di vita che le ha sempre fatte gravitare una lontana dall'altra e che costituisce un ostacolo enorme, ora che non possono fare a meno di convivere.
Così Grace e Frankie ricominciano la loro vita a 70 anni senza più i loro mariti e, più che occasionalmente, mal sopportandosi.
Pur condividendo la stessa disgrazia, faticheranno ad accorgersi di essere fin dall'inizio l'una la spalla dell'altra.
Si può dire che sia una serie dal tema piuttosto inusuale e dal successo non scontato, tanto che la sua risonanza è stata finora modesta.
Sappiamo che il mercato delle serie TV è prevalentemente indirizzato ad un pubblico di giovani spettatori, ed una comedy con protagonisti dei settantenni non è esattamente ciò che si definirebbe "relatable".
Insomma, i loro problemi e le loro vicende parrebbero non riguardarci affatto, eppure queste due anziane signore, un giorno, si ritrovano a fare i conti con il loro futuro, improvvisamente incerto e spaventoso.
Il pregio di questa serie è riuscire ad entrare in profondità nel tema e svilupparlo in maniera interessante e non banale.
Negli ultimi anni l'omosessualità ed il coming out sono argomenti esplorati di frequente e sempre più accuratamente nella televisione, ma nella maggioranza dei casi vengono trattati soggetti giovani o addirittura in età adolescenziale.
In Grace and Frankie viene rovesciato questo paradigma per parlare delle conseguenze di avere il coraggio di uscire allo scoperto quando si hanno 70 anni, una famiglia ed una vita alle spalle.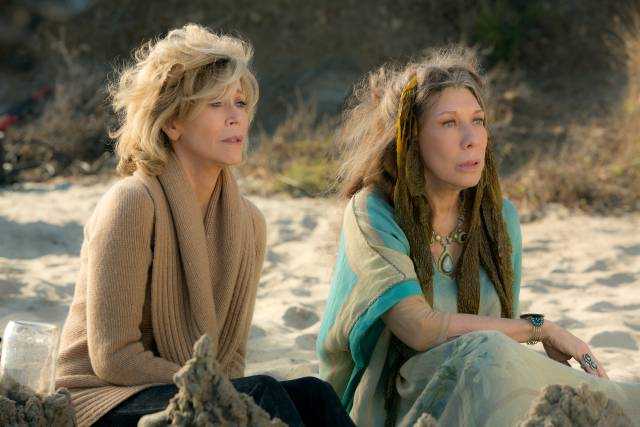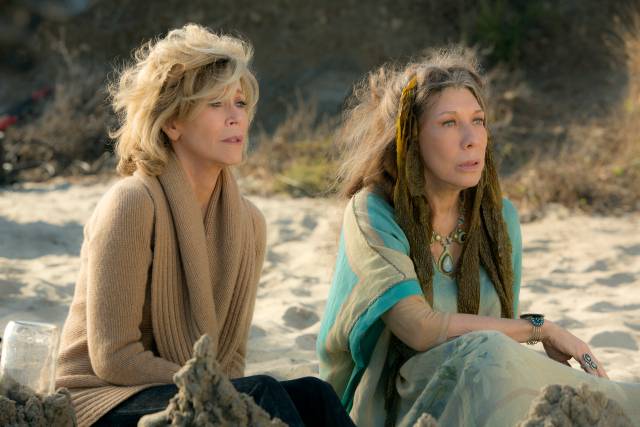 Il risultato? Lo show, per il suo format, è ovviamente ironico, leggero e con un ritmo comico mai fuori luogo.
Riesce comunque ad emergere, mai prepotente né pesante, la difficoltà che incontrano queste due famiglie, sciolte e poi ricombinate, nel percorrere nuove strade che finiscono spesso per rincontrarsi.
È interessante soprattutto come vengano mostrate le due facce della stessa medaglia:
Grace e Frankie, infatti, seppure riescano fin da subito a riscattarsi e nonostante tutto a continuare la loro vita, hanno delle reazioni emotive ben diverse.
Se Robert e Grace incarnavano la famiglia borghese americana, con un matrimonio non certo infelice, ma che aveva perso la sua complicità, Frankie e Sol erano una coppia affiatata, ricca di rituali, attenzioni l'uno per l'altra e legata soprattutto da una forte amicizia.
Sono infatti loro due a faticare a realizzare di non essere più marito e moglie, e che iniziare una nuova vita (nel caso di Sol, con l'uomo che ama) non è semplice quando il proprio passato supera di gran lunga, in durata, il proprio futuro.
Un ruolo di rilievo lo occupano anche i figli delle due ex-coppie: Mallory e Brianna, figlie di Robert e Grace, e Coyote e Bud, figli di Frankie e Sol, devono destreggiarsi e fare da mediatori nel nuovo assetto delle loro famiglie, tra cene catastrofiche e situazioni scomode.
Grace and Frankie, in definitiva, non dovrebbe mancare nella lista dei fedeli di Netflix, che continua a deliziarci con serie di altissima qualità.
Un'ottima ragione per imbarcarsi nell'avventura è semplicemente il cast, che con decenni di esperienza ci offre una comicità un po' vecchio stile. E se nemmeno questo vi basta, la co-creatrice è Marta Kauffman, la stessa che ha dato alla luce lo storico Friends!