Quando manca ogni volta pochissimo, vuol dire che manca troppo.
Pochissimo: quanto è sempre mancato a Ciro e Genny per essere in due. Per essere un numero pari.
Questo perché di "pari", nel rapporto tra i due, non c'è mai stato niente, e ciò che li fonde in un'unica e resistente lega è una legge del taglione che si risolve con una reazione contraria ma mai uguale. Bensì sempre esagerata, violenta.
È così che regola i conti l'amore: non regolandoli mai, essendo sempre la legge al di sopra delle due parti che esige una dimostrazione senza la quale non esiste ardore, ma solo statico quieto vivere.
Eppure una storia d'amore necessita sempre di due persone, e questo per Ciro e Genny è valso come un privilegio più che come una necessità.
Sin da quando la storia nasce, come nel più classico dei romanzi d'amore impossibile, i due non sono mai stati "due". Mentendo entrambi a se stessi sulle pallide e fredde ragioni che li tenevano distanti, sono diventati inevitabilmente tre: Ciro, Genny e la menzogna vivevano un triangolo amoroso con angoli troppo appuntiti per non rischiare di far male.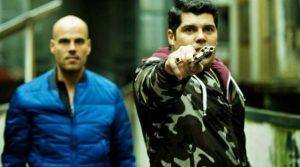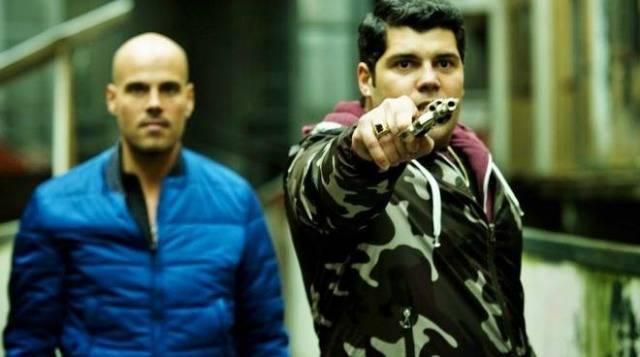 I due vivono un rapporto strettamente professionale con la menzogna. Genny e la menzogna si frequentano da anni, eppure cominciano a fare sul serio soltanto quando il primo conosce il ferrigno e indelebile sapore del parricidio. Il momento in cui mente per Ciro.
Dalla sua il guerriero Immortale, figliol prodigo nato orfano, servo onesto e bifronte, suggella il suo legame con la menzogna nel momento definitivo.
In quel momento, la verità incombe sui due rigida e piangente, conscia del fatto di non potersi rivelare.
Sotto di lei, alla fine del matrimonio della menzogna, il corpo dell'Immortale è così freddo e blu che avrebbe potuto essere il mare, promesso sposo al quale è finalmente abbandonato.
Il sacrificio di Ciro diventa la parafrasi amorosa di quel "tutti hanno qualcosa che non vogliono perdere e sono disposti a pagare qualsiasi prezzo per proteggerla" pronunciato con saccente leggerezza da Genny, il quale si troverà a vivere sulla sua pelle il significato di tale pensiero. L'omicidio di Ciro da parte di Genny è una tragedia shakespeariana che però, nei fatti, non può che ricordare la meravigliosa parabola sull'amicizia di George e Lennie nel romanzo Of Mice and Men, di John Steinbeck.
L'ultimo, cruciale errore è fidarsi di chi vive l'amore diversamente da come l'hanno sempre vissuto Ciro e Genny: Enzo Sangue Blu.
Così, ancora una volta, i due diventano tre.
Nel momento in cui il dorato impero criminale diventa un'effimera realtà, paragonato al gusto di chiamare un posto "casa", l'Immortale decide di fidarsi ciecamente di chi è legato visceralmente a una terra e per la quale darebbe tutto. Ciro, come Lennie di Of Mice and Men, sbaglia con l'ingenua bontà di chi ha ancora una volta mentito a se stesso con una bugia grande quanto quel bisogno irrazionale, ormai abbandonato, di prendersela tutta quella città, con le luci, le Vele, il golfo. Il mare. Quel mare che, ora, sarà suo per sempre.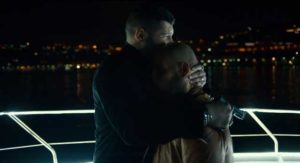 George è costretto a uccidere Lennie purché non soffra pene peggiori della morte veloce e indolore che egli invece può offrirgli; Genny uccide Ciro purché il suo sacrificio, la sua ultima bugia, non siano vani.
Se esiste una ragione al fatto che non versiamo lacrime di fronte alla cruda e sporca cronaca nera, ma siamo in grado di farlo dinanzi a questi personaggi, è perché Immortali non sono i falsi idoli dai quali prendere spunto ma i legami, la morale che si cela dietro al romanzo e che ricama con rassicurante distanza che orrore è uccidere ciò che tieni più stretto, tenendolo stretto.
Genny era il figlio di un Re, che si "innamorò" della figura carismatica del più valoroso guerriero dell'esercito di famiglia; l'Immortale era il giovane soldato ambizioso senza scrupoli, che agile correva per quelle strade macchiate di sangue che tanti, prima e dopo di lui, avevano pizzicato con meno arguzia, meno premeditazione e saggezza; quella stessa che forse, se solo fosse stato meno "giovane" e meno "ambizioso", l'avrebbe fatto Re di qualsiasi cosa. Quella stessa che, da pentito Virgilio, gli ha permesso di cedere un'eredità morale regolata dall'amore.
L'epilogo della storia è un monito tanto prevedibile quanto inevitabile, perché quando manca ogni volta pochissimo, vuol dire che manca troppo.
Sembrava sempre mancare "poco"; eppure, in questa storia d'amore, Ciro e Genny in due erano già dispari.