Non sono passati molti anni dalla chiusura di Glee, anzi, un anno e mezzo fa ancora sognavamo le storie del gruppo di canto corale coreografato più famoso della televisione.
La conclusione di Glee ha lasciato un vuoto, ed è stata davvero un'impresa per me attenuarlo, tanto che non credo di esserci davvero riuscita. 
Era il 20 marzo 2015, e la Fox trasmetteva gli ultimi due episodi di una serie che ha segnato le nuove generazioni. Bè, magari non avrà segnato tutti, ma posso garantirvi che ha segnato me! Glee si proponeva come la serie TV sui disadattati, sui diversi, sugli adolescenti che negli anni del liceo erano trattati diversamente senza un vero e proprio motivo. Bastava avere qualcosa di diverso dalla massa per beccarsi una granita in faccia, come balbettare o essere su una sedia a rotelle, e bastava vestirsi in maniera un po' più stravagante degli altri per finire in un cassonetto.
L'introduzione del Glee Club al Mckinley High ha portato non solo buona parte degli studenti ad accettarsi per quello che erano, ma ha dato origine a storie in cui si sono riconosciuti milioni di spettatori, che finalmente si sono sentiti liberi di essere se stessi, con le loro diversità, i loro difetti e i loro pregi. L'accettazione è la colonna portante di Glee. Noi fan siamo stati trasportati in realtà da storie che ci sono sembrate più simili al nostro vissuto di quanto pensavamo, ed ora che abbiamo preso coscienza di noi stessi possiamo davvero dire che siamo "nati così", con i nostri pro e i nostri contro. Insomma, siamo fantastici proprio perchè siamo fatti in un certo modo, e nessuno può portarci via il nostro essere unici.
Ora però sto divagando, meglio tornare sui binari.
Dicevo, a marzo dell'anno scorso sono andate in onda le ultime due puntate di Glee, e ancora oggi, a ripensarci, mi si scava una voragine nel petto che è difficile da scacciare.
Un vero e proprio vuoto incolmabile. Visto che so che la depressione da post puntata finale di una serie è una cosa comune, ho pensato bene di suddividere le reazioni in quattro fasi fondamentali. So che concorderete con me, perchè Glee ci manca ancora tantissimo! E credetemi se vi dico che, dal sondaggio che ho fatto, le reazioni all'ultima puntata sono state più o meno simili. Perciò, ricordando un po' Summer Roberts nella quarta stagione di The OC, ecco le quattro fasi della depressione abissale che tutti noi abbiamo affrontato dopo l'ultima puntata di Glee.
1. Sensazione di svuotamento 
Che ci crediate o meno, questa è una delle sensazioni che dura di più in assoluto! Vi posso dire che in alcuni momenti ne sono ancora affetta, quindi dura davvero molto a lungo. Immaginate la situazione: siamo arrivati al gran finale. Abbiamo visto tutto quello che Glee poteva darci. I personaggi hanno preso la loro strada, li abbiamo visti in un salto temporale di anni vivere la loro vita felice: Rachel ha vinto un Tony Award, Kurt e Blaine lavorano insieme e aspettano un bambino grazie a Rachel, il Mckinley è stata riconosciuta come scuola d'arte in tutto lo Stato. La stupenda performance di I lived si conclude, e noi restiamo lì, fermi e immobili, presi da un terribile senso di vuoto. Glee è ufficialmente finito. Ha segnato un'epoca, ed è arrivato a conclusione. Come potrà andare avanti la nostra vita, adesso?
2. Incredulità e sbigottimento
Si tratta di una fase molto simile alla prima, ma aggiungiamo un piccolo gradino, tipo un livello pro. La sensazione di vuoto di certo non se ne è andata, staziona dentro di noi e si annida indisturbata. Con l'incredulità e lo sbigottimento, però, arriviamo ad avere una prima reazione: non ci possiamo credere. È impossibile che Glee sia finito! Ci ha accompagnato per anni, anche con i suoi momenti totalmente nonsense, e ora che abbiamo avuto il nostro finale perfetto, dove ogni cosa è andata al suo posto ci rendiamo conto che non siamo pronti. Non ne abbiamo ancora abbastanza di questa serie TV! Come faremo senza le nuove puntate? Ma soprattutto, come faremo senza le nuove cover delle canzoni che ad ogni stagione di Glee andavano ad arricchire le nostre playlist? È troppo incredibile per essere vero.
3. Disperazione
Oramai l'abbiamo realizzato: è davvero tutto finito. Niente più puntate, niente più canzoni, niente più momenti nonsense di cui lamentarsi… Niente di niente. Glee, la nostra scuola di vita, ha chiuso i battenti, e noi non sappiamo come sia giusto reagire, cosa sia giusto fare. Siamo intrappolati in un turbinio di emozioni che nemmeno noi riusciamo bene a decifrare. C'è solo una soluzione a tutto questo nostro marasma interiore: la disperazione. Una volta realizzato che Glee si è ufficialmente concluso, scoppiamo in un pianto dirotto, urliamo e ci chiediamo perchè il destino sia stato così crudele con noi da far chiudere la nostra serie TV preferita, anche se sapevamo che era inevitabile. L'inquadratura finale sull'immagine di Cory, poi, è il colpo di grazia: nascondiamo la testa sotto il cuscino e ci addormentiamo piangendo. In alternativa ci diamo al cibo, ma sempre e comunque singhiozzando e disperandoci.
4. Rassegnazione e caduta nella profonda depressione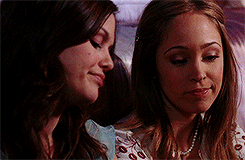 Abbiamo pianto tutte le nostre lacrime, ci sono venute delle occhiaie fotoniche, abbiamo perso la voce a forza di urla e, cosa ancora peggiore, abbiamo finito le scorte di cibo. Cosa ci resta, quindi? Cosa possiamo fare per colmare questo vuoto enorme che Glee ci ha lasciato? La risposta è una sola: niente. Prendiamo coscienza di questa nuova situazione, accettiamo che la storia si sia conclusa così, e anche se vorremmo vedere le peripezie del figlio di Rachel, o vedere come si sviluppa la storia di Jane e Mason, ci rendiamo conto che non potremo mai farlo. Perciò, eccoci alla rassegnazione. Accettiamo la situazione e basta, cercando di andare avanti con la nostra vita. Dato che però sappiamo benissimo che ciò non è possibile, alla rassegnazione si unisce anche la depressione, che potrebbe essere un'evoluzione del vuoto iniziale.
Questa è, fondamentalmente, la mia idea di depressione abissale, o meglio ancora, quello che io ho provato alla fine dell'ultima puntata di Glee.
E' stata una serie fantastica, mi ha fatto crescere, mi ha accompagnato per anni, e mi ha permesso di incontrare persone meravigliose. Che ci crediate o meno, ancora mi manca, ma ho fatto in modo di prendere il meglio di lei. Gli insegnamenti che Glee ha lasciato a tutti noi fan sono importanti, e di certo non devono andare persi.
Una volta capito questo, una volta che abbiamo scelto ciò che ci interessa far entrare nella nostra vita, possiamo provare a fare un sorriso e continuare la nostra vita. Non sarà facile, nè semplice: Glee ci mancherà sempre, e ritroveremo riferimenti alla serie ovunque nella nostra vita, una volta che si è conclusa. Ma vi suggerisco di non abbattervi: una volta consumate tutte le fasi del lutto dopo aver visto l'ultima puntata di Glee, sorridete e andate avanti. Se seguite gli insegnamenti che vi sono rimasti, non vi sentirete mai soli.
I hold every second that this world could give.

I saw so many places, the things that i did.

yeah, with every broken bone, i swear i lived.