Girls è una Serie Tv che parla di ragazze. Sbagliato. Lo metto in chiaro fin da subito che dopo aver visto sei stagioni in poco più di una settimana, l'unica cosa certa è che Girls non parla di ragazze. Non nel senso stretto del termine.
La Serie Tv creata da Lena Dunham, con la partecipazione di quel burlone di Judd Apatow, è la storia di tutto quello che può andare storto nella vita ma continui a provarci, che poi sia raccontato dal punto di vista di quattro "ragazze" è solo un elemento in più per aggiungere disagio alla storia.
Hannah, Jessa, Marnie e Shoshanna sono quattro persone sulla ventina, non sono quindi più propriamente ragazze ma neppure donne, si trovano in quella fase della vita in cui cerchi di capire chi sei e quale è il tuo posto nel mondo e lo fanno nel modo più crudo e veritiero possibile. Perché la vita è cruda ed è vera. Non ci sono Cosmopolitan o Martini da sorseggiare o discorsi infiniti su uomini da sogno, ci sono quattro persone incasinate e detestabili. Hannah è un'egocentrica narcisista, Marnie una manipolatrice stronza, Jessa una ribelle menefreghista e poi c'è Shosh che da brava ragazza diventa egoista e brutale, mantenendo però rispetto alle altre una certa bontà di spirito. Le odi per motivi diversi e le ami e le ammiri per altrettanti motivi, tranne Marnie che la si detesta a prescindere e con insistenza fino alla fine.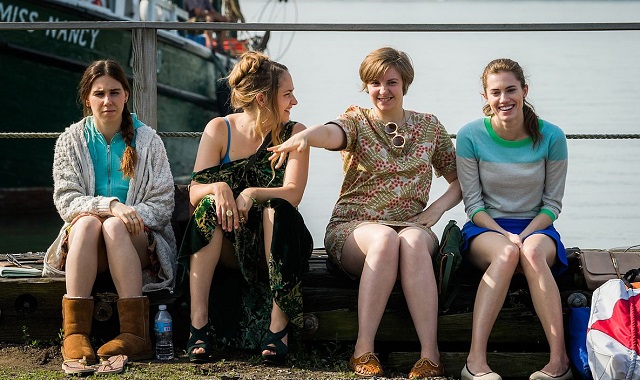 Nella caotica e alienante New York Hannah e le altre crescono e compiono percorsi diversi, non vi spoilero nulla ma la fine è il senso stesso del viaggio che ognuna di loro compie ed è una fine realistica per questo fa così male e ti lascia confuso e amareggiato.
Ogni cosa in Girls viene trattata schiettamente: dal sesso al lavoro, dai sogni ai compromessi che facciamo con questi e soprattutto, più di tutto, dall'amore all'amicizia. L'amicizia che lega Hannah e le altre e rappresenta il filo conduttore, come ogni amicizia ci sono gli alti e bassi e capisci a un certo punto, forse durante la quarta stagione che ognuna delle protagoniste è fondamentalmente, innegabilmente egoista.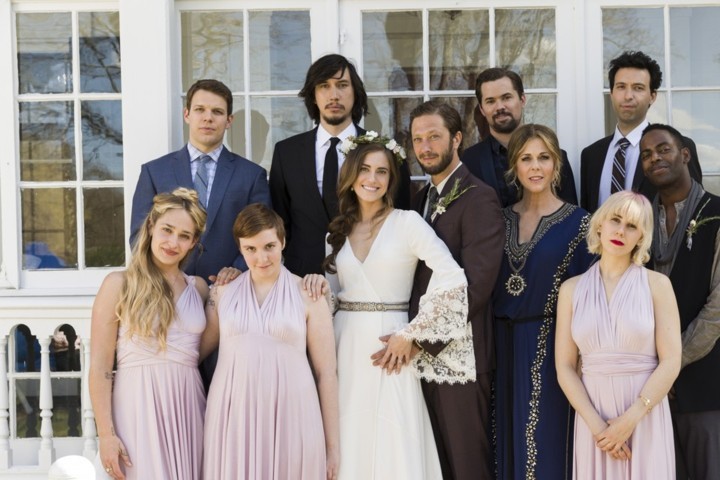 Girls ti colpisce come un pugno sulla vagina e ti lascia steso agonizzante. Fa male, anzi malissimo perché sembra, e forse lo fa veramente, che stia parlando a te e a te soltanto.
L'essere imperfette delle protagoniste è il motivo che ce le fa amare di più perché ci permette di immedesimarci, soprattutto quando sbagliano. Non rimaniamo mai indifferenti ma nel bene o nel male, veniamo coinvolti nella storia e ci ritroviamo a gioire, a tifare, a piangere e a lamentarci.
E gli uomini? Su tutto ovviamente c'è Adam, "il primo uomo", l'interesse amoroso di Hannah che ha fatto da trampolino di lancio per Adama Driver. Non c'è nulla del Mr. Big, anzi. È un personaggio ambiguo, spesso infantile e frustrante, insicuro e impulsivo. Rappresenta uno dei punti cardine della storia ed è una delle ancore che tiene aggrappa Hannah a quello che vorrebbe essere ma non può diventare: diversa.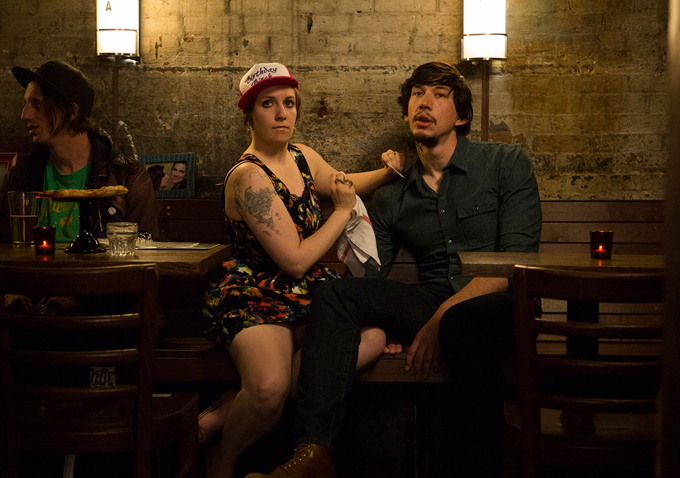 Oltre a lui poi ci sono Desi, Charlie, Ray ed Elijah ed innumerevoli altri uomini che entrano ed escono nella vita delle protagoniste e rappresentano ognuno un tassello importante della loro evoluzione. Sono gli incontri che facciamo che definiscono chi siamo, dai più apparentemente insignificanti a i più importanti essi finiscono per avere un impatto sulle nostre vite e sulla nostra personalità in evoluzione.
L'amore, come l'amicizia, è una costante priva di quelle stucchevoli rappresentazioni stereotipate (eccetto per le corse in piena notte) ma è il conoscersi e l'accettarsi di due persone che stanno insieme non per destino ma perché si vogliono davvero e soprattutto hanno bisogno l'uno dell'altra per crescere ed essere migliori. SPOILER ALERT Per questo motivo la coppia Jessa-Adam è così giusta e ha più senso di quella formata da Hannah e Adam. La prima nasce da una necessità sincera, la seconda rimane sempre uguale a se stessa e quindi incapace di resistere nel mondo reale FINE SPOILER.
È sempre al mondo reale che è rivolto Girls, alle persone, indipendentemente che siano maschi o femmine, che cercano solo di essere felici. Per questo motivo Girls non è Sex and the City, dove ogni cosa è un'iperbole di un mondo immaginario e fittizio.
In definitiva ho visto Girls e l'ho amato. Non è solo una Serie Tv e non è di certo una Serie Tv su delle ragazze. Francamente penso che Girls sia una lezione di vita.