Nella settima stagione da poco conclusa di Game of Thrones, l'inverno è già arrivato. Mentre per noi deve ancora arrivare. E con l'inverno arriva anche il dovere di tornare in palestra, in modo da essere pronti per l'estate prossima. Ma chi voglio prendere in giro, sicuramente passeremo l'inverno a guardare Serie Tv, altro che palestra. Eppure, c'è un modo per non lasciarci andare del tutto alla pigrizia. Il canale Popsugar Fitness ha avuto la geniale idea di creare due workout ispirati a una delle Serie più amate del momento: Game of Thrones, ovviamente.
Esercizi pensati per allenare tutto il corpo, attirano l'attenzione anche dei più sedentari serietv-addicted. Questo perché ogni esercizio ricorda un particolare o un evento della Serie. È di certo un buon metodo per non pensare alla lunga attesa per l'ottava e ultima stagione, prevista per il 2019. Infatti è un workout pensato per essere eseguito (anche) mentre guardate la Serie. Ad esempio, se un personaggio dice "The Wall" (La Barriera), mettetevi spalle al muro e fingete di sedervi, per 30 secondi.
Qui il video del primo workout ispirato a Game of Thrones
Se siete in compagnia sarà ancora più divertente. Potete fare esercizi più complessi e brindare insieme durante questo esercizio: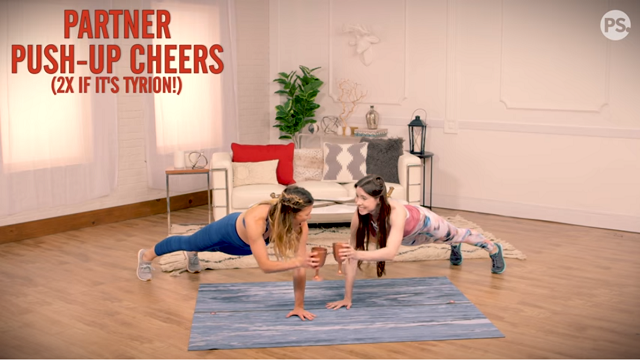 E se siete in pari con la Serie, potete seguire questo secondo workout, ispirato alla settima stagione di Game of Thrones (quindi se non l'avete ancora vista, occhio agli spoiler). In questo secondo workout è necessario avere una persona che – oltre a guardare gli episodi – si alleni insieme a voi.
Ora non abbiamo più scuse. E di certo questo è il modo migliore per allenarci, senza rinunciare al binge watching delle nostre Serie preferite.