Attenzione: evitate la lettura se non volete imbattervi in spoiler sulla 6×08 di Game of Thrones. 
Una delle prerogative fondamentali per vincere una guerra è farsi affiancare dagli alleati giusti. La forza di un esercito può risultare decisiva per una battaglia, ma conservare il potere è ancora più complesso di conquistarlo. Ramsay Bolton è un chiaro esempio in questo senso, e potrebbe pagarne presto le conseguenze. Gli interessi di un momento non valgono niente senza lungimiranza. Se poi l'obiettivo finale è il Trono di Spade e l'interessata è una regina al momento lontanissima dalle dinamiche di potere di Westeros, la questione si fa più complicata. Per fortuna non è sola.
Daenerys Targaryen ha in mano un esercito invincibile e tre draghi, ma al di là dei confini di Essos è poco più di una leggenda. Troppo poco per essere riconosciuta come nuova regnante. La khaleesi ha bisogno di navi e alleanze. Il viaggio misterioso che Varys ha intrapreso nel corso della 6×08 potrebbe risolvere la questione e ridisegnare il fragile equilibrio che tiene in sospeso i Sette Regni, anche grazie alla rivelazione di alcuni misteri del passato che condizioneranno il futuro di Westeros ed Essos. Dov'è diretto? Abbiamo un'idea. Anzi, due. Sono solo delle teorie, prendetele come tali.
Passeri, leoni e serpi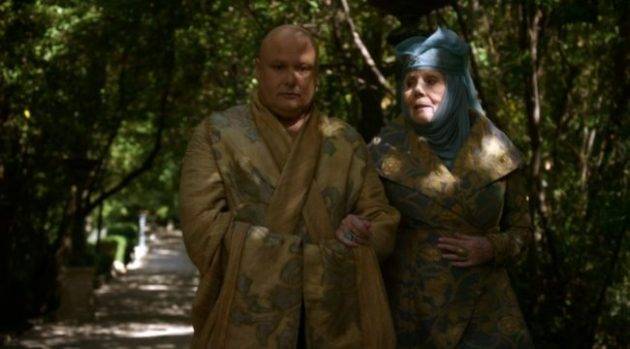 La prima è particolarmente affascinante. Nella 6×07 e nella 6×08 sono usciti di scena due personaggi chiave. Stavolta, sorprendentemente, la morte non c'entra nulla. Olenna Tyrell, dopo esser stata minacciata indirettamente dall'Alto Passero, ha lasciato Approdo del Re per tornare ad Alto Giardino. Varys, invece, ha salutato Tyrion e si è imbarcato per intraprendere una missione segreta finalizzata alla creazione di una rete di alleanze che appoggerà Daenerys a Westeros.
Che hanno in comune i due? Poco, se non niente, però entrambi potrebbero trarre vantaggio dalla collaborazione. Varys avrebbe a disposizione un alleato affidabile, economicamente fortissimo e militarmente temibile, mentre i Tyrell, in rotta con i Lannister e tenuti sotto sequestro dall'Alto Passero, potrebbero puntare sulla nuova era Targaryen per eliminare definitivamente due nemici in un colpo solo ed avere un posto di rilievo nel nuovo scacchiere di potere.
Cosa ci fa pensare che possa andare così? Le alternative che avrebbe in mano Varys, innanzitutto. L'eunuco è un uomo intelligente come pochi e si muove in prima persona solo quando c'è un ottimo motivo per farlo. Se l'obiettivo della missione è cercare nuovi alleati a Westeros, i Tyrell sono l'unica opzione possibile. Ci sarebbero anche i Greyjoy, ma Euron sarebbe un alleato rischioso poco affidabile e Yara con Theon sono già diretti verso Meereen. Varys cerca una sicurezza e Olenna potrebbe rispondere a questa esigenza.
Un secondo indizio, inoltre, rafforza l'ipotesi. Ricordate l'ultima conversazione tra la regina di spine e Cersei? Cosa stava facendo la Tyrell?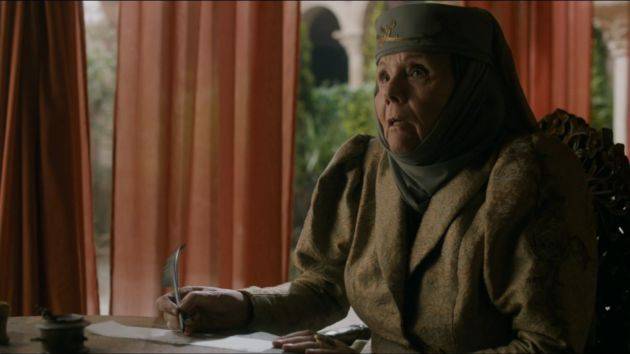 Scriveva qualcosa. A chi? Il particolare potrebbe essere del tutto casuale, ma in Game of Thrones trascurare i dettagli è sempre rischioso. Proviamo a immaginare due scenari: nel primo Olenna informa Varys della sua partenza da Approdo del Re, nel secondo c'è un messaggio diretto a Dorne. La seconda è piuttosto improbabile, visto il quadro politico instabile provocato dalla morte di Doran Martell, ma non troppo. L'odio provato nei confronti dei Lannister potrebbe essere il trait d'union tra le due case regnanti, i cui territori sono oltretutto piuttosto vicini. Se il regno di Dorne avrà interesse a reinserirsi nel gioco dei troni, l'alleanza con i Tyrell sarà una delle poche vie praticabili. Un'altra strada possibile li porterebbe verso i Targaryen: il cerchio potrebbe chiudersi con le tre casate unite. Staremo a vedere.
A questo punto un quesito sorge spontaneo: che fine farà il piano di Margaery? Partendo dal presupposto che la moglie di Tommen è una donna abile e ambiziosa, il suo obiettivo potrebbe essere quello di far fuori l'Alto Passero, liberare Loras e svincolarsi dai Lannister, rinunciando al ruolo da regina ed eventualmente da reggente in caso di morte del marito e di nascita di un figlio. Perché dovrebbe? Nei primi due casi il motivo è fin troppo evidente, nel terzo un po' meno. Chiariamo il concetto con un altro dato: Tommen potrebbe essere delegittimato. Uno dei capi d'imputazione a carico di Cersei che verranno chiamati in causa durante il processo è l'incesto. La condanna della madre farebbe di Tommen un regnante illegittimo. Perché Margaery dovrebbe concepire l'erede di un re che verrà presto delegittimato? Questo ci fa pensare che il piano di Margaery e l'eventuale alleanza Tyrell-Targaryen messa in atto da Varys e Olenna sarebbero compatibili.
L'equilibrio politico è una chiave di volta fondamentale per la conservazione del potere, Varys e Olenna lo sanno fin troppo bene e questo ci fa pensare che il matrimonio s'avrebbe da fare.
La seconda ipotesi è poco più di una suggestione, e risponderebbe a diversi quesiti lasciati irrisolti finora nella storyline di Daenerys. Ne parliamo nella pagina seguente.