Tu non sai niente, Jon Snow! (E continui a non sapere nulla!)
Game of Thrones è una Serie Tv in grado di creare coppie incredibili. Alcune sono relazioni incestuose, altre sono d'amore spassionato e altre ancora sono infine un miscuglio tra le due. La Serie è riuscita a dimostrarci l'amore in diversi modi, attraverso i suoi personaggi. Una delle relazioni più apprezzate dai fan è quella tra Jon Snow e Ygritte.
Forse ciò che spinge il pubblico ad amare la coppia è anche il fatto che i due attori, Kit Harington e Rose Leslie, sono sposati nella vita reale. Il loro amore è scoppiato proprio sul set di Game of Thrones. C'è una ulteriore cosa intrigante in tutto questo, però.
Kit Harington e Rose Leslie sono lontani parenti!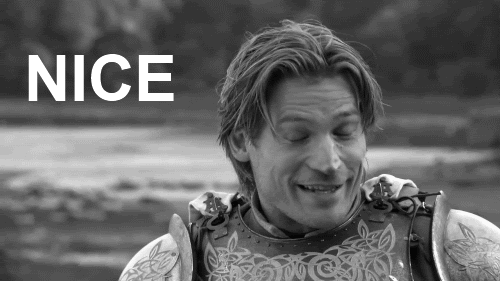 Kit Harington e Rose Leslie hanno un antenato in comune, e non si tratta di un uomo qualsiasi, ma di Carlo II d'Inghilterra. La notizia è stata postata da numerosi fan sui social, e anche le pagine di Wikipedia dei due attori ammettono che entrambi discendono da Carlo II d'Inghilterra. Questa lontana parentela è stata anche confermata da Ancestry.com. Ecco quanto twittato da una fan: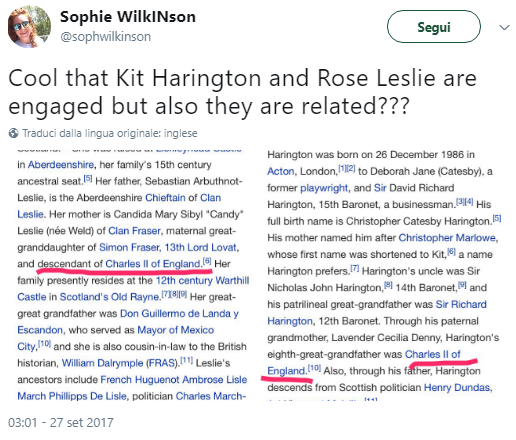 La pagina Wikipedia di Kit Harington recita:
 La nonna paterna, Lavender Cecilia Denny era discendente diretta di Carlo II d'Inghilterra.
Quella di Rose Leslie recita invece:
La madre è Candida Mary Sibyl Weld, discendente di Carlo II d'Inghilterra.
Molti fan hanno commentato la notizia con battute relative alle relazioni incestuose, sottolineando la natura di alcuni rapporti mostrati in Game of Thrones, ad esempio: "Almeno non è sua zia!". Naturalmente la parentela tra i due attori è troppo distante per poter parlare di incesto, ma siamo sicuri che Cersei e Jaime approverebbero.