La situazione in Game of Thrones, al termine della quinta puntata della sesta stagione, è come ci si poteva aspettare molto intricata. Tanti filoni narrativi, tanti cambiamenti, tante morti, tanti pregi e anche un po' di difetti. Arrivati a metà stagione facciamo un back-up di quello che è successo finora, di quello che può succedere, di cosa va e di cosa non va. Ovviamente, spoiler alert.
Approdo del Re. La più grande catastrofe probabilmente si verificherà qui, nella capitale finora, bisogna sottolinearlo, un po' trascurata. I Lannister (e i Tyrell) sono alle prese con i problemi che l'Alto Passero e la sua setta hanno portato in città: la regina Margaery è ancora imprigionata con il fratello Loras, ma sembra imminente una guerra. Il promo della sesta puntata mostra come la situazione inizi a sfuggire di mano e l'evento bellico sia imminente.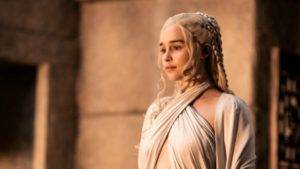 Daenerys e Tyrion. La Madre dei Draghi è riuscita a liberarsi dalla morsa dei capi Dothraki e anzi, ha assoggettato l'intera orda al suo volere, grazie alla collaborazione di Jorah (prossimo alla completa trasformazione in un Uomo di Pietra) e dell'amante Daario. Nel frattempo a Meeren, Tyrion (e Varys) cercano di amministrare le sorti della città, venendo incontro agli interessi sia del popolo che dei padroni (per fermare così i Figli dell'Arpia).
Nord. Dunque, la situazione qui è forse la più complessa, anche strategicamente parlando a livello prettamente militare. Innanzitutto ci sono i Bolton, ormai racchiusi nella sola persona di Ramsay (patricida), padroni (momentanei) di Grande Inverno e autori di atrocità, tra cui la cattura di Rickon Stark e l'uccisione della fedele bruta Osha. Nel frattempo, Jon Snow alla Barriera è tornato in vita, ha deciso di lasciare i Guardiani della Notte, ha riabbracciato la sorella Sansa (autrice di un sottile doppio gioco forse ai danni di Ditocorto, ma più probabilmente ai danni di se stessa) ed è pronto a radunare un esercito per riprendersi Grande Inverno.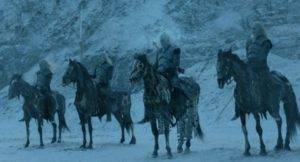 Oltre la barriera. Le lezioni di Bran con il Corvo dai Tre Occhi che gli hanno permesso di vagare nel passato alla ricerca di risposte (soprattutto relative al padre) sono momentaneamente interrotte a causa dell'arrivo (finalmente) degli Estranei che, fra gli altri, uccidono Hodor (Hold the door, sono ancora in lacrime).
Braavos. Arya Stark ha riavuto la vista e continua a non essere considerata pronta: tuttavia le viene affidata una missione, quella di uccidere un attrice che, guarda caso, fa parte della crew di uno spettacolo riguardante la morte del padre Eddard.
Isole di Ferro. Reek, tornato Theon e approdato nella propria casa, scopre della morte del padre re ad opera dello zio, che viene "eletto" a discapito proprio della sorella Asha, costretta a fuggire insieme al fratello per evitare una certa e mortale ritorsione.