Non manca molto all'inizio della fine di Game of Thrones. Una serie tv che è famosa per gli intrighi, le spettacolari battaglie e le numerosissime morti. Il sesso e l'amore sono una componente essenziale dello show, anche se le storie amorose il più delle volte finiscono in tragedia. Game of Thrones pone l'accento sui legami familiari, la lontananza dalle persone care e il desiderio di rincontrarle. Tra tutte le relazioni presenti nello show ce n'è una che spicca più delle altre, pur essendo racchiusa in pochissimi episodi: quella tra Arya Stark e Tywin Lannister.
Lui il patriarca freddo e calcolatore della più ricca e crudele famiglia di Westeros, lei la figlia in fuga di un eroe caduto. Insieme formano una coppia che è pura dinamite. 
Il loro primo incontro avviene nella 2×04 di Game of Thrones. Arya viene portata ad Harrenhal insieme agli altri prigionieri. Tutti credono che sia un ragazzo, eccetto Tywin. Quando le chiede perché si sia vestita così, Arya gli risponde che in questo modo viaggiare diventa più sicuro. Colpito dall'intelligenza della piccola Stark, Tywin la prende con sé come coppiera personale.
I due si rispettano fin da subito reciprocamente. Lo fanno con quel tipo di rispetto che esiste tra persone intelligenti, fattore che annulla persino ancestrali divergenze.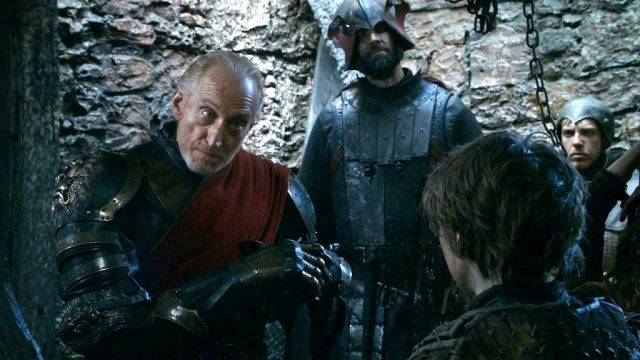 Questo rispetto lo ritroviamo dovunque nel loro rapporto. Tywin loda costantemente l'acutezza della ragazza, umiliando persino i suoi uomini dato che gli fa notare che la sua coppiera sa leggere meglio di loro. Lo spietato Lannister ha una passione per le guerriere femminili e Arya gli ricorda proprio questo tipo di figura. Quando ascolta le ambizioni della ragazza, riesce a vedere il guerriero che lei potrebbe diventare un giorno, come se riuscisse a leggerle dentro.
Vede ogni giorno quanto la piccola si impegni a fingere di essere qualcun altro, offrendole persino dei consigli su come migliorare la sua performance. Quei suggerimenti sbattono contro un muro di menzogne e, anche se Tywin lo riconosce, sceglie di non agire a causa della sua predilezione per lei o perché non sarebbe valso il suo tempo.
Arya è una semplice coppiera ma ha il coraggio di minacciare velatamente l'uomo più potente di Westeros. Nella quinta puntata della seconda stagione di Game of Thrones, Arya pronuncia l'epica frase: "Anyone can be killed". I suoi occhi dicono tutto: la sorpresa quando Tywin le chiede di Robb, l'orgoglio quando parla del fratello e il disprezzo per il suo interlocutore, visto che gli dice che anche lui può essere ucciso. Non abbassa lo sguardo e la tensione che c'è in quel momento rende questa una delle scene più epiche di Game of Thrones.
Quello che c'è tra Tywin e Arya è un rapporto molto intimo, simile a quello tra padrone e servo dell'epoca vittoriana. Entrambi hanno bisogno di qualcuno che li ascolti.
Tywin non avrebbe mai discusso fatti così personali come il rapporto con suo padre con chiunque fosse suo pari o un parente. Rischierebbe di apparire debole, affettuoso o addirittura colpevole. Può, tuttavia, parlarne con un servitore di cui si fida che è obbligato ad ascoltare, non dà un'opinione anche se richiesta e non considererebbe un tale personaggio un essere debole, affettuoso o colpevole sotto qualsiasi circostanza. La sua apertura tuttavia non si ferma qui. Le ha rivelato persino dei problemi di apprendimento di Jaime e di come lo ha fatto migliorare con la sola forza di volontà.
A sua volta, Arya è in grado di confidargli le emozioni e gli obiettivi della sua vita. È una delle prime persone con cui riesce a parlare della morte di suo padre. Nonostante gli racconti una bugia sull'essere figlia di un muratore, riesce a trasmettergli la sua disperazione per il fatto che il suo vecchio sia stato ucciso per via di una sua dote: la lealtà. L'effetto che la morte di Ned ha avuto su di lei è qualcosa di profondamente personale che certamente non confiderebbe a personaggi del calibro di Frittella.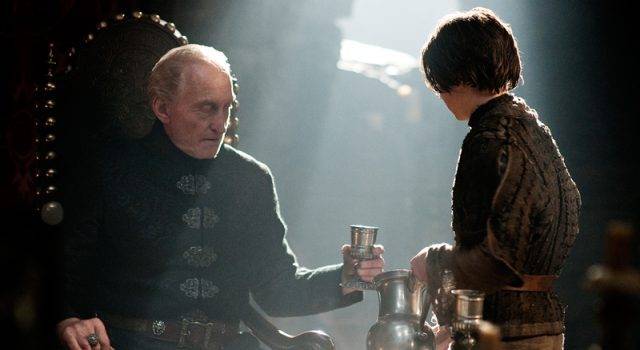 Quelli elencati non sono gli unici motivi per cui Tywin è così affascinato da Arya. "You remind me my daughter" le dirà il vecchio Lannister.
Cersei e Arya sono intelligenti, hanno ambizioni e interessi al di fuori di ciò che tradizionalmente ci si aspetta da una donna di Game of Thrones. Entrambe pensano che la femminilità convenzionale sia stupida. Cersei invidiava Jaime perché stava imparando a combattere mentre lei doveva essere essenzialmente un oggetto di scena. Per Arya "most girls are idiots" e questa affermazione fa ridere Tywin. È con tutta probabilità l'unica volta in Game of Thrones in cui lo vediamo ridere davvero. La giovane Stark sa agire in un momento di crisi e non crolla sotto pressione: sono qualità che Tywin ammira.
Tywin è la figura paterna più lontana che esista da Ned Stark, eppure Arya imparerà molto da lui, forse più di quello che il suo stesso padre le ha insegnato. Accanto a lui capisce che cosa significa veramente sacrificare tutta se stessa per un ideale, giusto o sbagliato che sia, senza preoccuparsi delle conseguenze pur di raggiungerlo. Impara che è necessario cogliere le opportunità che si pongono in quel momento e adattarsi alle circostanze con uno spietato pragmatismo. Ha capito perché Ned è morto: non è riuscito ad accettare il cambiamento e ad andare oltre i suoi limiti.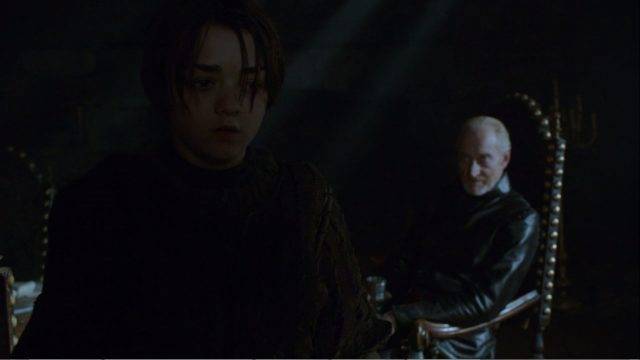 Il calore che mostra ad Arya ci fa capire che tipo di padre sarebbe potuto essere Tywin se non fosse stato troppo impegnato a proteggere gli interessi del suo casato. Arya è riuscita a rendere umano un mostro, Tywin è stato un maestro e un padre inaspettato per la giovane. Insieme ci hanno regalato una delle cose più belle mai viste in Game of Thrones.
Il merito va senza dubbio alla bravura dei due attori e alla chimica che si è instaurata tra di loro!