Game of Thrones è senza dubbio una delle Serie Tv degli ultimi anni con il cast più ampio e variegato di cui si possa disporre; tanti protagonisti (o, da un certo punto di vista, nessun protagonista), e soprattutto tanti personaggi secondari. Questi ultimi, nella maggior parte dei casi, hanno poco tempo e spazio per lasciare il segno, ma quando lo fanno sembra che riescano a entrare nel cuore persino più di alcuni personaggi principali. Tormund, detto Veleno dei Giganti, è uno di quei personaggi secondari maggiormente amati dal pubblico di Game of Thrones, per la sua genuinità, l'involontaria vena comica ma, soprattutto, per la crescita narrativa che il personaggio vive.
Il Trono di Spade, molto spesso, presenta le situazioni e le condizioni in cui determinati personaggi si muoveranno fortemente legate al pregiudizio volutamente inserito dai creatori in merito a esse: per esempio i Bruti sono per definizione un popolo non civilizzato e diviso, per questo si guarda a loro automaticamente come a persone incapaci di comprendere il progresso o in generale lo stare al passo con l'avanzamento della tecnologia che è giunta invece nel resto dei Sette Regni. Per compensare questo aspetto, molti personaggi sono dotati invece di un forte spirito di adattamento, che si contrappone dunque come tematica a quella del pregiudizio. Come si inserisce Tormund in questo discorso?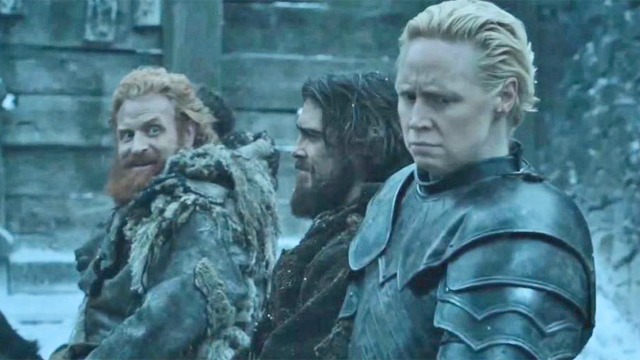 Potrebbe sembrare strano, visto il suo essere un Bruto e quindi teoricamente un tipo di personaggio abitualmente retrogrado e chiuso nel mondo di Game of Thrones, ma Tormund è uno dei personaggi che più di altri risulta essere un esempio di rinnovamento e, dunque, di capacità di adattarsi.
Il percorso di questo personaggio è uno dei più mutati e sviluppati che la Serie propone, soprattutto fra i ruoli secondari. Se proviamo a fare ordine, infatti, ci ricorderemo che Tormund, quando appare per la prima volta nella terza stagione, fa parte dell'esercito di Mance Rayder e, come molti altri Bruti, vede in Mance una specie di Messia, soprattutto per la sua capacità di riunire tutte le diverse Tribù del suo popolo sotto un'unica ala, dando finalmente valore e significato all'espressione "Popolo Libero". Tormund crede veramente che sconfiggere i Guardiani della Notte sia lo scopo ultimo per guadagnare la libertà e ripararsi a sud della Barriera.
Tuttavia, non riesce a fare a meno di apprezzare un altro leader, inizialmente suo nemico: Jon Snow. Glielo dice chiaramente, fin dai primi momenti in cui lo cattura, e il suo percorso e la sua crescita narrativa gli permetteranno di apprezzare la personalità del giovane Jon. Un momento chiave è proprio la morte di Rayder: messo al rogo da Stannis, Tormund (nuovo Re del Popolo Libero) assiste alla pietà di Jon Snow, che interrompe le sofferenze di Mance colpendolo al cuore con una freccia.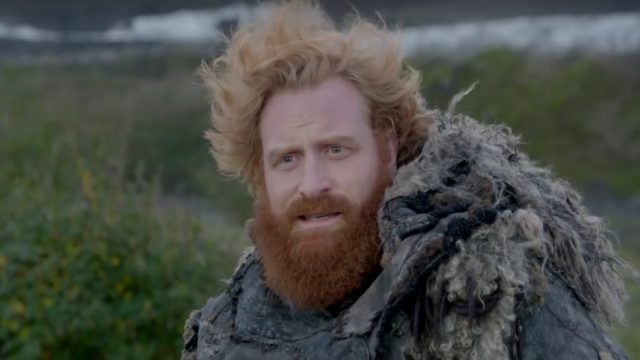 Da questo momento, Tormund vive una nuova fase evolutiva, in cui capisce che fare patti (e in particolare fare patti con Jon Snow) è un mezzo che può servire a chiunque. Per questo è il principale sostenitore di Jon agli occhi delle altre tribù quando ad Aspra Dimora (che diventerà poi teatro di uno dei più sanguinosi scontri con gli Estranei) vuole convincere le altre tribù (con le buone e con le cattive) ad attraversare il Castello Nero su concessione dei Guardiani della Notte.
Dal momento in cui Jon Snow torna in vita, egli diventa il suo più fedele alleato, combattendo con lui e con i Bruti che lo hanno seguito la Battaglia dei Bastardi per permettere agli Stark di riconquistare Grande Inverno; le imprese epiche che condiscono la vita di Jon sono quasi sempre accompagnate dalla presenza di Tormund: da ultima la missione per recuperare il non-morto da portare ad Approdo del Re, situazione in cui tutti rischiano la vita. Chi l'avrebbe mai detto, ricordando il Tormund delle prime puntate…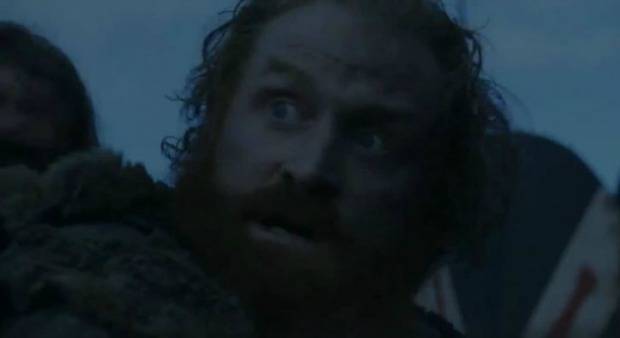 E il suo destino? Lo lasciamo in pericolo di vita a sorvegliare il Fronte Est della Barriera su ordine di Jon, con il Re della Notte che distrugge il muro di ghiaccio e fa entrare il suo esercito nei Sette Regni. I fan di Game of Thrones di certo non vorranno che uno dei personaggi più amati, proprio a causa del complesso sviluppo che ha avuto, venga a mancare nella Grande Guerra. Personalmente, invece, credo che una sua eventuale morte sarebbe coerente con la struttura e la costruzione del personaggio: sempre disposto a sacrificarsi per il suo leader (prima Mance, poi Jon), lotterà fino all'ultimo sangue per far trionfare il suo schieramento e, se necessario, sarà disposto a morire. Come è giusto che sia.