Sono state molte le parole che Arya ha riservato al Mastino, Sandor Clegane, pensandole e ripetendole all'infinito nella sua mente di ragazzina, che troppo presto ha iniziato a provare odio verso il mondo. 'Assassino' era uno degli appellativi che Arya legava al Mastino. Eppure, Game of Thrones con loro 2 ha realizzato uno dei più bei rapporti d'amicizia della serie.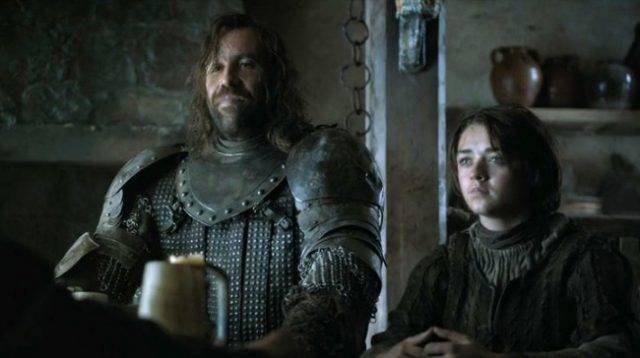 Thank you, Sandor…
Contro ogni aspettativa sono state queste le ultime parole che Arya Stark ha rivolto all'uomo brusco, sfigurato e sboccato con cui aveva vissuto mesi. È questo che ci ha fatto appassionare a loro: una strana coppia di viaggio, impensabile, una coppia che ricorda un eccentrico rapporto padre-figlia per la quale è inevitabile fare il tifo.
Il Mastino era il cane del re Geoffrey, era capitano della guardia reale anche se non aveva nulla che lo rendesse simile a Ser Barristan 'il Valoroso'. Era un assassino e traditore della corona. Ma Sandor Clegane ha salvato Arya Stark da morti orribili preoccupandosi della sua sicurezza (in fondo il Mastino è il vero protettore delle sorelle Stark).
Al sicuro? E dove secondo te? La sua unica zia è morta. Sua madre è morta. Suo padre è morto. Suo fratello è morto e Grande Inverno è un ammasso di rovine.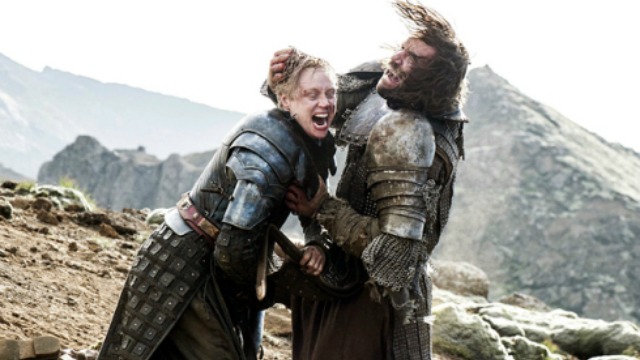 Sandor Clegane, all'inizio, vede Arya come una fonte di denaro, ma sarà lui a sputare in faccia a Brienne e – indirettamente – anche ad Arya la crudele verità. "Non esiste un luogo sicuro". È inutile giocare agli eroi.
In Game of Thrones o si vince o si muore, e il Mastino lo sa bene.
Arya, però, di lui ha sempre diffidato. Non lo ha mai chiamato per nome, ha sempre mantenuto una certa distanza emotiva, cercando persino di ucciderlo per poter barrare il suo nome sulla propria lista (compiendo la vendetta dell'innocenza). Non importava cosa lui facesse, come lui si comportasse, non importava che lui fosse l'adulto, che potesse rappresentare un padre o un compagno di viaggio: Arya lo avrebbe visto sempre e comunque come un nemico.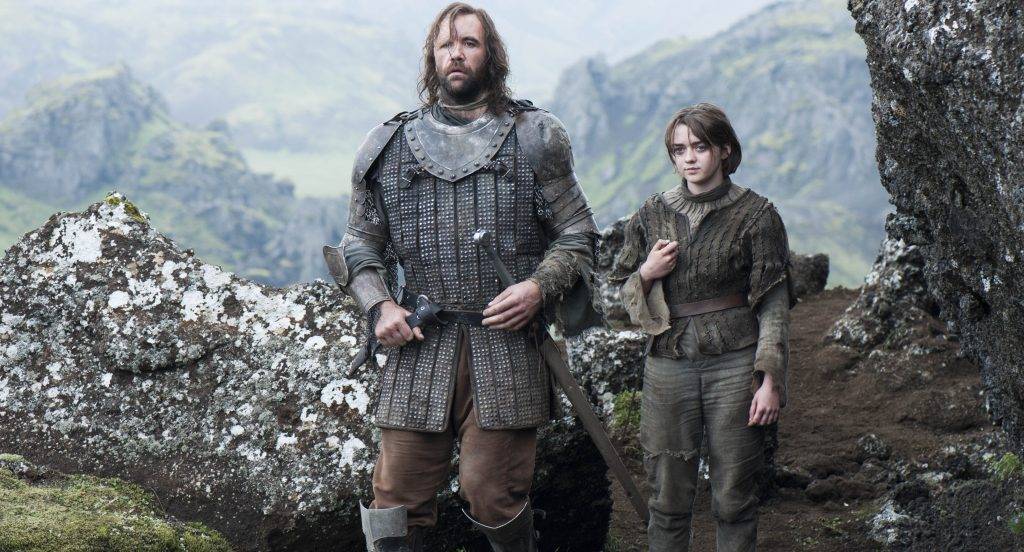 Nonostante tutto qualcosa in lei, nel profondo, l'aveva avvertita che a suo modo il Mastino fosse diverso. Viaggiando insieme, Arya inizia a vedere in lui un corpo e un animo sconfitto dalla crudeltà e dal desiderio di violenza che hanno i falsi cavalieri e i re. Entrambi hanno dovuto piegare il capo, ma non per paura. Per quanto assurdo possa dirsi di Sandor Clegane, che ha un cuore impulsivo, sia lui che Arya avevano scelto con saggezza l'attesa. Aspettare il momento per assaporare la vendetta.
Il dolore è stato terribile. L'odore anche di più. Ma la cosa peggiore è che fosse stato mio fratello a farlo.
Il momento della confessione, quel momento in cui la piccola Stark ascolterà in silenzio la storia che il Mastino ha da raccontare, provando per lui un pizzico di empatia. Arya ora vede che nella mente di Cleagane il mostro che lo tormenta è solo uno e porta un nome familiare, Gregor Clegane "La Montagna che cavalca", sangue del suo sangue.
In Game Of Thrones, né gli antichi né i nuovi déi fanno sconti, gettano gli uomini nella più alta disperazione, determinando vicende familiari atroci.
Arya e il Mastino diventano pian piano due facce di una stessa medaglia. Il simbolismo di questo duo è evidente: lui è oscuro e un assassino, lei è una bambina in parte ancora legata alla purezza della sua infanzia vissuta a Grande Inverno. Purtroppo si cresce, e bisogna crescere in fretta nel mondo di Game of Thrones. Così, da essere luce e ombra, due opposti, diventano simili. Lui assiste all'ascesa di lei nel mondo della guerra e lei ferma lui dall'uccidere coloro che non lo meritano: gli innocenti.
Diventano quasi una strana famiglia, un duo comico che sbaraglia gli arroganti e che punta dritto alla meta: salvarsi. Ma le loro strade devono dividersi, lo scontro con Brienne e la sconfitta del Mastino determinano la loro separazione, un primo addio.
Ti ricordi dov'è il cuore? […] Andiamo ragazzina, un altro nome da eliminare dalla tua lista. Hai continuato a promettermelo. […] Devo supplicarti? Fallo. Fallo. Uccidimi.
Sandor supplica Arya, stremato da una ferita che sembra mortale, ma lei decide di non dargli il colpo di grazia.
La piccola Stark ha davanti a sé la possibilità di ucciderlo con le proprie mani, ma non lo fa. Arya volta le spalle a questa possibilità. In questo modo in suo personaggio diventa sempre più interessante.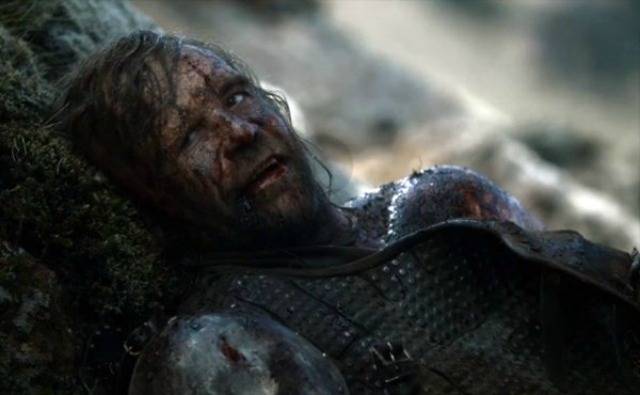 Perché? Riconoscenza, forse? Pietà? Lei odia ancora il Mastino, ma sceglie di fargli pagare con la sofferenza tutto il male causato.
Lo abbandona nel supplizio di una morte lenta a causa di una brutta ferita, che nonostante tutto potrebbe non togliergli la vita. In questo modo, Arya scommette sulla vita dell'uomo. Un giorno potrebbero rivedersi, è questo ciò a cui la ragazza pensa per un secondo, decidendo di lasciare che siano gli déi a decidere, non lei. Questa volta no.
Ma è quando li rivediamo insieme nella 8×01 che ci accorgiamo di ciò che era nato tra loro: un profondo sentimento di stima insieme alla sorpresa di ritrovarsi vivi e per questo soddisfatti. Sono ancora loro, un duo ironico e destinato alla battaglia, a errare da soli. Sandor però vede in Arya una miriade di possibilità per essere migliore, per non essere come lui: corroso dalla vendetta.
È il momento di un ultimo paradossale insegnamento da parte di Sandor Clegane, da parte di questo padre acquisito e amico fuori dal comune.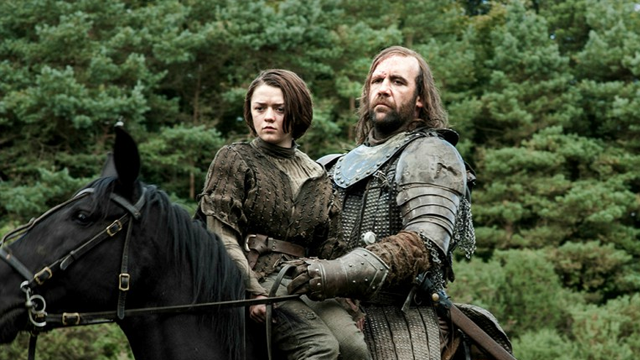 Arya deve lasciare la Fortezza Rossa e salvarsi.
Ormai i nomi sono scomparsi dalla sua lista, la vendetta a suo modo è compiuta e lei è ancora in tempo per vivere felice e per non morire tra le macerie di Approdo del Re. Quello non è il destino della ragazzina, ma il destino del Mastino il cui cuore è stato consumato dalla vendetta che non ha lasciato altro se non la consapevolezza che sarebbe morto portando con sé suo fratello.
Grazie, Sandor…
Saranno dunque le ultime parole che Arya Stark gli rivolgerà. Sono parole che segnano l'addio definitivo, ma che rendono evidente la sincerità di questo rapporto. È una dichiarazione di fiducia fatta da parole sentite con le quali Arya rende Sandor consapevole che per lei non è più un uomo orribile, ma un amico fidato.
Un amico al quale dover rivolgere, tristemente, l'ultimo saluto.
Un ultimo sguardo di una lunga avventura.