Attenzione: evitate la lettura se non volete imbattervi in spoiler sulla 7×04 di Game of Thrones
Cari lettori, è arrivato il supplente! Lo chiariamo subito, onde evitare fraintendimenti: quel genio mascalzone che cura abitualmente le pagelle di Game of Thrones è disperso da qualche parte del mondo e si gode un po' di meritato riposo, quindi verrà sostituito per qualche settimana dallo stronzo che si occupa delle recensioni del lunedì (quelle che sembrano serie) e dei #DeliridiSpade del martedì, scritte solitamente dopo aver preso un po' di quella bella roba di cui si fa Bran.
Detto questo, partiamo da un presupposto: siete liberi di tirare le gomme e le penne sulla schiena del supplente (tra due settimane si leverà dalle scatole e non potrà farci niente), ma si sconsiglia l'utilizzo delle frecce del superbalestrone di Qyburn. Quelle fanno male. Detto questo, andiamo di corsa e iniziamo subito: in questa 7×04, "gentilmente" offerta da un gruppo fetentissimo di hacker che ha permesso la visione anticipata con annessi sensi di colpa costanti scanditi dal countdown in basso, è successo un botto di roba. Insomma, abbiamo molta carne al fuoco.
Anche troppa.
LE PAGELLE DELLA 7X04 DI GAME OF THRONES
IL GIOCO DEI TRONISTI – VOTO 8
A Dragonstone hanno capito quali sono le priorità della vita. Se vi è venuta in mente la battaglia contro la Lunga Notte, siete fuori strada: questi stanno pensando ad accoppiarsi. Le sequenze ambientate nell'ex dimora di Stannis Baratheon sono un enorme meme di svariati minuti, servite e impacchettate per noi poveri comuni mortali. Nella recensione di ieri abbiamo detto che il Gioco dei Troni è finito, ma non dobbiamo preoccuparci: è iniziato il Gioco dei Tronisti.
Jon, incitato da Davos Seaworth, il Dottor Stranamore…
… (macché) …
… (lui!) …
… è piacevolmente colpito dal cu… ore di sua zia e tenta di sedurla (riuscendoci) con una gita al museo archeologico (non sia mai che pensi sia un ignorante) e frasi sibilline come "Vostra Grazia, dovrei mostrarle un'altra cosa". Missandei rivela alla sua regina di aver fatto delle cose con Verme Grigio e nel mentre viene abbordata da un vecchietto arzillo che la intrattiene con considerazioni sul cambiamento climatico, la bellezza eterea dei cantieri e la necessità impellente di una bevanda calda al mattino.
In definitiva, è questa è la vera edizione estiva di Uomini e Donne. È questa l'unica, reale Temptation Island. Candidatevi in fretta per le prossime edizioni: Davos è un bocconcino ambitissimo.
IL TURISMO SESSUALE DI JON E DAVOS – VOTO 9
LE MANI DI VARYS, IN TASCA DA SETTE STAGIONI – VOTO 10 (anche gli eunuchi sono scaramantici)
L'AMATISSIMO THEON – VOTO – 50 (gradi Fahrenheit)
FORSE (MA ANCHE NO) L'ORDINE RESTRITTIVO DI DAENERYS NEI CONFRONTI DI JORAH HA FUNZIONATO – S.V. (Stalker Vetusto)
BRANDON LO SPOILERATORE – VOTO 5
Diciamolo: questo ragazzo, da quando è tornato dall'Erasmus, non è più lo stesso. È vero, normalmente dura sei mesi circa tra festini e belle ragazze, non sette anni con quei burloni degli Estranei e uno che sa dire una sola parola, ma c'è qualcosa che non va. Ogni volta che apre bocca è fuori luogo, ogni volta che lo si guarda negli occhi si vede l'artiglio dell'hangover che lo trascina in una spirale senza fine e, oltretutto, l'empatia non è esattamente il suo forte (voto 0). Ha tre occhi, nessuno dei quali collegato al cuore.
L'ha capito bene quella povera anima di Meera, liquidata frettolosamente con un semplice "grazie", più inopportuno di quello dedicato da certi furboni alla ragazza dopo QUEL regalo.
E non finisce qui. Ok, ha destabilizzato il moribondo Ditocorto con una sola frase (voto 10) e senza usare il pugnale in acciaio di Valyria con più cambi di proprietà dell'Inter, ma questa storia degli spoiler su Game of Thrones rischia di sfuggirgli di mano. Lui, a differenza del cugino, sa tutto, tuttavia non vorremmo ritrovarci a conoscere il finale della serie da qui a due episodi per colpa di una dose tagliata male. L'HBO inizi a tremare: questo drogato ha molto più potenziale di ogni hacker del mondo.
ARYA SI BECCA IL REGALO RICICLATO DA NATALE – VOTO 10 (ci siamo passati tutti)
MEERA NON PRENDE MANCO I SOLDI DELLA DISOCCUPAZIONE – VOTO 2
GLI USCIERI DI GRANDE INVERNO, VITTIME DELL'ETERNO "VOI NON SAPETE CHI SONO IO" – VOTO 3
PODRICK – VOTO 30 (centimetri di genuinità)
DROGON IL TERRIBILE – VOTO DUE MILIARDI (OH, ABBIAMO PAURA)
Daenerys, stanca delle tattiche di Tyrion, degne del peggior Oronzo Canà, è passata al contrattacco e ha ribaltato in pochi minuti una situazione che sembrava compromessa. L'epica battaglia che l'ha vista ridurre in fiamme i Lannister sembra quasi il Barcellona-PSG di qualche mese fa: ora sembra che Cersei voglia correre ai ripari e, sostenuta dalla Banca di Mycroft Holmes, sia pronta ad offrire 220 milioni di euro per pagare la clausola rescissoria di Drogon.
Intanto, però, per i Lannister non si mette bene: la scelta iniziale di affrontare i draghi così….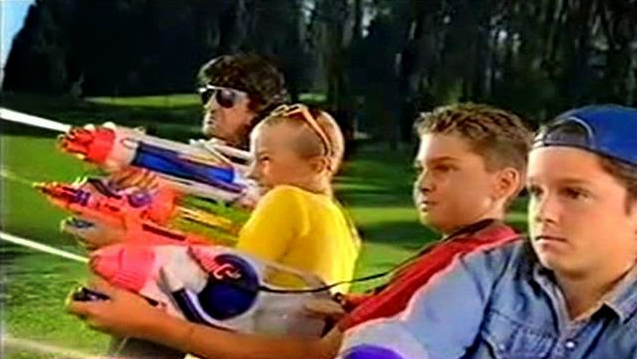 … è stata accantonata per lasciar spazio al superbalestrone di Qyburn, ma la scarsa lungimiranza dei gemelli perversi non ha permesso di assicurare la temibile arma contro furti e incendi e non si era messa in conto la pericolosità degli alleati della finta bionda.
Insomma, la disfatta è netta e Approdo del Re è sempre più vicina. I Lannister possono solo sperare in una sospensione del match per pioggia (ne servirebbe tanta eh), ma l'ipotesi è al momento fin troppo remota.
BRONN PENSA AI SOLDI ANCHE AD UN PASSO DALLA MORTE – VOTO 10 (euro. Più un castello)
JAIME RISCHIA DI AFFOGARE IN ACQUA NEL BEL MEZZO DI UN INFERNO DI FUOCO – VOTO 0
RANDYLL, GIÀ PAPÀ DELL'ANNO DOPO LA CENA CON SAM, SI CANDIDA ANCORA GRAZIE AL NOME DEL "CAZZO" DATO AL FIGLIO DICKON – VOTO 6 (uno stronzo)
LA TATTICA ELEMENTARE DI DAENERYS – VOTO 6 (sul Trono di Spade)
GAME OF THRONES 7X04 – GLI OSCAR DEL TRONO 
Una cosa molto simile al trofeo di partecipazione che davano alla tua squadra da piccolo. In teoria serviva per far sentire tutti vincitori, in pratica ti ha rovinato l'infanzia a causa delle prese in giro di chi vincitore lo era veramente.
T'AMMAZZO SENZA AMMAZZARTI AWARD – IL PUGNALE DI DITOC… BRAND… ARYA
Quando si parla di Game of Thrones, le morti sono provocate principalmente dalle guerre, il vino, i matrimoni e gli Estranei. Poi c'è il pugnale in acciaio di Valyria. Compare e scompare da sette stagioni senza esser mai stato usato per uccidere qualcuno, ma la sola presenza ha ammazzato una marea di gente. Ora che ha un altro padrone, tuttavia, è probabile che cambieranno tante cose.
Tantissime. Bentornata a casa!
SPACCACULI AWARD – BRONN 
Ma è davvero necessario motivare la scelta? Vogliamo quest'uomo sul Trono di Spade. E dategli un fottutissimo castello.
LE QUOTE DI SPADE 
Nelle bische più rinomate dei Sette Regni rischia di saltare il banco, vediamo come siamo messi.
L'ATOMICA BIONDA 75% – Ormai è evidente: le probabilità di vedere la Khaleesi lontana dal Trono di Spade sono più basse di quelle che spingono per una notte di sesso animalesco tra Davos e Missandei.
LA ROSSA OCCUPATA 5%  – Sansa non sarebbe poi così male come regnante, ma si ritrova ora a fare da babysitter ai fratellini. Uno è sempre spaccato ammerda, l'altra ha il viso tenerissimo di un'assassina sanguinaria. Poi c'è lo zio depravato, ma questo lo sapete da tempo. E forse un figlio…
DITO… MEDIO 1% – L'un per cento è l'ultimo residuo di credito, sperperato in poche puntate dopo sei stagioni di capolavori machiavellici. La scala che un tempo benediva ha più di un piolo danneggiato.
FRITTELLA 0,1% – Noi ci speriamo sempre.
Antonio Casu