Forse, e dico forse, si entra nel vivo. Quarta puntata della prima stagione di Game of Thrones, ed è incredibile quanto poco mi ricordassi delle sfumature di questo inizio di avventura.
I nomi delle ancelle di Daenerys, quelli dei soci di Jon al Castello Nero, chi minchia fosse sto tizio…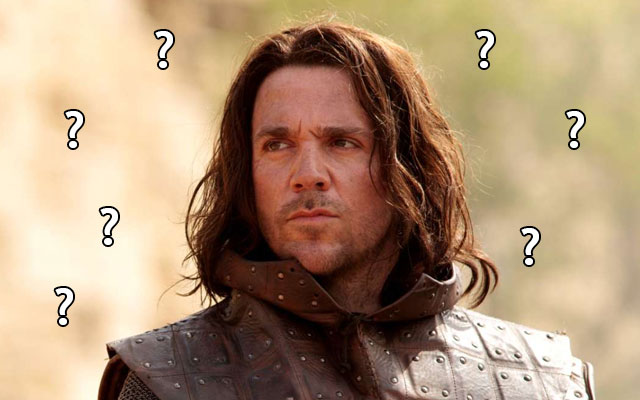 È bello dare una rinfrescata, ma allo stesso tempo è necessario essere corretti con i propri lettori. Già, nel nostro ultimo appuntamento, le pagelle della 1×03 di Game of Thrones, avevo allungato il brodo inserendo immagini a caso di gatti rassomiglianti ai cittadini di Westeros che tanto amiamo.
Ebbene, nel farlo ho trascurato l'altra metà del cielo. Essendo io stesso proprietario di una bassottina, mi vedo costretto a fare ammenda inserendo questo pucciosissimo video di "Crusoe the Celebrity Dachshund" in versione pretendente al Trono di Ossa.
LE PAGELLE DELLA 1×04 DI GAME OF THRONES
NIGHTMARE BEFORE WINTER – VOTO 6
Dopo i racconti della arzilla Nan, c'è poco da stupirsi se Bran faccia sogni dove cammina ancora e viene irretito da seducenti corvi con tre occhi, anche se viene da chiedersi se oltre alle gambe non abbia picchiato pure la testa cadendo dalla torre.
Al suo risveglio, comunque, trova la vecchia sempre vigile al suo capezzale, insieme al Meta-Lupo, un paio di guardie, Theon, qualche curioso che passava per caso e un gruppo di turisti in visita a Grande Inverno.
Ma nelle stanze dei convalescenti non c'era mica un limite massimo di visitatori?
Comunque, è ora di alzarsi – si fa per dire – per andare a porgere i propri omaggi a Tyrion Lannister. Per l'occasione, il giovane Stark sfoggia il suo nuovissimo HØÐOR, trasportino modulare prodotto da una nota catena di arredamento di cui non faremo il nome.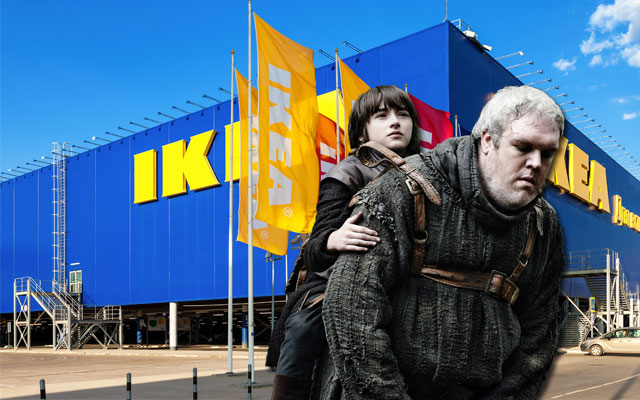 Già che ci siamo, vi è piaciuto il modello con la barba gialla? Alle casse potrete comprarne uno blu!
Al Castello Nero, intanto, fervono i preparativi per la prima del Serale. Al corpo di ballo si aggiunge anche Samwell Tarly, impegnato a perfezionare "La morte del Cigno".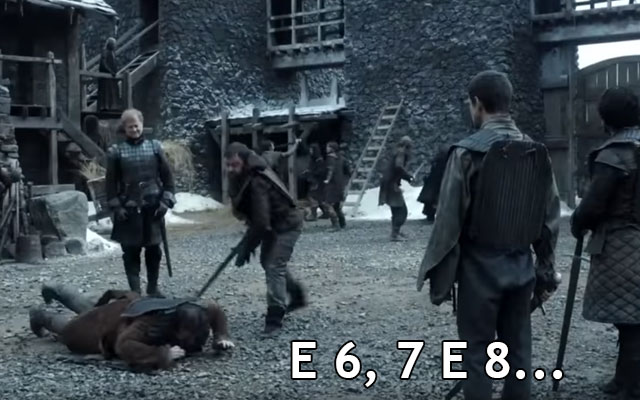 L'impatto del giovane Sam con i Guardiani della Notte è molto positivo. Il Sergente Istruttore lo prende in simpatia, tanto da assegnargli l'affettuoso nomignolo di "Palla di Lardo"; i commilitoni lo eleggono a Mascotte, elargendogli delle cameratesche pacche sulle spalle. Con le spade. Dalla parte del taglio.
Desta solo qualche sospetto la presenza di Stanley Kubrick in un angolo tutto impegnato a prendere appunti, ma non ci fossilizziamo sui dettagli.
SER ALLISER THORNE NON AVEVA MAI VISTO PILE DI MERDA COSÌ ALTE – VOTO 7
L'UMANA COMPASSIONE DEL TARLY SENIOR – VOTO 2
JON & SAM CHE FANNO A GARA SU CHI HA PIÙ SFIGHE – VOTO 3
S.O.S TATA – VOTO 4
Dalle parti di Essos è purtroppo finita la luna di miele. Daenerys, Drogo e la loro modesta servitù tornano nella capitale Dothraki.
L'unico a non essersi ripreso dallo shock di fine vacanze è il piccolo Viserys, la cui crescita psicosociale progredisce a gonfie vele. Il nostro ometto è approdato ormai alla fase del "è tutto mio", ma dicono che intorno ai 3 anni dovrebbe passare.
Comunque niente di più rilassante del bagnetto per stemperare l'animosità del pargolo. Devo essere sincero, dopo tutti questi anni la mia tata non la ricordo benissimo, ma se fosse stata così non l'avrei dimenticata di certo.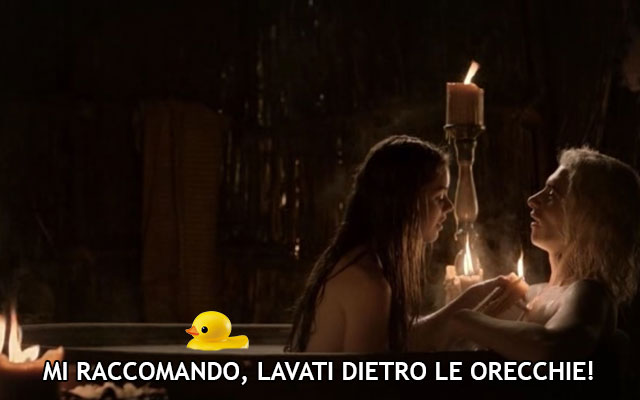 Qualche capriccetto per vestirsi e poi tutti pronti per fare la nanna.
SPIEGARE A JORAH CHE PARLARE DELLA PROPRIA EX NON È LA STRATEGIA MIGLIORE PER CONQUISTARE UNA RAGAZZA – VOTO 2
VISERYS E DOREAH SONO NELL'ACQUA BOLLENTE, PERCHÉ STO SUDANDO IO? – VOTO 7
ARYANAAAAAAAAAAAA – VOTO 7,5
Scopriamo che Pycelle non ha saputo curare i malanni del povero Jon Arryn, ma a giudicare del libro che gli ammolla tra le mani avrà sicuramente successo con l'insonnia di Ned Stark.
Arya inizia il suo percorso per diventare Cavaliere Jedi, addestrata dal Gatto con gli Stivali. Perlomeno, rispetto ai veri maestri Jedi questo parla mettendo le parole nel giusto ordine. Curioso l'esercizio "cattura il gatto", sicuramente mutuato da Rocky Balboa.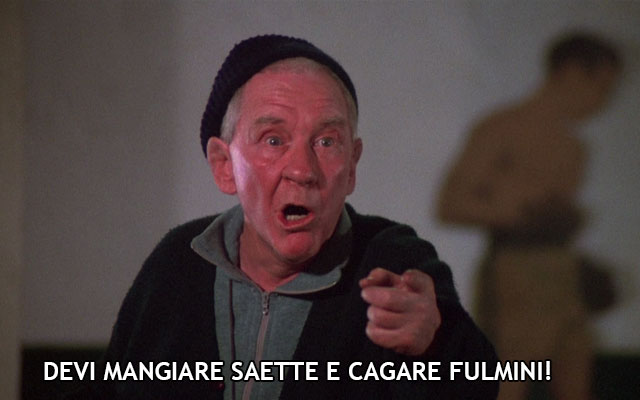 Suo padre, nel frattempo, continua a dubitare della fedeltà del suo nuovo amichetto Petyr Baelish. Una frase, in particolare, risveglia lo scetticismo dell'astuto uomo del Nord
"L'unica cosa buona che hai fatto da quando sei sceso da cavallo è stata non fidarti di me".
Parole criptiche e di difficile comprensione, onestamente.
Scherzi a parte, è interessante notare come l'unica volta in tutto Game of Thrones dove Ditocorto dice la verità non venga ascoltato. Ricorda molto la storia di "Al Meta-Lupo, al Meta-Lupo!".
Veniamo a sapere che Lord Arryn aveva una passione per un muscoloso ragazzo di bottega, cosa che probabilmente gli è costata il posto nel concilio ristretto e nel cast di House of Cards. Il garzone in questione nient'altri è che il figlio bastardo di Re Robert. Questa rivelazione non dovrebbe finire in mani sbagliate, tipo quelle di suo cognato.
Ma se il cognato è pirla, tutto a posto…
Ser Hugh della Valle, recentemente promosso a cavaliere (dopo un passato da presidente della Fiorentina) sa tutta la verità, sarebbe un peccato se gli accadesse qualcosa.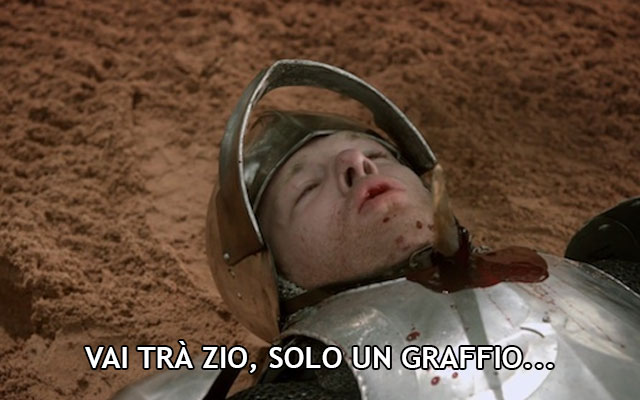 Mentre la Montagna è impegnata a fornire stuzzicadenti al carissimo Ser Hugh (bella zì, breve ma intenso) Ditocorto racconta a Sansa il terribile quanto imbarazzante segreto del fratello, il Mastino.
Ebbene sì, quello è un riporto.
BRONN SI FA CORROMPERE DOPO 2 SECONDI NETTI IN SCENA – VOTO 30 (DENARI)
CAT C'HA GLI AMICI CHE FANNO BBRUTTO – VOTO 8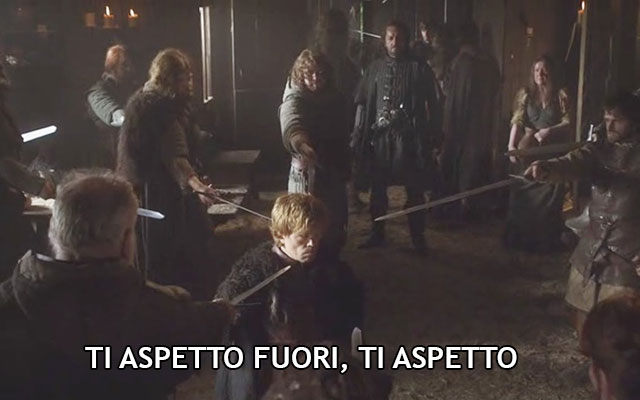 La Citazione della settimana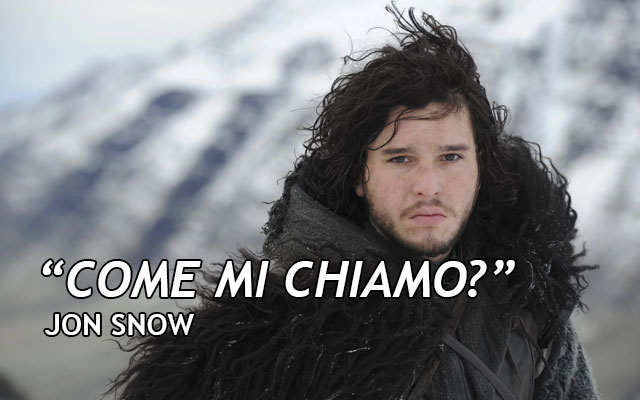 Le previsioni del Gufo con Tre Occhi
Dopo ogni episodio elargiremo profezie sui destini dei protagonisti di Game of Thrones. I quali potranno tranquillamente risponderci, se sono capaci di scrivere sulla tastiera con una mano sola…
"Le troppe domande di Tyrion sulla salute di Bran sono a dir poco sospettose. È sicuramente coinvolto nel tentativo di omicidio"
"Adesso hanno anche inserito sto ciccione di Sam solo per far risaltare la figura buona e carismatica di Jon. Sarà carne da macello (e da rimpianto) al primo incontro con un Estraneo"
"Jorah ha venduto degli schiavi. Un brutto gesto, ma questa cosa non lo penalizzerà di certo agli occhi di Daenerys"