Eccoci di nuovo a parlare di Game of Thrones. Questa volta abbiamo deciso di analizzare un personaggio poco preso in considerazione, seppur paradigmatico: Stannis Baratheon. Un personaggio da amare e odiare. Questo articolo contiene spoiler, siete stati avvisati.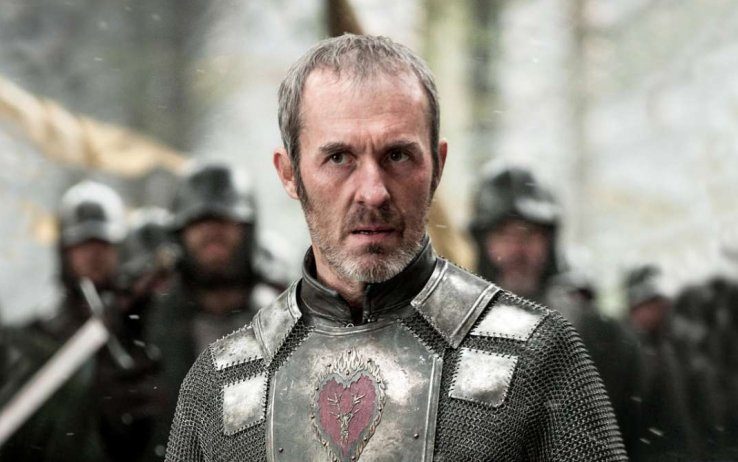 Odi et amo. Quare id faciam, fortasse requiris.
Nescio, sed fieri sentio et excrucior
Il titolo vero e proprio di questo articolo potrebbe essere anche Stannis Baratheon: Mauro Icardi o Andrey Shevchenko? Giocatore freddo e manipolatore, o manipolato e incapace di scegliere come vincere? E per rendere il tutto più Jenny of Oldstones (Game of Thrones 8×02) ho voluto aprire la discussione su un personaggio tanto centrale quanto discusso della serie cult della HBO con una citazione di Catullo, ma ci arriveremo.
Sotto i riflettori dunque mettiamo Stannis Baratheon: eroe? Per niente. Re? Mmm. Personaggio interessante? Questo assolutamente sì.
Perché di quel povero Stannis possiamo dire tutto, ma che in cinque stagioni non ci abbia provato con tutte le forze non si può assolutamente dire. E che la sua tremenda, frustrante, tristemente folle storia sia una delle più singolari e uniche di tutta la saga di George R.R. Martin è, secondo il folle dietro la scrivania, indiscutibile.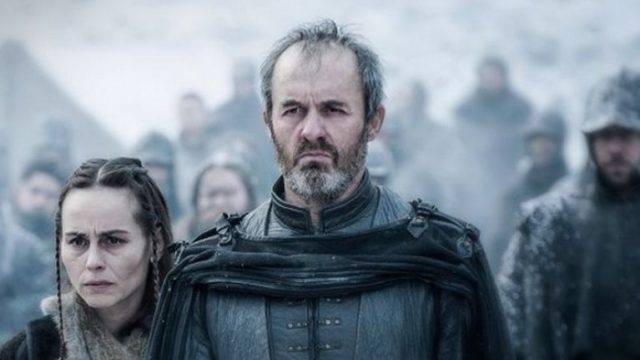 Il nostro comandante tra sconfitte e delusioni ne ha passate tante, cercandosele indubbiamente, rovinandosi con le proprie mani, seguendo una donna, una strega, invece di seguire il proprio piano e le proprie scelte.
Per i fan di Game of Thrones, per noi che abbiamo esplorato Westeros da Dorne alla Barriera e da Meereen alle Isole di ferro, accompagnare un personaggio verso le tenebre, più o meno rilevante che sia, è routine. Essere testimoni delle disfatte di ogni singolo viandante di quelle terre fantastiche è cosa di ogni giorno, eppure con Stannis tutto cambia, perché il problema è sempre e solo stato lui, lui e la sua insicurezza.
Un uomo di alti natali, un Baratheon, un esperto di strategie militari, uno scaltro stratega fin dal tradimento, che portò all'assassinio, di suo fratello Renly per mano di un'ombra nata dalla magia nera della maga rossa, nonché sua amante, Melisandre.
Fin dalla scelta di rinchiudere una tenera ragazzina, sua figlia Shireen Baratheon, in una torre, solo al fine di proteggere l'immagine della propria famiglia, minacciata dalla presenza costante a corte di un'erede dal volto lesionato e malmesso.
Fin dalla scaltrezza nel raccogliere truppe e consensi senza apparenti meriti sportivi (direbbe qualcuno). Insomma il perfetto gamer for the throne, leggendo il personaggio da questa prospettiva.
Eppure il fato, il suo lignaggio, il suo passato da terzo incomodo, tra i fratelli Baratheon, il suo gesto da usurpatore, la sua fame, mai tramutata nella giusta cattiveria, ma in una crudeltà immonda e contronatura lo hanno portato al buio di una lama in petto.

Muoviamoci quindi da una prospettiva darwiniana. Poniamo lo sguardo sull'evoluzione del principe promesso (o per meglio dire il principe fottuto). La sua storia è la storia del trono. È la storia di donne che condizionano la vita di un uomo e ne distruggono i sogni, prima fomentandoli. È la folle passione per una donna dai capelli rossi e dal potere misterioso e intrigante. È la paura di essere sempre il terzo e mai di puntare all'oro. È la distanza da una moglie senza nome, senza armi, priva di personalità. È una serie nella serie: la sua "serie" di scelte disarmoniche rispetto a un progetto che poteva essere di grandezza, ma che si è spento sotto i colpi del più meschino dei nemici, quel Ramsay Bolton, perfido e tiranno, che gli ha dimostrato come e quando bisogna essere spietati.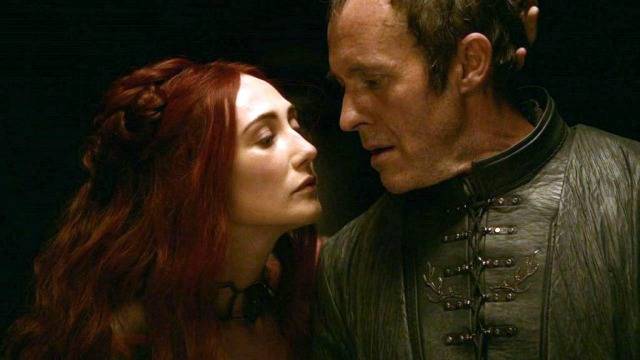 La vita di Stannis è il paradigma di queste 8 stagioni di Game of Thrones
L'ultima stagione (non odiatemi; a me piaciuta e non poco) ci ha dimostrato come anche spingersi al limite non basta, il fuoco non basta, le guerre non bastano, gli stratagemmi non bastano, una spada non basta, se non si hanno delle solide gambe (pardon, ruote) con le quali spostarsi.
Bene, quelle di Stannis, non hanno mai girato a dovere; quelle di Stannis erano una figlia della quale ha sprecato i sorrisi e un'intera vita, con il freddo di quel castello e con le fiamme di quella pira. Un nome che ha profanato per adempiere ai voleri di un dio, sotto forma di ancella tentatrice, nel quale non ha mai creduto né come entità superiore, né come donna: la passione non sarà mai amore.
Ed è qui che comprendiamo l' Odi et amo. Odiare vuol dire provare qualcosa di talmente incontrollabile da non potersi dare un limite, proprio come fa l'amore. Due concetti da non poter spiegare, da non conoscere, forse inaccessibili per l'uomo, se non con il tormento.
Ecco riassunta la sua storia; il più umano di Westeros, di tutta la serie e tra tutti i re, o presunti tali, il più tormentato, proprio perché più vicino a noi spettatori, proprio perché mai definito tra il volere il potere, mai capace di fare un passo deciso oltre tutto il resto. Il suo sguardo durante il rito che portò alla scomparsa di Shireen ne è la prova: in quel momento l'umano Stannis, mai così disumano, aveva perso.
Noi non possiamo che odiarlo, amarlo , ma soprattutto capirlo con eguale forza.