"In una guerra l'esercito più grande vince, nove volte su dieci.". Queste parole sono state dette da un condottiero che porta un cervo d'argento come effige. In Game of Thrones gli hanno ucciso un fratello, l'altro lo uccide lui stesso, ma questa è un'altra storia. Pensa di essere il legittimo erede del Trono di Spade, crede che chi siede su di esso sia un impostore o comunque non sia il vero re. Per questo motivo inizierà una guerra lunga e sanguinaria in cui sbaglierà l'impossibile. Sto parlando del Re di Roccia del Drago e quasi Re del Continente Occidentale. Qui, per gara 3, Federico Buffa racconta: Stannis Baratheon  in Game of Thrones.
Quella del fratello di Robert è una strana storia, fatta di magia, sangue e lotte per la corona. La famiglia per lui è sempre stata importante, ma le influenze esterne gli hanno fatto commettere troppi errori. Sì, perché il Cervo d'argento aveva uno degli eserciti più numerosi e forti di tutto l'universo Game of Thrones, ma qualcosa, irrimediabilmente, è andato storto. Adriano Leite Ribeiro, conosciuto da tutti come l'Imperatore, dirà di lui: "Stannis era come me, aveva un potenziale incredibile. Purtroppo però le amicizie e le cattive compagnie hanno influenzato entrambi, guardateci adesso". Già guardateli adesso, il calciatore dell'Inter fa grigliate in mezzo alle favelas, il Re di Roccia del Drago guarda i fiori dalla parte delle radici.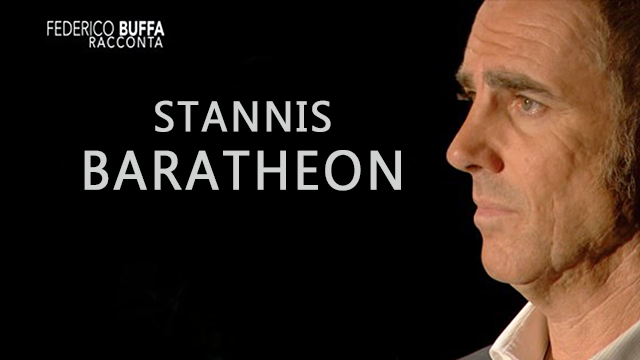 Ma procediamo con ordine. In Game of Thrones il fratello mezzano di Robert Baratheon, Stannis, è deciso a rivendicare il trono dei Sette Regni. Manda una lettera in tutti gli angoli dei Sette Regni. Dichiara che Joffrey, Tommen e Myrcella non sono veri eredi di Robert Baratheon. Sono infatti il frutto dell'incesto tra Cersei Lannister e suo fratello gemello Jaime. Dramma. Nessuno aveva mai avuto il coraggio di dire la verità, Stannis è l'unico che non teme i Lannister. L'ha detto una volta al suo primo cavaliere: "La dura verità è un coltello a doppio taglio, Ser Davos", tutto vero, ma stavolta era necessario. Era giusto rivendicare quello che era suo di diritto, era sacrosanto. Aveva tutto dalla sua parte, oro, uomini, forze e volontà, ma poi?
Inizia mettendosi contro tutti gli altri Lord del continente, poi conosce Melisandre, la Donna Rossa. Da qui iniziano i problemi. I due copulano, la donna è irresistibile. Lei rimane incinta. Si incontra con suo fratello minore Renly e cerca di allearsi con lui, ma il giovane rifiuta pensando di vincere contro il maggiore. Quella notte, Stannis ordina a Davos di portare in un luogo vicino all'accampamento del fratello Melisandre chiedendogli di essere sicuro di non essere visto. Una volta a terra, Melisandre si spoglia e mostra di essere in una fase avanzata della gravidanza. Dal suo ventre nasce un'orribile creatura composta di pura ombra. Questa scompare in una nuvola di fumo. Arriva dentro la tenda di Renly e lo pugnala al petto uccidendolo. Stannis si dimostra papabile del premio Fratello dell'Anno. Questo poi raggiunge l'accampamento e gli uomini del consiglio di Renly gli giurano fedeltà.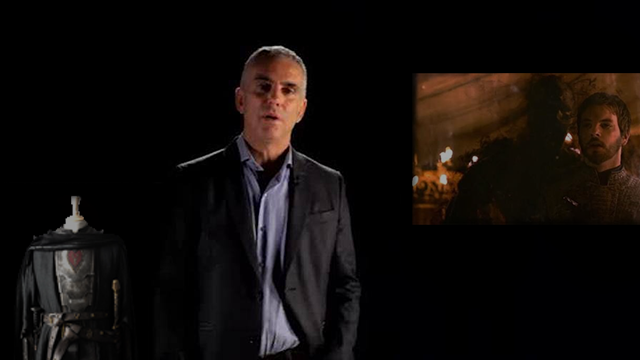 Sembrerebbe tutto fili liscio, vero? E invece Stannis continua a fidarsi ciecamente di Melisandre, un po' come Oliver Hutton si fidava del suo allenatore prima di scoprire che aveva una relazione con sua madre. Tornando al Re del Continente Occidentale questo in successione riesce a: perdere tutta la flotta grazie alla trovata geniale di Tyrion Lannister dell'alto fuoco di cui abbiamo ampiamente parlato nel nostro primo appuntamento di Game of Thrones ed essere sconfitto anche a terra da Tywin Lannister. Un disastro. Giampiero Ventura dirà di lui: "Credevo di aver fallito con l'Italia, ma poi ho visto Stannis Baratheon e ho capito che al peggio non c'è limite".
È l'inizio della fine. Stannis inizia a fidarsi sempre più dei consigli sbagliati e sempre meno  di quelli giusti. Rinchiude il malcapitato Davos perché pensa lo tradisca, si fida ciecamente della Donna Rossa che gli dice di compiere gli atti più meschini, rischia di essere truffato da Wanna Marchi e attiva per sbaglio una promozione cliccando su un banner in cui era scritto "complimenti, sei il cliente numero 99999999 e ti abbiamo selezionato per vincere un IPhone X". Non contento cerca altre sfortune al Nord, le troverà, statene certi.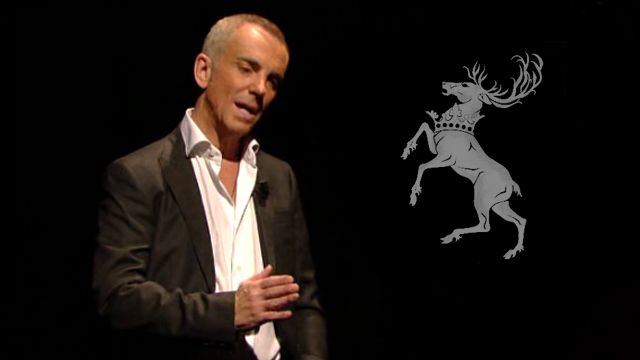 Conosce Jon Snow, che è diventato Lord Comandante dei Guardiani della Notte, e stipula un'alleanza con lui. Anche Melisandre conosce Jon, ma vorrebbe stipulare ben altro con lui, come una velina che vede Bobo Vieri, ma questa è un'altra storia. Il dramma assoluto e culminante sarà la decisione, su consiglio della Donna Rossa, di bruciare viva sua figlia per attirare il favore degli Dei. Dapprima rifiuta, poi, trovandosi in grave difficoltà, Stannis accetta. Finisce tutto qui. La Donna Rossa pentitasi del consiglio scappa, sua moglie si impicca, i soldati non credono più in lui e il freddo del Nord complica le cose. Attacca Grande Inverno, che era stato conquistato dai Bolton, ma ormai non ha più speranze. L'esercito dei nemici lo sconfigge, lo schiaccia, è la fine.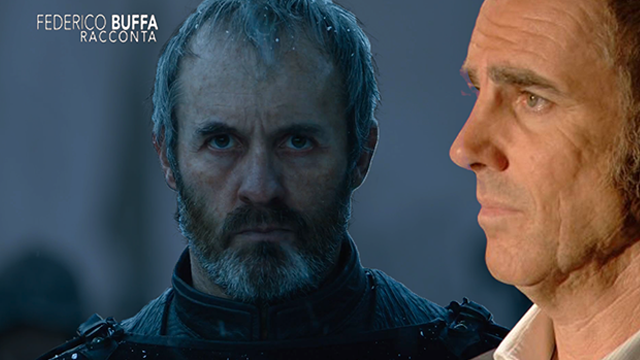 Stannis scappa nei boschi, è esausto e si accascia appoggiato a un albero. Lo trova Brianne di Tarth che lo condanna arbitrariamente a morte per l'uccisione di suo fratello Renly. Il cerchio si congiunge, l'uroboros, il serpente che si morde la coda fa il suo giro, si torna all'inizio della nostra storia, alla disputa tra fratelli. Si torna alla frase di Stannis, "In una guerra l'esercito più grande vince, nove volte su dieci", questa evidentemente era proprio la decima. Peccato fratello Stannis, la terra ti sia lieve.