L'ultima stagione di Game of Thrones non ha soddisfatto le aspettative di molti fan e questo, ormai, è un fatto assodato. Ma le cose sarebbero potute andare diversamente (ecco le dichiarazioni del regista in merito). A tal proposito, Miguel Sapochnik ha dichiarato che è stato necessario raggiungere un compromesso con David Benioff e D. B. Weiss durante le riprese. L'idea del regista, infatti, era quella di mantenere l'approccio delle prime stagioni e dare subito agli spettatori quello che attendevano da tempo.
Nonostante le tensioni, Miguel Sapochnik si è dimostrato comprensivo, dicendo che, in fondo, lui è stato chiamato come regista ed è stato giusto lasciare l'ultima parola agli sceneggiatori.
Anche se la fantasia del cineasta britannico è stata frenata durante l'ultima stagione di Game of Thrones, il suo contributo si è rivelato fondamentale.
Il direttore artistico, infatti, ha svolto un ottimo lavoro durante la quinta, la sesta e l'ottava stagione della serie, come ad esempio l'iconico episodio La Battaglia dei Bastardi. Perciò, in questo articolo, vogliamo ricordare alcune delle scelte coraggiose (e a volte incomprese) di Miguel Sapochnik, che hanno contribuito a fare di Game of Thrones una delle migliori serie fantasy in assoluto.
La vulnerabilità di Cersei Lannister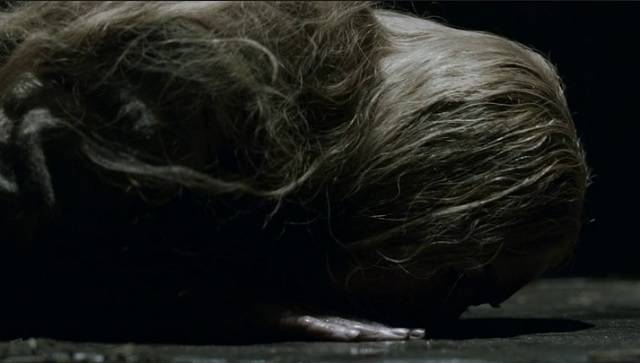 La regina senza scrupoli ha trascorso la sua vita traendo piacere da molte cose, tra cui il timore degli altri nei suoi confronti. Nella quinta stagione la protagonista parla del potere con il figlio Tommen, spiegandogli che a volte questo non è sufficiente. Anche i più potenti possono diventare vittime improvvisamente. E queste parole si rivelano profetiche perché, dopo aver tradito il figlio e aver deriso Margaery, Cersei viene imprigionata dall'Alto Passero.
L'atmosfera cambia drasticamente.
Non ci sono più i colori accesi e il lusso del palazzo, ma il freddo e l'oscurità di una cella angusta. Non c'è più bisogno di inquadrature ad ampio raggio su grandi sale, anzi, le riprese mirate diventano il modus operandi di Miguel Sapochnik.
Anche in quelle condizioni precarie, la regina cerca in tutti i modi di mostrarsi inflessibile, ma i bisogni fisiologici hanno la meglio. Così Cersei, abituata a raffinati calici di vino, si china sul pavimento e beve da una pozzanghera con la telecamera posta al suo stesso livello.
Alla fine della sesta stagione di Game of Thrones arriva la vendetta, grazie all'indimenticabile esplosione del Tempio di Baelor.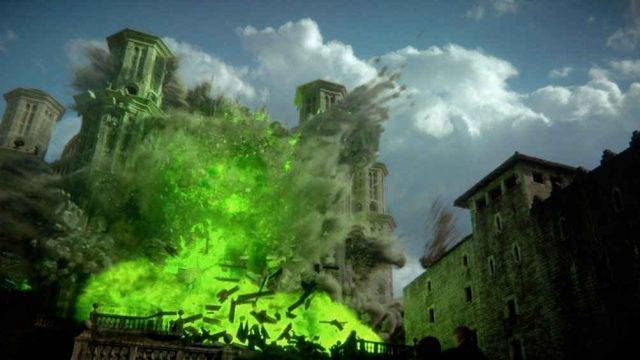 Nei primi minuti dell'episodio 6×10 tutti si preparano per il processo, ma qualcosa non quadra. Cersei Lannister non si presenta e Margaery Tyrell sembra l'unica ad aver capito il piano della regina. La tensione cresce sempre di più, finché tutto viene travolto da un fuoco verde, lo stesso fuoco che ossessionava il Re Folle.
Cersei è pienamente soddisfatta, tutto è andato come previsto e gli spettatori sono ancora a bocca aperta. Nessuno sa che non è ancora finita.
La regina non ha considerato che l'animo di Tommen è buono e la sensibilità del ragazzo è un peso troppo grande da portare. Così accade tutto in pochi secondi. Dopo il caos dell'esplosione arriva il silenzio, il giovane re si toglie la corona e scompare dall'inquadratura. L'attesa dura qualche istante, si sente solo un sospiro e poi Tommen ricompare lanciandosi nel vuoto.
La Battaglia dei Bastardi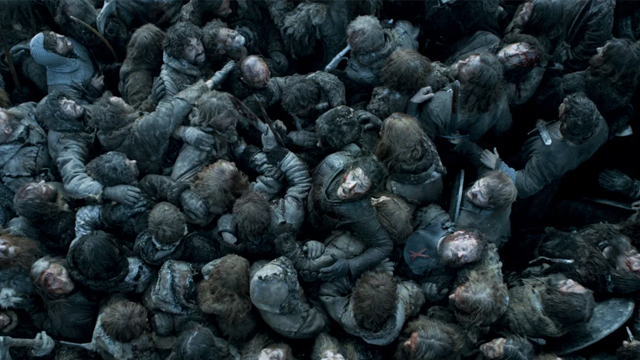 Ci sono altre scelte registiche interessanti di Miguel Sapochnik nella sesta stagione di Game of Thrones. Un esempio è lo scontro tra l'esercito di Jon Snow e quello di Ramsey Bolton, in cui le tattiche belliche riflettono la personalità del sadico protagonista.
Jon e il pubblico si illudono che le frecce non colpiranno Rickon ed è così fino all'ultimo istante. Appena il giovane Stark viene trafitto, la sete di vendetta diventa insopportabile e il King in the North non rispetta il piano, ritrovandosi circondato dai soldati di Ramsey (abbiamo scritto un articolo sui disturbi mentali rappresentati da ventuno personaggi di Game of Thrones). L'atmosfera è asfissiante e le speranze diminuiscono, ma, all'improvviso, la musica cambia e si intravedono le bandiere di Casa Arryn.
A questo punto Sansa può finalmente vendicarsi di tutto il male subito dal marito. Dopo aver atteso a lungo questo momento, lo spettatore prova la stessa sensazione dei cani inquadrati nella scena: fame e voglia di azzannare ferocemente la preda.
La verità su Jon Snow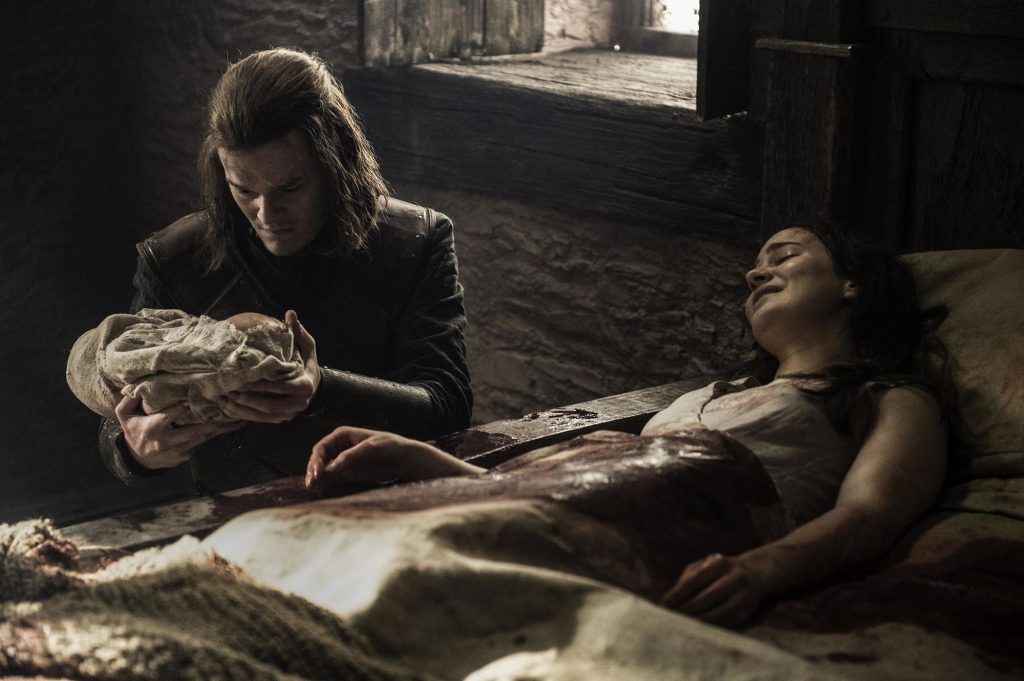 A Miguel Sapochnik è toccato anche l'arduo compito di mostrare le vere origini del protagonista di Game of Thrones. Il regista ha trasportato il pubblico nel passato, utilizzando "l'occhio" di Bran. La prospettiva, infatti, era quella del piccolo Stark e ha permesso allo spettatore di osservare la scena come se si trovasse lì in quel preciso momento.
Per far sì che l'informazione fosse inequivocabile, Sapochnick ha concluso la scena con un primo piano del piccolo Jon, seguito pochi secondi dopo dalla sua versione adulta.
Il finale della sesta stagione di Game of Thrones è ricco di sorprese e c'è anche un'altra scena importante da ricordare.
Fino a quel momento Arya stava cercando il suo posto nel mondo e stava concludendo l'addestramento con il Dio dai mille volti. Nel decimo episodio la ragazza sorprende tutti con il suo ritorno e vendica la morte della sua famiglia alle Nozze Rosse. La protagonista assume il volto di una cameriera e serve a Walder Frey i resti dei suoi figli. Il Lord non ha il tempo di capire cosa sta succedendo veramente e viene ucciso da Arya, procurando una grande soddisfazione non solo alla ragazza, ma anche al pubblico.
Miguel Sapochnik è stato capace di racchiudere vari colpi di scena in un solo episodio con grande maestria. Tutte le storie dei personaggi vengono gestite in maniera tale da non sovrapporsi e si concludono nei tempi giusti, senza difficoltà.
La lunga notte di Game of Thrones, dominata dall'oscurità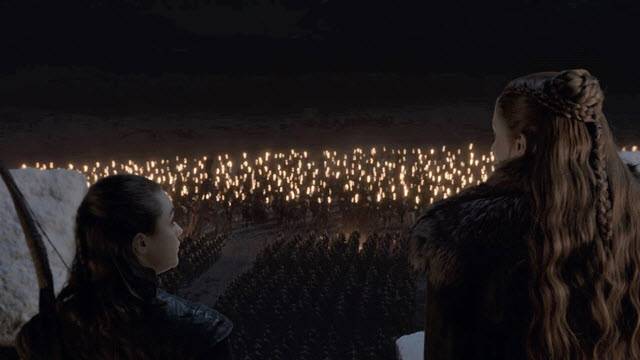 Solo un regista coraggioso come Sapochnik poteva far calare l'oscurità su un episodio tanto atteso e carico di significato. La scelta è stata fatta per rispettare il budget previsto, senza rinunciare a una battaglia che includeva un gran numero di soldati e di effetti speciali. Ma non è tutto. Con la scarsa luminosità lo spettatore è costretto a mantenere alta l'attenzione durante l'intero episodio, per non trascurare alcun dettaglio.
Le tattiche belliche non sono all'altezza della Battaglia dei Bastardi, ma è chiaro l'intento di mostrare che nessuno è al sicuro. I Dothraki, così possenti e crudeli nelle prime stagioni, vengono sterminati in pochi secondi. Più si allontanano, più le lame infuocate assumono le sembianze di piccole luci di Natale, che si spengono velocemente lasciando spazio solo all'oscurità.
Il regista ha approfittato del caos e del buio per inquadrare un'attrice simile a quella di Gilly e far credere al pubblico che fosse morta. Solo alla fine dell'episodio, grazie a un'inquadratura collettiva nelle cripte, si nota che la ragazza di Sam è ancora viva.
Thank you, Sandor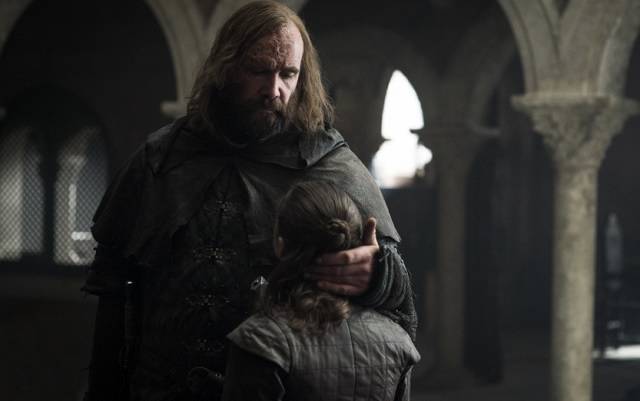 Dopo La lunga notte lo scontro si sposta ad Approdo del Re, perché il nemico non è più il Night King, ma Cersei. In questa occasione ognuno vuole concludere il proprio percorso e vendicarsi dei torti subiti in passato. Ma Arya non è sopravvissuta per morire stupidamente e ci pensa il Mastino a ricordarglielo. Basta un gesto della mano per vedere in lui la figura paterna di cui ha bisogno la protagonista.
Sandor, invece, è pronto per affrontare suo fratello. La Montagna viene inquadrata sulla scalinata, in modo da risultare ancora più possente. Le scene dello scontro esprimono tutta la rabbia e la frustrazione di Sandor, che non vede altra via d'uscita se non quella di gettarsi dal palazzo e morire insieme al fratello.
Nothing else matters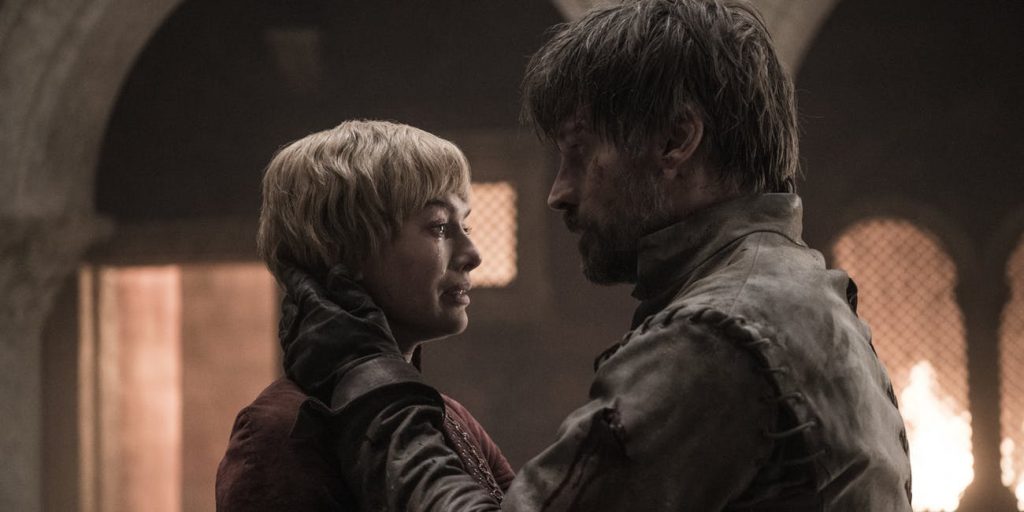 Jaime ha fatto tanta strada per tornare dalla sorella, perché sapeva che il suo destino era morire insieme a lei. I due amanti sono rimasti soli, senza vie d'uscita, e vengono intrappolati fra le stesse mura che hanno custodito il loro segreto per anni. I gemelli Lannister non sono degli eroi, perciò muoiono in silenzio, senza un pubblico che assista alla loro fine.
È stata una scelta coraggiosa, dal momento che i fan si aspettavano una morte lunga e atroce per Cersei.
Leggi anche – Bloodmoon, lo spin-off di Game of Thrones potrebbe essere girato in Italia: TUTTI I DETTAGLI!