L'ottava stagione di Game of Thrones è ormai alle porte. Tutti i nostri dubbi verranno chiariti e le storie troveranno la loro giusta conclusione. Prima di guardare l'ultima stagione di Game of Thrones sui nostri teleschermi, è doveroso fare un passo indietro. Fin dal pilot abbiamo capito che questa non era una serie tv come tutte le altre. Nel corso di questi sette anni Game of Thrones ci ha regalato episodi memorabili. Come non ricordare quello in cui Joffrey muore dolorosamente? O quello che racchiude l'epica sfida tra Oberyn e la Montagna? O ancora quello in cui Tyrion fa quel meraviglioso discorso? O la storia di Hodor?
Sono tutti bellissimi episodi ma che si piazzano ai piedi della top 5. Non un brutto risultato considerando quante fantastiche puntate ha Game of Thrones. Quindi basta perdersi in chiacchiere e andiamo a vedere i migliori 5 episodi dello show, ordinati dal peggiore al migliore!
5) Blackwater (2×09)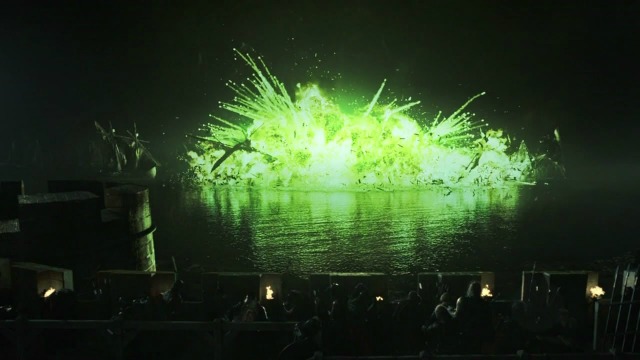 In Blackwater la flotta di Stannis assedia la baia delle Acque Nere. Ne nasce uno scontro tra Lannister e Baratheon vinto dai primi grazie all'intelligenza strategica di Tyrion. È lui che conduce gli uomini in battaglia mentre Joffrey scappa via con la coda tra le gambe.
È la prima scena di una battaglia su larga scala nello show dove gli autori non hanno ancora tentato di emulare la grandiosità dei combattimenti cinematografici (il paragone con il Signore degli Anelli era inevitabile al tempo). Comunque non risparmiano sui colpi di scena e sulla spettacolarità, come dimostra l'esplosione dell'Altofuoco.
Ciò che rende Blackwater ancora più grande è il modo in cui i vari personaggi vengono tratteggiati, annullando le divisioni tra eroi e villain. Il terrore di Sansa, la disperazione di Cersei, l'acume e il coraggio di Tyrion e la determinazione di Stannis hanno tutte la stessa importanza nella trama e ci permettono di capire le motivazioni e le conseguenze del conflitto.