Il 19 maggio si è conclusa una delle più grandi storie che sono passate attraverso il piccolo schermo della televisione. Proprio grazie a quel contenitore di emozioni animate, la storia di Game of Thrones è stata raccontata durante gli anni e durante otto lunghe stagioni. Come ben sappiamo l'ultima di queste ha creato grandi polemiche, forse fisiologiche, per lo svolgimento dei fatti, per la loro narrazione e per come si è conclusa la serie. Il finale infatti ha messo d'accordo davvero quasi tutti i fan, nel senso che sono rimasti quasi tutti delusi. Non si riscontrava una tale insoddisfazione per un finale di serie dai tempi di Lost. Questo dovrebbe farci comunque riflettere sul fatto che è sempre molto difficile non deludere milioni e milioni di persone, soprattutto se amanti viscerali di un telefilm che ha rivoluzionato la storia seriale.
Prendete con le pinze quello che vi stiamo per raccontare, ma in questi giorni stanno circolando su twitter degli screen che contengono quello che, teoricamente, doveva essere il vero finale secondo le direttive di Martin. Questi screen raccontano una storia diversa da quella che abbiamo visto qualche settimana fa. Ecco un breve riassunto: Cersei avrebbe dovuto perdere il figlio alla fine della settima stagione di Game of Thrones e ciò l'avrebbe portata a impazzire, in un raptus di follia, e credendo di essere stata avvelenata, avrebbe mandato Bronn a uccidere Sansa e Brienne, le presunte colpevoli. Tutto questo avrebbe portato Jaime ad Approdo del Re per andare a vendicare la morte delle due, non per salvare Cersei.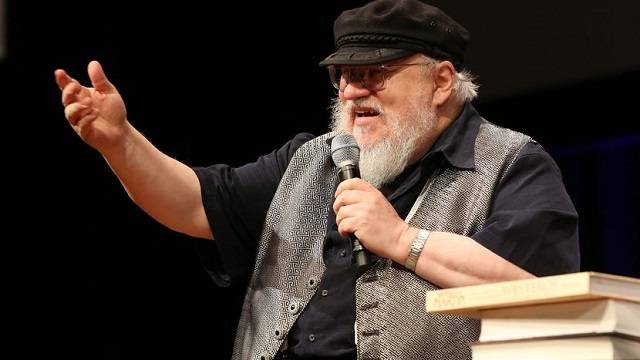 Anche la battaglia finale in Game of Thrones sarebbe stata diversa.
Infatti lo scontro tra Daenerys e Cersei avrebbe portato alla distruzione della città, ma perché Cersei avrebbe provocato Daenerys. Come? Preparando sotto la città l'alto fuoco per uccidere il drago. La distruzione di Approdo del Re quindi sarebbe stata più che altro una conseguenza dello scontro. Daeny sarebbe quindi uscita vincente e non folle, ma tutti coloro che aveva portato con sè, compreso Verme Grigio, sarebbero morti durante la guerra. Tyrion e Jon le avrebbero comunque voltato le spalle a causa della devastazione e lei avrebbe deciso di sua spontanea volontà di far bruciare il trono al drago e di tornare a Est.
Martin nei libri potrebbe optare per una forma di governo diversa, mentre nella serie avrebbero mantenuto questa forma di monarchia, con Jon come re in quanto legittimo erede e Jaime come primo cavaliere, per pagare il suo crimine nei confronti di Bran servendo la corona. La scelta di Bran re è stata dovuta all'ossessione di D&D di leggere le teorie online. Per questo hanno optato per un personaggio disabile, quasi per pararsi da critiche. Inoltre hanno cambiato le cose per dare una possibilità ad alcuni attori di vincere l'Emmy, a discapito della coerenza dei personaggi. Teorie folli? Cerchiamo di considerare in maniera neutrale le varie possibilità.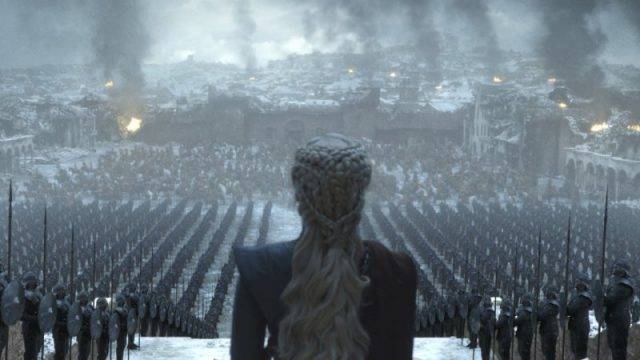 Analizziamo i motivi per cui tutto ciò potrebbe essere vero:
Partiamo col dire che la scena di Cersei che perde il figlio alla fine settima stagione è stata davvero girata e successivamente cancellata. Questo avvalora la tesi per cui le cose dovevano andare in maniera drasticamente diversa. Visto quanto Cersei tiene ai figli, la sua follia sarebbe stata plausibile. Non sarebbe suonato strano nemmeno l'utilizzo dell'Alto fuoco e si sarebbe creato un vero parallelismo con il Re Folle. Aggiungiamo che l'attrice Lena Headey sarebbe stata molto più protagonista, come tutto lasciava presuppore e Cersei (qui parliamo "musicalmente" della scena della 8×6 insieme a Jaime) si sarebbe fattivamente scontrata con Daenerys, non sarebbe rimasta tutto il tempo alla finestra.
Passiamo poi al "discorso Bronn". Oggettivamente è senza senso la scena in cui viene mandato a uccidere Jaime e Tyrion. Così come il ritorno di Jaime da Cersei. Questo infatti torna per proteggere Cersei pur sapendo che lei lo voleva far ammazzare. Per quanto riguarda Tyrion poi, questo poteva essere ucciso dalla stessa sorella nella scena in cui si parlano prima della morte di Missandei, ma lo lascia vivere. Eppure poco tempo prima aveva mandato Bronn a ucciderlo. Qualcosa non funziona. Se invece pensiamo a Bronn come killer di Sansa e Brienne tutto comincia ad avere più senso. Del resto le due regine, eufemisticamente parlando, non sono troppo amiche e una risoluzione che prevedeva la morte di una delle due sarebbe stata sensata e logica e avrebbe chiuso una storyline iniziata nelle prime stagioni con la morte prima di Ned e poi di Joffrey.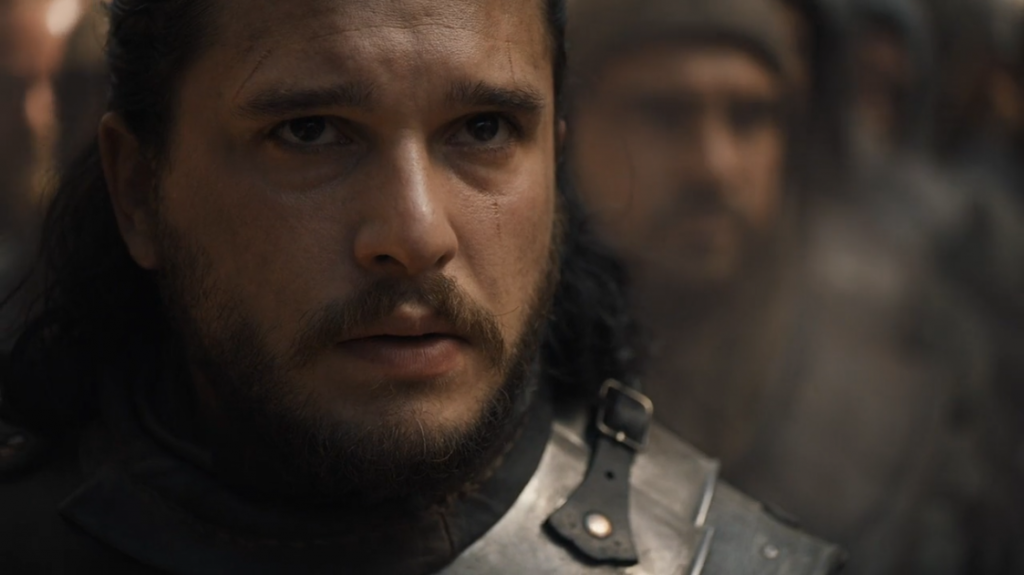 Ci sarebbe stata più linearità.
Jaime sarebbe stato infine il tanto profetizzato Valonqar, soprattutto dopo l'uccisione da parte della sorella della nuova fiamma Brienne. Inoltre lo stesso Jaime che diventa primo cavaliere ha un valore simbolico. Ricordate lo stemma del consigliere più importante per la corona? Una mano. E Jaime quella mano l'ha persa veramente. Quella con cui ha ucciso il Re folle, con cui ha buttato giù Bran ed ha fatto tante altre cose discutibili. Dopo la perdita di quella mano "peccatrice" è iniziato il suo bellissimo percorso di redenzione, che lo avrebbe infine portato a riconquistarla metaforicamente nel momento in cui avrebbe dovuto uccidere di nuovo una Regina Folle. Tutto avrebbe avuto senso.
Nella guerra per il Trono Daenerys avrebbe comunque raso al suolo la città, ma sarebbe stata una conseguenza della battaglia e della provocazione di Cersei. Non avrebbe giustificato comunque l'operato della Madre dei Draghi, ma avrebbe lasciato spazio a un dibattitto o a punti di vista soggettivi. Sempre Daenerys, dopo essersi resa conto di aver perso tutto ed essendo rimasta completamente da sola (confermando le parole di Maestro Aemon "un Targaryen solo al mondo è una cosa terribile"), avrebbe deciso di rinunciare al trono e se ne sarebbe andata con Drogon, mantenendo comunque una stabilità psichica e chiudendo degnamente la sua storyline in Game of Thrones.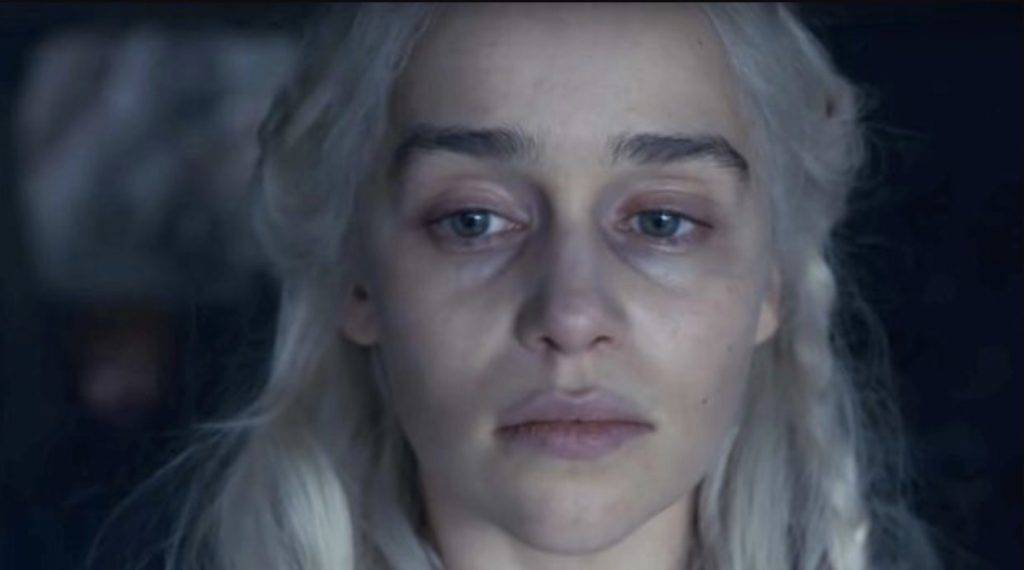 I motivi per cui la notizia sarebbe una fake – news
La persona che ha pubblicato gli screen non ha voluto dire pubblicamente la sua fonte. Del resto è anche vero che gli altri leak sono stati postati da gente che aveva come fonti membri della crew, di cui, ovviamente, non sono mai stati fatti nomi. Questo però non fa escludere che potrebbe essere tutto inventato. In più, per quanto possibile, la decisione finale di Daenerys di lasciare il Trono sembra stonare. Anche il discorso Re della Notte non tornerebbe. Infatti questo sarebbe stato comunque ucciso nella terza puntata, ma forse Martin avrebbe preferito chiudere la storia degli Estranei in maniera diversa. Per quanto riguarda Jon invece possiamo dire che la sua ascesa al Trono sarebbe stata forse troppo scontata, o comunque banale. Sarebbe stata coerente, ma non nel modo in cui ci raccontano gli screen, attraverso la rinuncia di Daenerys.
Come vedete queste teorie hanno pro e contro, ma la verità è che forse dovremmo accontentarci di quello che abbiamo visto. Dovremmo smettere di cercare, di fare ipotesi e di usare congiuntivi e condizionali. Questo articolo ne è pieno, e forse sarebbe (sì, anche questa frase ha il condizionale) meglio fermarci qui. Usiamo per una volta il presente: grazie Game of Thrones. Non importa come è finito il percorso, ma quello che abbiamo provato nel mezzo.