Tutto corretto, nessun errore di battitura. Richard Madden, interprete di Robb Stark in Game of Thrones ha ammesso che la morte del suo personaggio durante le famosissime Nozze Rosse non gli è dispiaciuta affatto.
In che senso?
Pare infatti che durante un'intervista, Madden abbia dichiarato che nonostante sia riconoscente alla serie per il successo che ne è derivato, allo stesso tempo prova gratitudine per la prematura morte del suo personaggio, e dunque per la fine della sua carriera attoriale in Game of Thrones.
La morte del primogenito degli Stark, Robb, sarebbe stata una manna dal cielo per il suo interprete, che, parlando dei suoi colleghi ha ammesso:
"Gli attori che sono arrivati fino alla fine hanno interpretato gli stessi personaggi per qualcosa come undici anni! Date loro una medaglia, perché se non è una maratona questa!" 


Il riferimento è ovviamente a Kit Harington ed Emilia Clarke, ma anche a Maisie Williams, Sophie Turner, Lena Headey, Peter Dinklage e gli altri attori che hanno fatto parte di Game of Thrones per tutte le stagioni.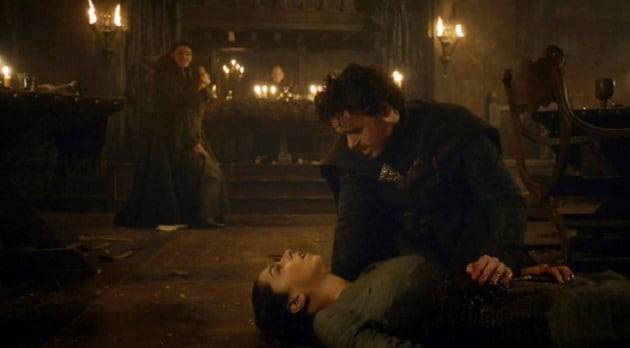 Proprio la puntata che più ha sconvolto i fan di Game of Thrones ma soprattutto i seguaci della casata degli Stark, sembra ricevere tutt'altro riscontro proprio da uno dei suoi protagonisti, Robb, che le Red Wedding le ha sofferte per davvero.
Richard Madden, onde evitare che le sue iniziali affermazioni possano essere fuorvianti, ha aggiunto:
"È stato così difficile mettere la parola fine, perché dal pilot alla "mia" morte sono stati cinque anni di riprese. Ma cinque anni sono stati un lasso di tempo ideale per far parte dello show. Mi hanno aiutato tantissimo a fare carriera ed esperienza. Ho davvero imparato tanto nel girare 30 ore di televisione. È così che inizi a fare i primi passi e impari il mestiere. E sono stato grato quando si è giunti al termine."
Madden, dunque, pur riconoscendo la grande spinta che la sua carriera ha potuto ricevere grazie alla partecipazione nel cast di Game of Thrones, riconosce altrettanto i lati positivi della sua prematura dipartita dalla premiatissima serie.
Richard, infatti, alla fama raggiunta con l'interpretazione di Robb Stark, deve la sua partecipazione a collossal quali Cenerentola, dove interpreta il principe azzurro e I Medici, nel ruolo di Cosimo de' Medici.
Nel 2019 ha inoltre vinto un Golden Globe come Miglior attore di una serie drammatica per la sua interpretazione nella serie televisiva Bodyguard.
Che dire, forse le Nozze Rosse non sono state affatto un male per Richard Madden!