Game of Thrones è una di quelle serie tv in cui se un personaggio ti piace è probabile che muoia. I fan lo sanno molto bene: è successo molte volte. Nella prima stagione tutti si sono affezionati a Ned Stark e a Khal Drogo ed entrambi hanno incontrato la morte. Dopo l'accaduto, ai due attori (Sean Bean e Jason Momoa) sono state fatte spesso delle domande relativamente alla dipartita di questi personaggi. Sean Bean ad esempio ha rivelato quali sono state, secondo lui, le ultime parole di Ned Stark (ne abbiamo parlato qui).
Jason Momoa è tornato di recente a parlare della morte di Khal Drogo e ha rivelato che è felice di questa sua dipartita in Game of Thrones!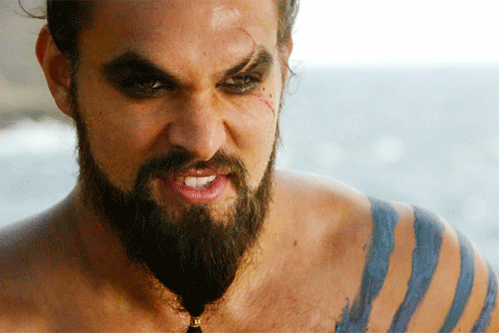 L'attore è infatti contento che il suo personaggio sia stato ucciso così presto in Game of Thrones. Forse è l'unico a pensarla in questo modo, ma ha i suoi motivi per farlo. Ecco le parole di Jason Momoa relativamente alla morte di Khal Drogo nel corso della prima stagione della serie targata HBO:
Sono davvero molto, molto felice di come siano andate le cose perché quel personaggio non poteva proprio restare in vita. Anche solo guardandolo, non funziona. Credo che Khaleesi debba sviluppare una determinata forza e lo deve fare da sola e in quel modo.
L'attore ha poi raccontato al New York Daily News che sta tuttora vivendo l'ammirazione dei fan nei confronti di Khal Drogo. Ha infatti dichiarato:
Anche ora le persone non la smettono: amano Khal Drogo. È davvero incredibile. Voglio dire, è stata solo una stagione. Non conosco altri personaggi che hanno vissuto per una sola stagione, una su otto, e hanno dei fan che ancora impazziscono per loro. Non pensavo sarebbe andata in questo modo.
Caro Jason Momoa, i fan saranno pazzi di te per aver interpretato Khal Drogo in Game of Thrones, ma non solo. Sei anche bono!