Sansa: "La Regina di Spine è chiamata. Non è forse così?"

Loras: "È così. Ma sarà meglio che non usi quell'appellativo davanti a lei, a meno che tu non voglia che una di quelle spine ti punga."
L'ambientazione ovviamente la conosciamo: siamo in Game of Thrones. Precisamente ci troviamo ad Approdo del Re, la conversazione è tra un ragazzo e una ragazza. Il giovane è di bell'aspetto, dai capelli d'oro e dal viso stupendo. È un cavaliere, è Loras Tyrell, l'erede della casata che porta la rosa come suo stemma. La ragazza l'abbiamo già incontrata in altre storie. È bellissima, ha i capelli ramati e un carattere ferreo, è Sansa Stark. I due si incontrano perché si parla di un possibile matrimonio tra loro. Tanto per cambiare, direte voi. Nella lunga storia di Game of Thrones Sansa ha infatti cambiato diversi mariti, ma questa è un'altra storia.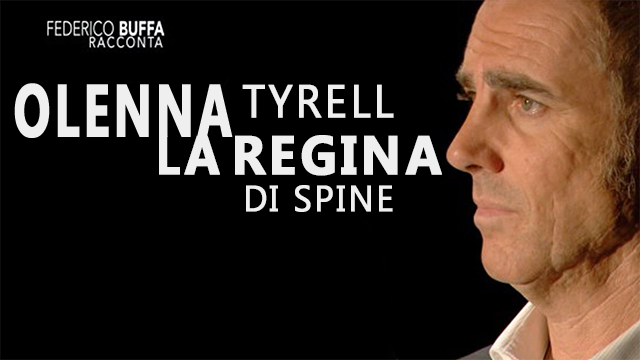 Il soggetto del dialogo tra i due però non è il convolare a nozze, ma è una donna. Qualcuno l'ha definita orribile megera, ma ha poi aggiunto che è dotata di un carattere forte e di un intelletto acuto. Il suo soprannome è la Regina di Spine. Considerato il fatto che la nostra protagonista fa parte della casata Tyrell avente come simbolo una rosa potete immaginare che non sia proprio un complimento. Qui, per gara 5, il sottoscritto vi racconta: Olenna Tyrell, la Regina di Spine.
L'anziana donna è una forza della natura.
È

senza alcun dubbio l'antagonista principale di Cersei Lannister.

È

un vedova nera che tesse le sue trame, è una mantide religiosa assetata di sangue.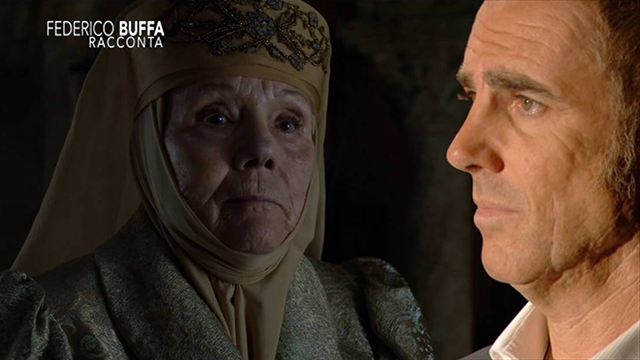 Ma iniziamo con il narrare le sue peripezie. La troviamo per la prima volta nella terza stagione di Game of Thrones. Olenna, insieme a sua nipote Margaery, incontra Sansa. Questa infatti era stata molto vicina a Re Joffrey e le due donne di Altogiardino volevano conoscere il carattere del promesso sposo.
L'incontro è esplicativo e la Regina di Spine capisce che la nipote corre un grave rischio. Inizia quindi a tessere la sua ragnatela, ad appuntire i suoi aculei. È l'inizio della guerra psicologica con Cersei, la partita però si gioca in un campo che favorisce l'anziana. La Signora in Giallo ha detto di lei: "Nei telefilm in cui appaio ci scappa sempre il morto, in Game of Thrones quando appare Olenna ci scappa la strage. È la mia fonte di ispirazione!". Ma questa è un'altra storia.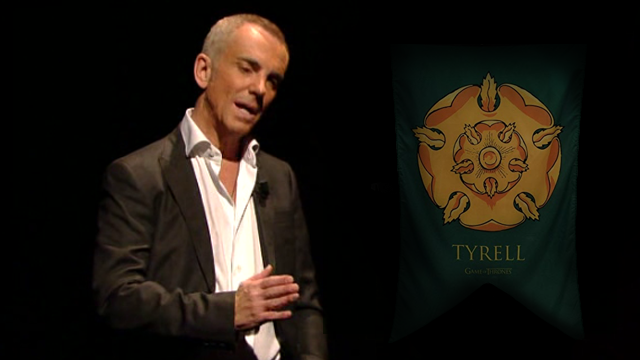 La vecchia donna è scrupolosa e spietata. In ordine sparso: complotta con Ditocorto e avvelena Re Jeoffrey il giorno del matrimonio con Margaery. Consiglia a questa di sposare il cognato, Tommen, per essere finalmente certa di diventare regina. Vede morire entrambi i nipoti. È un dramma: Olenna rimane l'unica Tyrell superstite e si allea con Daenerys Targaryen per vendicarsi di Cersei. In mezzo c'è tutto, c'è sangue, orgoglio e violenza. Dentro la Regina di Spine invece c'è un mondo. C'è un universo fatto di charme e battute, c'è la gestualità di chi ha vissuto, di chi è consapevole dei suoi mezzi. I suoi occhi hanno visto crollare re e manieri, intere e nobili famiglie uccidersi tra loro, uomini finire schiacciati sotto il peso delle loro stesse ambizioni.
Olenna Tyrell è una donna che ha saputo far tesoro di tutto ciò che la storia le ha insegnato. Una volta in Game of Thrones ha detto: "Alla fine, la notte scende per tutti noi, e per alcuni scende anche troppo presto". Non è il suo caso.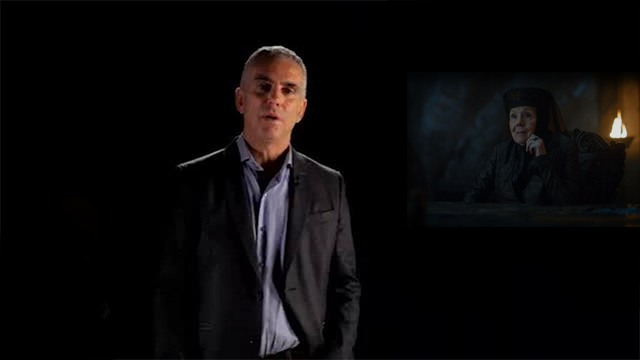 Lady Olenna combatte tenacemente fino all'ultimo momento per portare avanti le sue trame, per tessere i suoi intrighi. Lotta e trionfa grazie ai suoi mezzi: arguzia, esperienza e sesto senso. Don Matteo una volta disse, parlando della Regina di Spine: "Ho risolto mille casi grazie alle mie doti, ma l'intelligenza di quella donna è incredibile". Questa però è un'altra storia. La nostra di storia purtroppo ha una fine. Si conclude quando Jaime Lannister attacca e conquista Altogiardino ed entra nella stanza di Olenna. L'uomo senza una mano le comunica che la città è presa e le sue truppe uccise. È la fine. Consegna alla donna un flacone contenente veleno, per alleviarle il dolore della morte.
La donna non si scompone, anche negli ultimi momenti di vita rimane la stessa. Si versa del vino e poi beve con esso il veleno. Riserva un'ultima sferzante verità al malcapitato, ovvero che è lei l'artefice dell'assassinio di suo figlio Joffrey. La Regina di Spine ha infilato il suo ultimo dolorosissimo aculeo nel cuore di Jaime. Addio Olenna, anche in punto di morte sei riuscita a vincere la morte stessa. Addio Regina che porta il simbolo della Rosa, ne porteremo un mazzo sulla tua tomba.